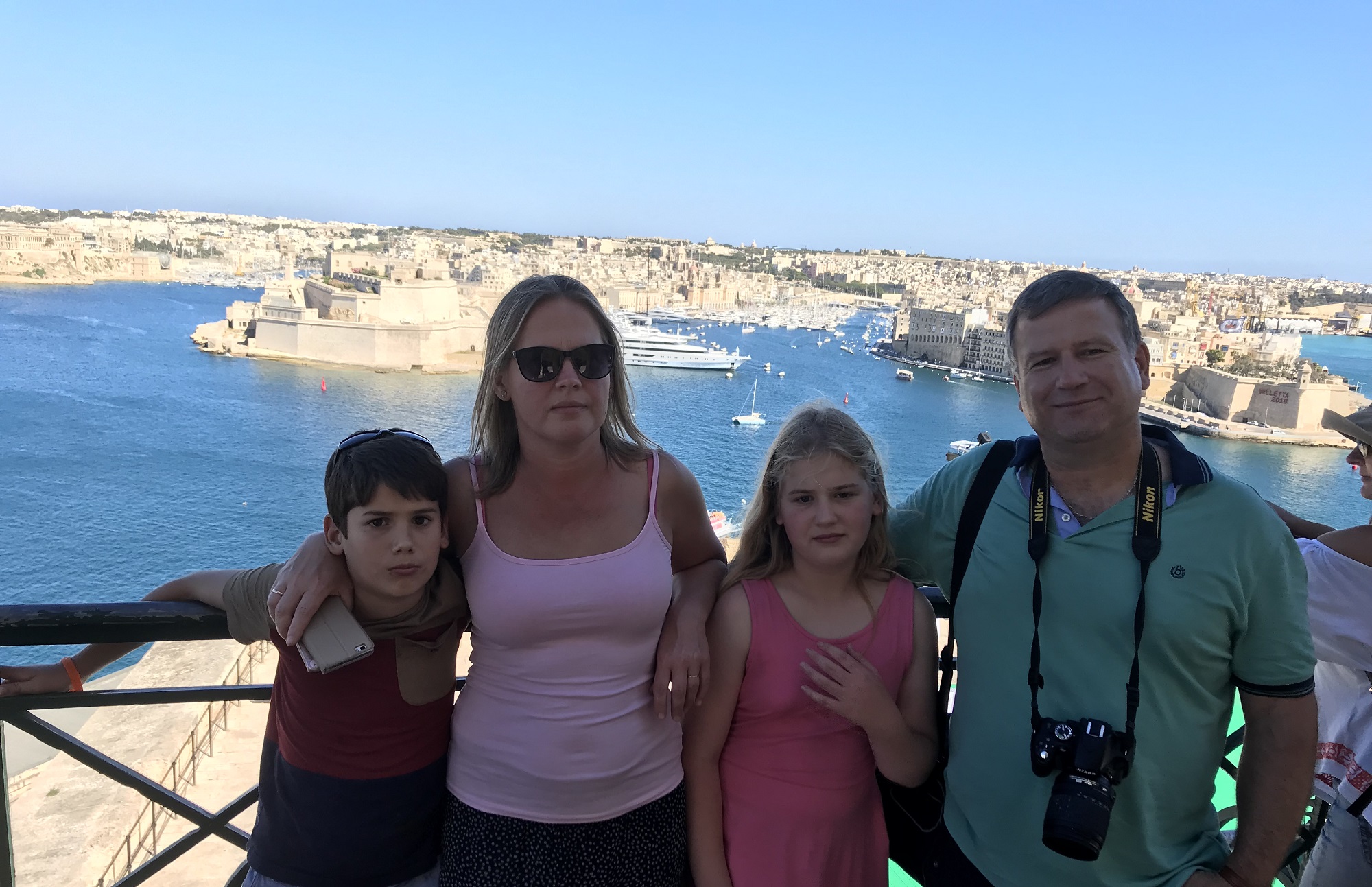 'Vivir en Malta durante un año para aprender inglés con mi familia' – Ildiko
Estancia en Malta, disfruta la vida en la isla y aprende inglés
Mi nombre es Ildiko Pentekne Balogh, soy de Hungría y, junto con mi familia, tuve una estancia en Malta casi un año entero para aprender inglés.
Vivimos en Malta, en St Paul's Bay entre febrero de 2018 y enero de 2019. Durante el año escolar asistía a cursos de inglés en una escuela de idiomas mientras mis hijos estaban en la escuela primaria local.
En las vacaciones escolares de verano, mis hijos también estaban tomando clases de inglés. Mi marido trabaja en una empresa internacional donde toda la comunicación es casi exclusivamente en inglés. Empecé a aprender inglés de adulto porque era un requisito imprescindible en mi trabajo. Nuestros hijos solían aprender inglés en sus escuelas primarias. Pronto se me hizo evidente que para que podamos hablar un idioma con fluidez en nuestra vida diaria es necesario que se convierta en parte de nuestra vida cotidiana en lugar de ser una materia que estudiemos de los libros de texto. Esa fue probablemente una de las razones por las que pensamos que vivir en Malta, que es un entorno de habla inglesa, nos acercaría más al logro de este objetivo. Asistía a cursos de nivel intermedio e intermedio superior (en Malta-sic).
¿Por qué Malta?
Elegimos vivir en Malta por el clima agradable y, lo que es más importante, porque el inglés es un idioma oficial aquí. También nos fue muy recomendado por uno de nuestros queridos amigos que vive en Malta con su familia. Vivíamos en St. Paul's Bay, así que comenzamos a buscar una escuela de idiomas en la zona y, después de considerar varias opciones, elegimos BELS sin tener ninguna información / conocimiento previo sobre la escuela. Nuestra elección se hizo principalmente debido al servicio de chat online muy amigable donde un miembro del personal respondió todas nuestras preguntas de una manera muy útil y considerada, pero al mismo tiempo de una manera no intrusiva.
¿Por qué BELS?
Mi primera experiencia con la escuela fue a través del servicio de chat online obtuve respuestas educadas e inmediatas a todas mis preguntas, lo que me dio la sensación de ser especial y la comunicación atenta y centrada en el cliente que solo habíamos hecho que este sentimiento se fortaleciera a medida que avanzaba la oportunidad de conocer al personal de BELS en persona. Gracias por todo…
¿Cuál era tu opinión de la escuela cuando llegaste?
La primera vez que entré a las instalaciones de BELS estaba llena de ansiedad debido a la duda en mi conocimiento del inglés, así como en la capacidad de orientarme con este, pensé, mi limitado inglés. Sin embargo, desde el principio me di cuenta de que la gente de aquí era muy amable y debo admitir que nunca sentí ninguna desventaja de lo que percibí como mis deficiencias lingüísticas en el curso de mi comunicación con el personal de BELS.
El personal de BELS
Throughout the time I was spending with BELS I was probably fortunate enough to meet all their teachers and I have to say that although they are very different regarding both their nationalities and their ages, their teaching styles reflect the great diversity of their cultures. What was, on the other hand, a common quality of them all is that they were all well-prepared, adapting the topics of their lessons to their students' needs, accommodating the learning needs of the students, thus making time spent in class fly by in an excellent mood. Ever since I've been learning languages this was the first time in my life that lessons were not merely compulsory activities but rather a positive experience to look forward to. The BELS staff were always very helpful and open-minded in solving any issues that arose. Throughout my stay I had the feeling that they were continuously working on making the process of learning English as smooth as possible. Every morning I would be welcomed by the same friendly faces. When I felt like I came to a halt with my English studies, all of them – teachers, team leaders, management – made efforts to help me overcome the situation.
I truly had the impression that they had a passion for learning. I believe that the BELS staff and teachers are a big part of the reason why Malta will forever be in my heart. Studying at BELS made living in Malta an even better experience.
My thoughts about BELS
In the time we spent living in Malta, both me and my kids, we approached a number of language schools and I have to say that we were very fortunate to have made BELS our first choice. BELS is a modern, well-equipped school and due to its location you have the option to spend even the breaks between the lessons at the beautiful seaside of Malta. The classrooms are bright, air-conditioned and are very well suited for smaller groups; all the classrooms are equipped with IWBs. There is a possibility to spend the breaks in a pleasant common area together with other students and make friends while chatting away and practising your language skills…
My thoughts about Malta
I can only recommend Malta to everyone especially if they would like to improve their English in nice weather, accepting and friendly environment. Basically, to everyone who seeks to take advantage of a European education and is open to becoming a member of an enthusiastic group coming together from all over the world. And if you're looking for a place to relocate, consider living in Malta, it was definitely the right choice for me.
Do you want to improve your English while living in Malta? Contact us!