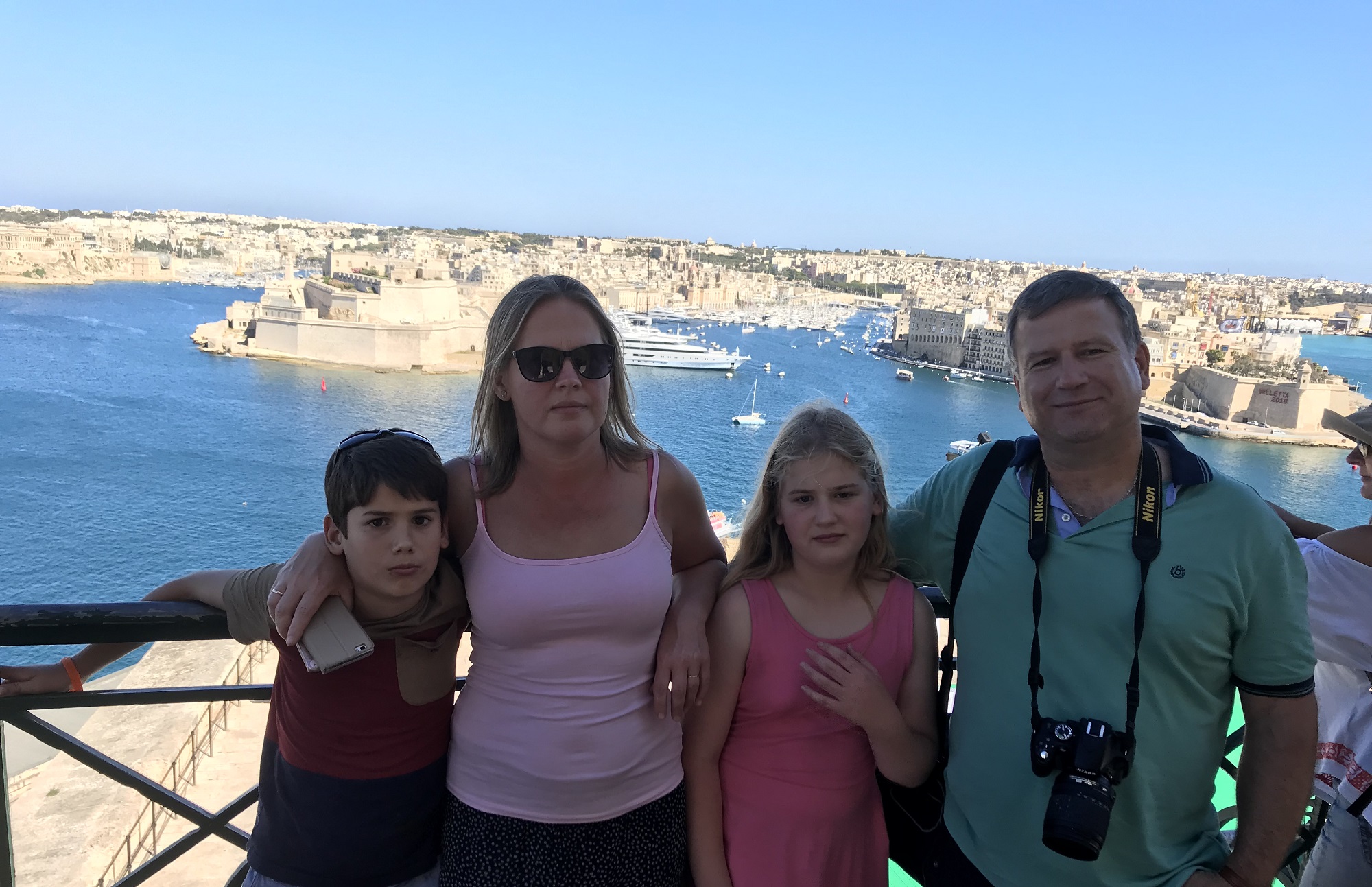 'Living in Malta for a year to learn English with my family' – Ildiko
Living in Malta, enjoying the island life, and learning English.
My name is Ildiko Pentekne Balogh, I am from Hungary and, together with my family, I spent nearly one whole year living in Malta to learn English.
We lived in Malta, in St Paul's Bay between February 2018 and January 2019. During the scholastic year, I was attending English courses in a language school while my children were in the local primary school.
In the summer school holidays, my kids were also taking English lessons. My husband works at an international company where all the communication is almost exclusively in English. I started learning English as an adult because it was an essential requirement at my work. Our kids used to learn English in their primary schools. It soon became evident to me that in order for us to be able to speak a language fluently in our everyday lives it needs to become a part of our everyday lives rather than a subject we study from textbooks. That was probably one of the reasons why we felt that living in Malta which is an English-speaking environment would bring us closer to achieving this goal. I was attending intermediate and upper-intermediate level courses (in Malta-sic).
Why Malta?
We chose to live in Malta because of the pleasant climate and more importantly because English is an official language here. It was also highly recommended to us by one of our dear friends who lives in Malta with his family. We were living in St. Paul's Bay so we started looking for a language school in the area and after considering several options we chose BELS without having any prior information/knowledge about the school. Our choice was made mostly due to the very friendly online chat service where a staff member answered all our questions in a very helpful and considerate but at the same in a non-intrusive manner.
Why BELS?
My first experience with the school was through the online chat service – I got immediate, polite responses to all my questions which gave me a feeling of being special, and the attentive, client-centered communication we had only made this feeling grow stronger as I got the opportunity to meet the BELS staff in person. Thank you for everything…
What was your opinion of the school when you arrived?
The first time I entered the BELS premises I was full of anxiety because of the doubt in my knowledge of English as well as in the ability to find my bearings with this – I thought – limited English of mine. However, from the very beginning, I realised that the people here were very helpful and I must admit that I never felt any disadvantage of what I perceived as my linguistic shortcomings in the course of my communication with the BELS staff.
The staff at BELS
Throughout the time I was spending with BELS I was probably fortunate enough to meet all their teachers and I have to say that although they are very different regarding both their nationalities and their ages, their teaching styles reflect the great diversity of their cultures. What was, on the other hand, a common quality of them all is that they were all well-prepared, adapting the topics of their lessons to their students' needs, accommodating the learning needs of the students, thus making time spent in class fly by in an excellent mood. Ever since I've been learning languages this was the first time in my life that lessons were not merely compulsory activities but rather a positive experience to look forward to. The BELS staff were always very helpful and open-minded in solving any issues that arose. Throughout my stay, I had the feeling that they were continuously working on making the process of learning English as smooth as possible. Every morning I would be welcomed by the same friendly faces. When I felt like I came to a halt with my English studies, all of them – teachers, team leaders, management – made efforts to help me overcome the situation.
I truly had the impression that they had a passion for learning. I believe that the BELS staff and teachers are a big part of the reason why Malta will forever be in my heart. Studying at BELS made living in Malta an even better experience.
My thoughts about BELS
In the time we spent living in Malta, both me and my kids, approached a number of language schools and I have to say that we were very fortunate to have made BELS our first choice. BELS is a modern, well-equipped school and due to its location, you have the option to spend even the breaks between the lessons at the beautiful seaside of Malta. The classrooms are bright, air-conditioned, and are very well suited for smaller groups; all the classrooms are equipped with IWBs. There is a possibility to spend the breaks in a pleasant common area together with other students and make friends while chatting away and practicing your language skills…
My thoughts about Malta
I can only recommend Malta to everyone especially if they would like to improve their English in nice weather, accepting and friendly environment. Basically, to everyone who seeks to take advantage of European education and is open to becoming a member of an enthusiastic group coming together from all over the world. And if you're looking for a place to relocate, consider living in Malta, it was definitely the right choice for me.