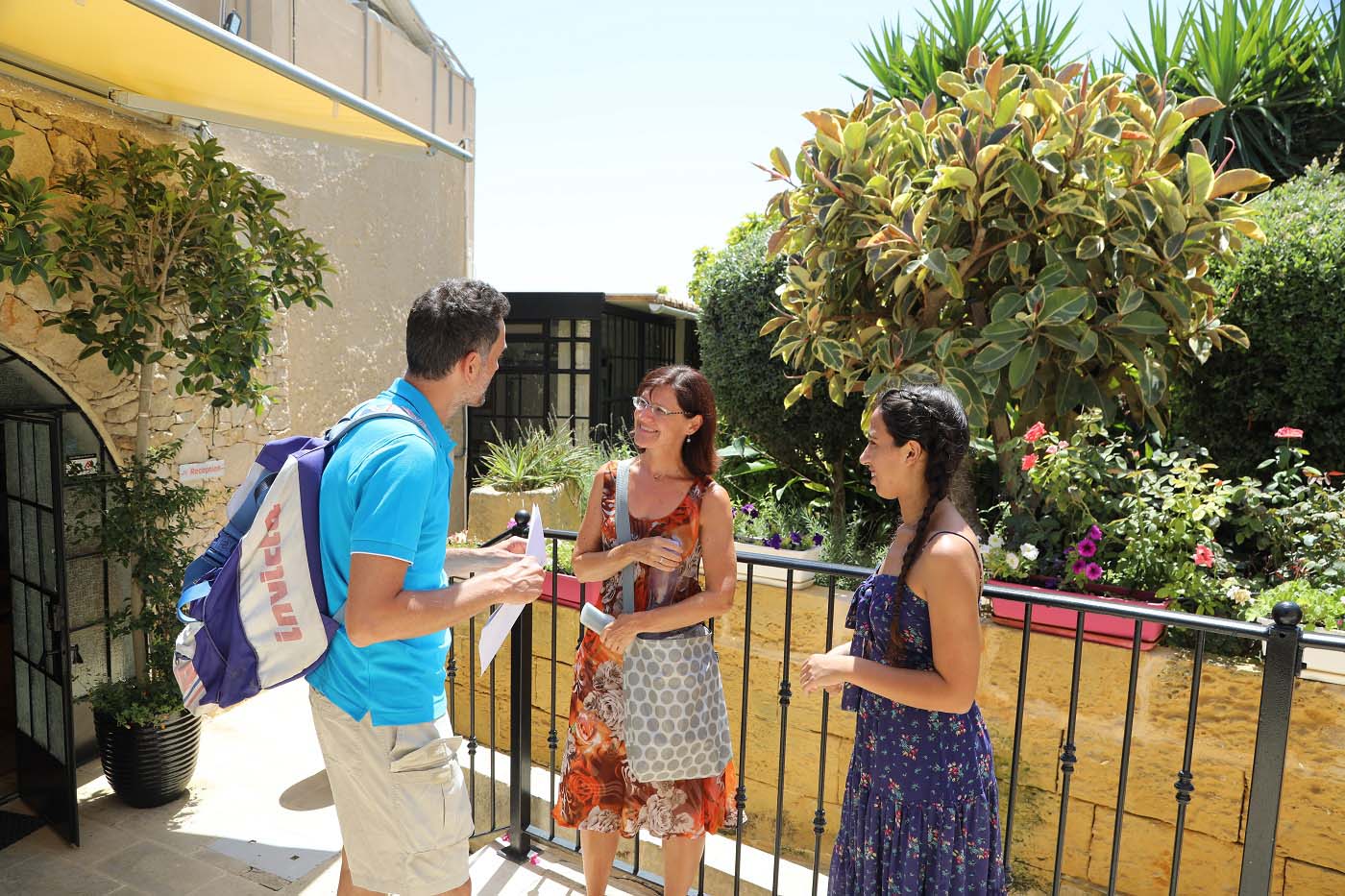 BELS Malta Language Schools are Owner-run
With over 20 Years of Experience
BELS first opened its doors in 1997 with a small, family-run English school on the island of Gozo. 20 years later, our passion for English has expanded to two lively year-round language schools. Today our schools include a year-round adult school in Gozo and a year-round adult school in Malta which also offers seasonal junior programmes.
Throughout all the growth, we have retained our core values and principles: we provide quality education and services, and we choose to remain small and client focused. At our schools, we know each student by name and their individual learning needs. Our energetic team will ensure that your stay at our BELS Malta language schools is a beneficial, memorable and unique experience.
We're the language school with a difference. We take pride in being a dynamic organisation, which is sensitive to global trends, thus operating English language schools in Malta and Gozo which adhere to international accreditation standards. We strive to have the best teachers, with courses and services that stand out as the finest offered on the Maltese Islands. Our culture is based on a holistic language learning approach that fosters learning both inside and outside the classroom. We offer our clients English courses in an environment that is conducive to learning, always providing a warm and welcome break from the hectic lifestyle.
Our language schools in Malta and Gozo guarantee high standard courses with a personal touch.
High quality courses
We're a highly accredited and licensed centre;
Each course is specifically designed to help our students achieve their individual learning goals;
With a small group sizes, the classroom environment is designed to be relaxed, interesting and enjoyable.
The BELS approach
The Communicative Language Teaching (CLT) method and the Blended Learning method;
Learn new vocabulary and grammar and have plenty of opportunities to practise it in class;
Wide variety of up-to-date material is used in class to stimulate discussion;
Learner-centered and dynamic approach.
Our Teachers
Are a team of motivated and enthusiastic individuals;
Are in possession of internationally recognised qualifications in TEFL, e.g. CELTA and Dip TESOL;
Business English (BE) and English for Specific Purpose (ESP) teachers are qualified by the London Chamber of Commerce;
Have several years of experience as teachers of English as a foreign language;
Are undergoing Continuous Professional Development (regular performance appraisal interviews, attending workshops and seminars) on an annual basis.
Why Choose BELS
We're small and personal. With us you're guaranteed individual attention;
We offer flexible courses that are tailor-made to suit your needs;
We have over 20 years of academic experience;
We're located in both Malta and Gozo;
We're the only school open all year round on the quaint island of Gozo;
We also handle accommodation, airport services and leisure activities.
Our Vision
BELS were established in Gozo in 1997 for the teaching of English as a foreign language. The School was, and still is, located in one of the most beautiful surroundings in our sister island. The learning objective there includes a cultural element and a total focus on the client.
Over the last twenty years, BELS has evolved into a multifaceted school offering service not only in Gozo but also in Malta, in the Bay of St. Paul. The age group of students has expanded and now also includes an international youth camp active at Easter, summer and autumn. BELS English language schools in Malta and Gozo are open all year round.
BELS has solidified its organisation, built new bridges and reached out to clients from far-reaching nations. Its vision, developed from knowledge from its past, is clear and full of optimism:
To share our passion for learning English.
Our Mission
The Vision at BELS is supported by its Mission Statement:
To supply a 360˚ quality experience to our client, who is always the main focus.
Our past has taught us that the focus on the client can never waver. BELS strives to supply a complete quality experience to our students, irrespective of age and interests. BELS Gozo, with its beautiful countryside surroundings in Kerċem, serves clients who are after a serene experience which can be supplied in conjunction with the Gozitan culture and its clear blue waters. BELS Malta in St Paul's Bay, has a more varied clientele, both in age and interests. Here, the teaching style and cultural experiences are molded to meet the expectations of its clients.