Looking for your next adventure?
Join our international team. Let's grow together.
Education, travel, and communication are the pillars of our language school. We are driven by a desire to share our passion for our home islands and to enable cross-culture communication through teaching English. We love welcoming students from all over the world, and we do whatever it takes to ensure they achieve their learning aims while having an all-around memorable experience in Malta and Gozo. If you share our passion, then take a look at our current vacancies.
Our Values
Quality
We're assessed by the mastery of our products and services, so the highest standards must be maintained.
Transparency
It's a core practice to act in a transparent, honest manner that earns the respect of our colleagues, and students.
Passion
Having joy not just for the work itself but also for the people around us, so that everyone can be bold, innovative, and creative.
Learning
A continuous desire to better ourselves is the bedrock of our success. We foster a culture of humility and curiosity.
Innovation
We challenge ourselves to see what's possible to better meet the needs of our clients, in an ever-evolving world.
Inclusion
We're a diverse community in which every employee feels valued and included in decisions, opportunities, and challenges.
What roles are available? 
Assistant Director of Studies – BELS Malta (St.Paul's Bay)
We are currently seeking to recruit an Assistant Director of Studies to join a lively working environment as part of our full-time team, at BELS Malta in St Paul's Bay.
Your main tasks will include:
Supporting the Director of Studies in academic administrative work
Carrying out administrative and research tasks linked to syllabus and lesson preparation
Acting as primary liaison contact between the DOS and clients
Providing academic/administrative support to all teachers
Overseeing testing and class changes based on student requests
Being available for emergency relief when other teachers are not available
The ideal candidate should have the following skills and traits:
CELTA qualified or equivalent
Valid ELT Permit
Minimum 2 years' experience in the classroom
Proficient in digital skills such as Microsoft office and the use of technology in the classroom
Excellent organizational and problem-solving skills
Send your CV and cover letter to Arianna at [email protected] to apply for this position.
EFL Teachers in Malta & Gozo
Would you like to be part of a like-minded team of teachers and work with students from all over the world?
BELS English language schools in Malta and Gozo is regularly recruiting English teachers (summer and year-round positions available).
If you already possess a TEFL qualification (CELTA, Certificate in TESOL, or TEFL certificate), kindly email your resume and covering letter to the BELS Director of Studies, Arianna Muscat, on [email protected].
If you are not in possession of the required qualification or permits and require further guidance, feel free to get in touch with us by requesting more information regarding TEFL courses and teaching permits. We are always happy to help.
Teen Camp Leaders in Malta
Are you interested in becoming a teen camp leader? BELS are also constantly looking for dynamic and responsible individuals to join our team of BELS Juniors teen summer camp activity leaders.  This is a seasonal language school job available in the summer, autumn and Easter holidays.
The ideal candidate should:
Be an awesome team player
Be reliable, dedicated and responsible
Have an energetic and can-do personality
Be available to work from June to September
Enjoy being active and working with people
Speak fluent English (more languages are considered an asset)
If you fit the above description, we'd love to get to know you. To apply for a position, contact our BELS Teen Camp Manager, by sending your CV to [email protected].
Internship at BELS Gozo
We are currently seeking an intern to join us from May-November 2023. The internship involves assisting with front-of-house operations, customer experience, engaging with customers in-house, sales, and getting material for social media/website.
Running the front desk and all related duties
Carrying out administrative duties and tasks related to day-to-day needs of school
Organising and running activities for students
Running welcome meetings, student orientation walks
Interacting with students, building rapport, obtaining feedback
Upselling activities, course upgrades and supplementary offerings as needed
Obtaining testimonials from students and assisting in the filming process.
Generating content from BELS Gozo for social channels.
Assisting in any other tasks related to operational and Academic administration, marketing, sales, and student relations as required.
Send your application and cover letter to [email protected] to apply for the position.
Open Applications for language school jobs
Would you like to join our team in another role? Should you wish to apply for any other position, kindly send your CV and covering letter to [email protected] with a description of your interest for consideration.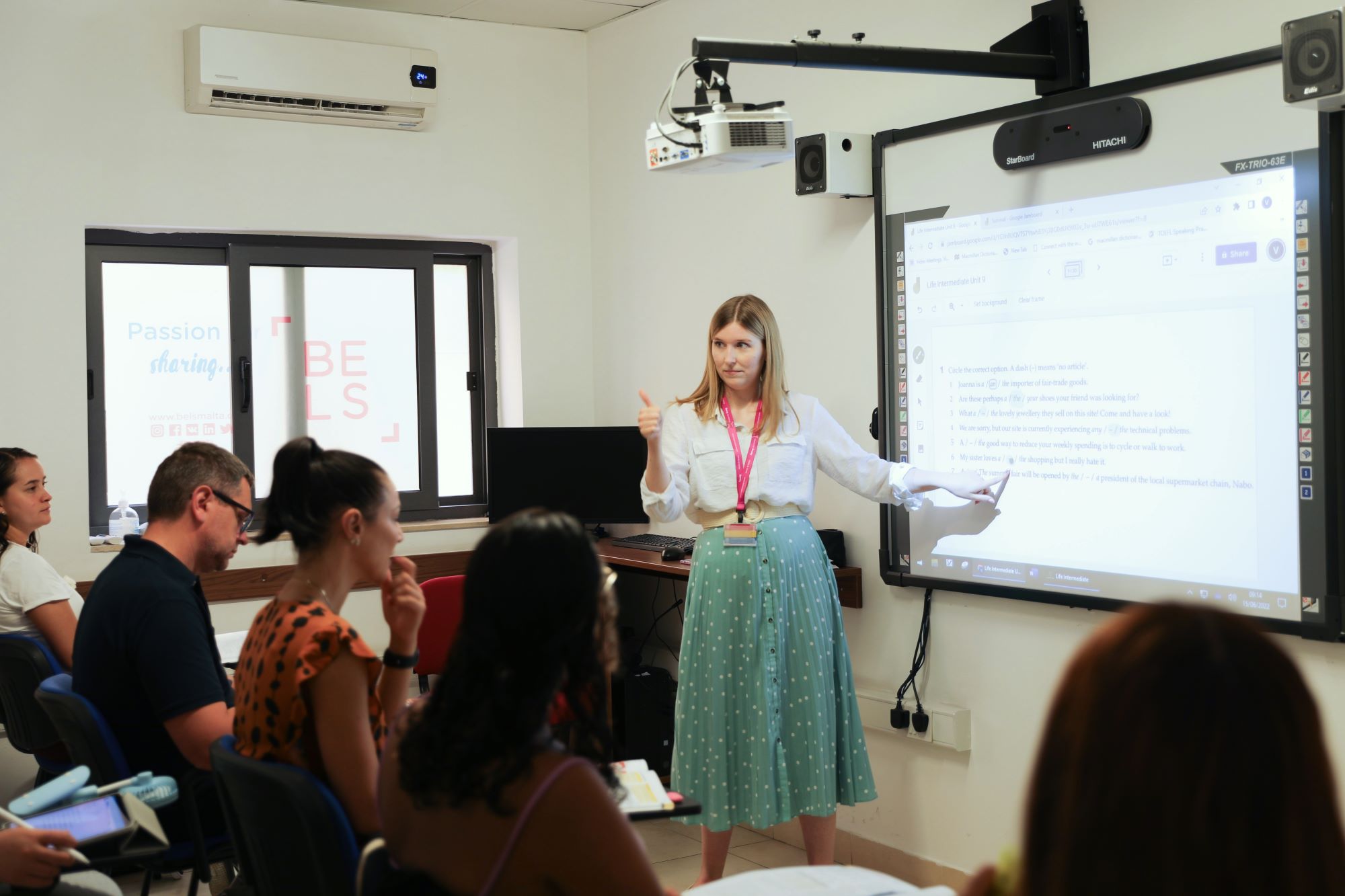 Assistant Director of Studies
A full-time role as part of the academic team at our school in St.Paul's Bay.
Our aims
Collaboration
When we work together, we can create something greater than ourselves as individuals.
Integrity
Acting with strong ethics is a priority for everyone representing BELS, as well as the company's behaviour as a whole.
Commitment
Creating a great customer experience starts with being true to our words and the connections we build.
Why work at BELS?
The team – We're a tight-knit team of energetic individuals who love what we do, and who we do it with. We support each other and work together to exceed our students' expectations. Meeting new people from all over the world and sharing our passion for English excites us.
Quality tuition and service – At BELS, we take the time to get to know our students by name and individual needs. We take pleasure in delivering our promises and pride in seeing our students' achievements.
Medium-sized school – BELS is an owner-run boutique school with a community feeling at the school. You'll feel right at home here.
Established school – We're one of the most highly qualified and licensed school on the islands, you'll be in good hands.
Continual development – There's no such thing as 'good enough'. We're always looking to learn more and find new ways of doing things. As a teacher, we provide in-house training sessions from time to time to help you develop your skills and acquire new ideas and techniques.
Location – BELS Language Schools have a center in St. Paul's Bay on Malta and another center in Kerċem on Gozo. Both locations are far enough from the busier areas on the islands to be relaxing, yet close enough for convenience. You'll get to enjoy a great working environment in our bright, contemporary buildings with anything you may need around you.