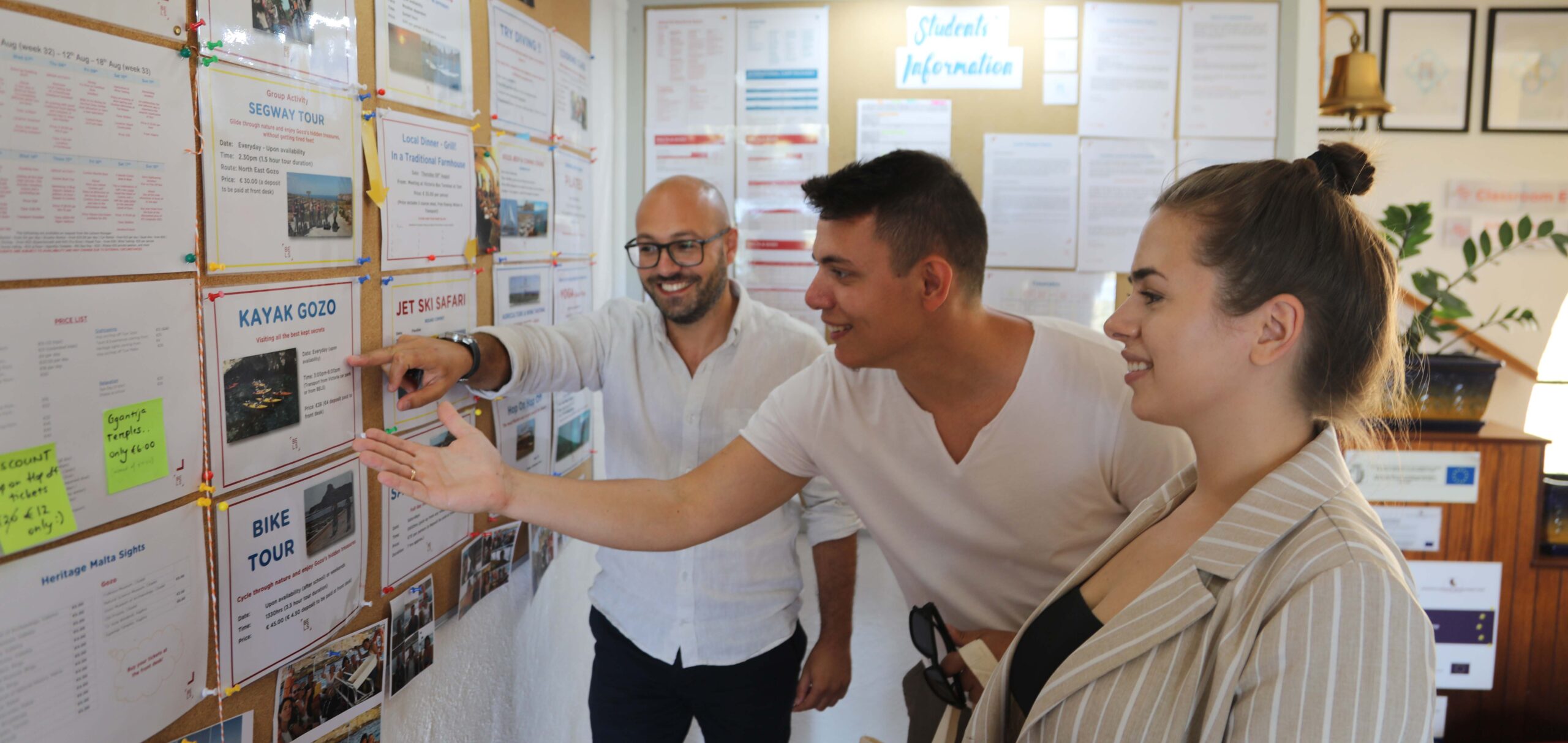 Things to do in Malta and Gozo
A well-organised leisure programme is an important part of language-travel experience. At BELS we offer a diverse leisure programme that's packed with enjoyable things to do in Malta and Gozo. We've got something for every kind of traveler to help you get a real taste of what the Maltese island have to offer through your favourite pastimes.
When you arrive at one of our schools head over to the reception desk where you'll find our enthusiastic leisure manager who'll show you the activities programme for the week. Our school leisure programme includes activities for the afternoons, evenings as well as weekends to complete your study-trip. Apart from the activities we offer in-house, there's an endless list of things to do around both the islands.
Welcome Dinner
An evening with good food and even better company. It's a perfect way to meet new friends!
Discover the beautiful marine life and world-famous wrecks the Maltese sea has to offer.
Choose your own trail, cycle through the countryside or ride along the shore paths to view some amazing sunsets. Malta's rough terrain is suitable for mountain bike tours or off-road excursions on quad-bikes or buggies.
With over 50 rock or sandy beaches across the islands, you will surely find the perfect spot to get a tan and unwind.
If sunbathing is not your thing and you're feeling a little adventurous, this is just for you. There are endless ways to relish in Malta's crystal clear waters.
Cultural and Historical Sites
Malta has a layered and varied history resulting in a rich cultural identity. Our Neolithic temples are a must-see and they are just the start of our amazing historical heritage. Visit museums, stroll through fortified cities and explore underground tunnels.
Horse-Riding
Enjoy horse-riding during sunset or the weekend with spectacular views.
Night-life
The coastal town of St. Julian's transforms into a vibrant clubbing village at night, offering the most recent club tunes to laid-back reggae bars and jazz clubs.
Boat-rides
Get a different view of Malta's coasts through sailing out at sea. Take a coastal tour of Malta, or hop on a boat to Comino for the day.
Sicily Day Trip
Our neighbouring island of Sicily is a short ferry ride away – on this day trip you can explore the popular towns of Catania, Taormina or climb up Mount Etna!
Weekly Calendar and Local Events
These are just a few suggestions of things to do in Malta and Gozo- speak to us at the front desk for more options and weekly events on the islands.