How to Agree and Disagree in English
October 25, 2023
5 min read
Learning how to agree or disagree in English is essential for language learners. It requires confidence, clarity, politeness, and courtesy in expressing opinions verbally or in writing. This article explores how to express opinions and offers helpful phrases for formal and informal settings.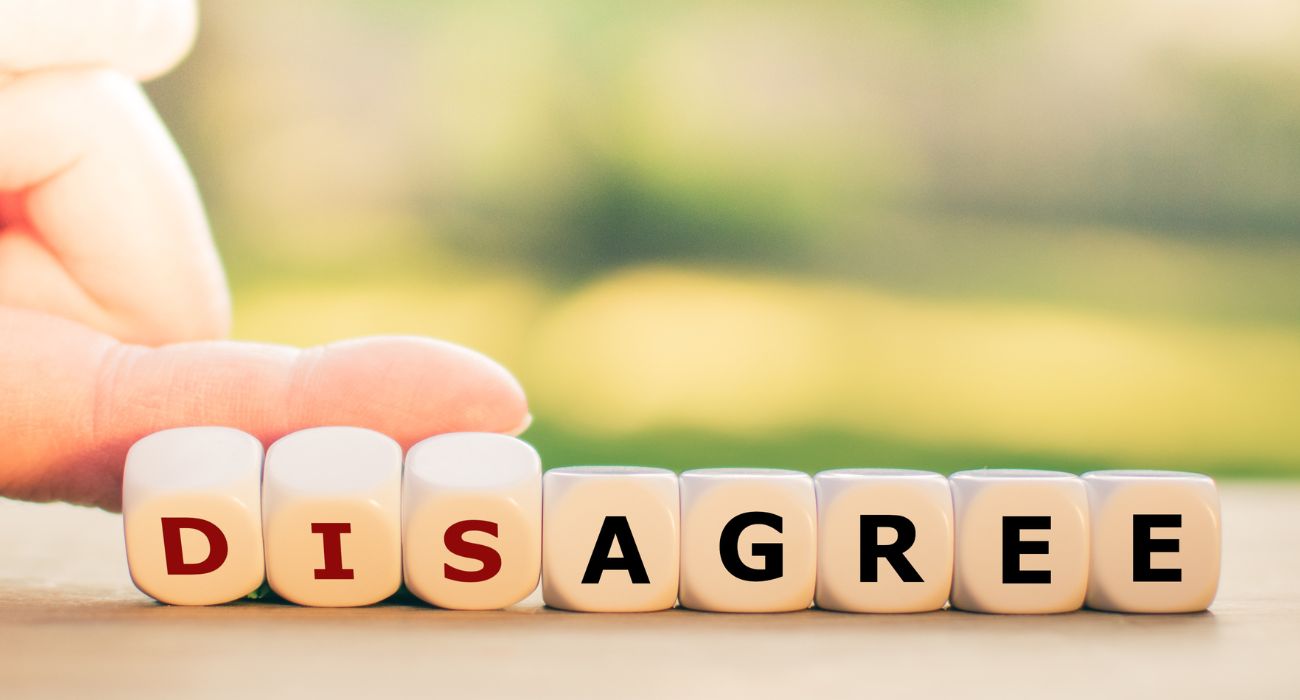 Agreeing or disagreeing in English is a fundamental skill every English language student must master. This skill is used formally and informally to express an opinion about what someone has said. It's essential to express your agreement or disagreement in various settings, such as when talking to a friend or colleague at work or through written correspondence like emails and texts. However, remaining confident and polite while articulating your views clearly is equally important. You can use different phrases and expressions, ranging from a simple 'yes' or 'no' to more complex sentences that provide greater context, to agree or disagree. Learning how to express agreement or disagreement will help you in both formal and informal settings, and it can also assist you in navigating social interactions. This article will provide a detailed breakdown of phrases to use in formal and informal situations when expressing agreement or disagreement. It will explore how to express an opinion verbally and in writing.
Agreeing and Disagreeing in English: Verbally and in Writing
Expressing agreement or disagreement can vary depending on the context of the interaction. When communicating your opinion verbally, your body language and tone of voice are crucial in conveying your message. The person you speak to can interpret your facial expressions and vocal inflexions, making it easy for them to identify if you are being truthful. However, you need to be careful not to appear insincere by being too enthusiastic or overexcited in your response. Matching the other person's tone is important to demonstrate that you understand their perspective. On the other hand, indicating agreement or disagreement in writing can be challenging as there is no body language or vocal tone to rely on. When agreeing formally in writing, avoiding sounding indifferent or uninterested is essential. Instead of saying, "I think your idea is fine," you can say, "I believe your idea is exactly what we need" to demonstrate that you are invested. The key to expressing your opinion politely, both formally and informally, is to do so in a way that doesn't offend the person or dismiss their idea. Let's explore some ways we can agree or disagree while maintaining politeness.
Learning to Agree and Disagree Politely in English
Being polite in formal and informal settings is essential when expressing agreement or disagreement. You certainly don't want to offend someone because you unintentionally have a different opinion. When agreeing, it's crucial to show that you are actively listening and not just agreeing for the sake of it. Demonstrating interest in the conversation will express politeness; you can say, "I see what you mean" or "I understand how you feel". This will alert the other person that you are giving them your full attention.
It would be best to portray professionalism and clarity when disagreeing, particularly in formal settings. Show that you understand the other person's opinion with a statement like "I see what you're saying but…", which shows that you are not immediately disregarding what they said. You can also use an apology before you disagree; for example, "I'm sorry, but I don't agree with you", which is polite. Use a phrase like "My suggestion to show that you are willing to reach an agreement and are invested in the decision. You should always be firm about your position and show confidence in what you are saying. You can provide an example, quote a statistic, or cite an authority to bring your point across confidently. You can also conclude by saying, "That is my opinion", asserting that your statement comes from your unique perspective and that you are open to other alternatives.
Let's look at common phrases when agreeing or disagreeing in a formal or informal setting. 
Use these Phrases to Agree in English
Formal Phrases to Show Agreement
These formal phrases can be used in a professional setting, whether you are talking to a client, a colleague, or a superior. When agreeing formally, do not be too brief in your statement. Be specific about what you are agreeing with—you might even include the reason as to why you agree.
I concur with….
I second that.
I share your view completely.
Yes, you are right.
I agree entirely.
You have my full agreement.
That's what I think, too.
I'm of the same mind.
I couldn't agree with you more.
I completely agree.
Informal Phrases to Show Agreement
When you are talking to a friend or family member, use these informal phrases to express agreement. If you are writing an email or sending a text message, you can use an exclamation point to emphasise or excite. Keep in mind, though, that you should only use these tools when writing informally. Do not use excessive exclamation marks when writing formal work emails.
Tell me about it!
I'm with you on that.
You can say that again.
That sounds great!
Exactly.
Totally.
What a good idea.
Definitely!
You're dead right there.
You bet!
Absolutely.
You're right.
That's so true.
When you are agreeing with someone, use these expressions to show support for their opinion. If you are verbally responding to someone, you can also use your facial expression and body movement to express further agreement, like a head nod or a smile. In formally written agreements, provide reasons reinforcing your support of the other person's opinion and articulate that you are actively invested in the other person.
Use these Phrases to Disagree in English
Formal Phrases to Disagree in English
Expressing disagreement in formal locations, like the workplace, can be challenging to navigate. These helpful phrases will assist you in expressing your opinion politely and without unintended offence. Acknowledge the other person's position and explain why you disagree with it. You can also include phrases like 'I think that is a valid approach, however…' to begin your statement positively.
I respectfully disagree because…
I see your point, but….
I'm afraid I don't agree with you.
I don't share your opinion.
We are going to have to agree to disagree.
I beg to differ.
I don't agree with you because…
I couldn't agree with you less.
I'm sorry, but I'm going to have to disagree.
I'm see your point, but in my opinion…
I see what you are saying, but I think…
I'm not sure I agree with you.
Informal Phrases to Disagree in English
Even though you can use these expressions in an informal setting, always remember to stress that the disagreement is based on your opinion, and not an absolute truth. This will save you from uncomfortable interactions with friends and family. People can be easily offended, so always acknowledge the other person's statement first. For example, instead of saying, 'That's not a good idea', you can say 'Maybe, but I'm not sure it's a good idea', which relates politeness while asserting your opinion.
No way.
Absolutely not.
That's not right.
That's not how I see it.
I don't agree with you.
No. Not really.
Not necessarily
Are you joking?
You're dead wrong.
I don't think so.
That's not entirely true.
Disagreements can arise in almost any situation, whether it is with your friends or with your co-workers. Not all disagreement is negative; it can lead to new innovations and better communication. However, the key is to remain polite and respectful of the other person's opinion and explain why your point of view is different.
Are you looking to test your English agreeing and disagreeing skills? Come to BELS Malta and put them to the test!
Congratulations on mastering the skill of agreeing and disagreeing! Now, it's time to put your skills to the test with an immersive English language course offered by BELS. Our vibrant community of second-language learners and dedicated teachers can provide you with instant feedback to improve your fluency skills. You'll have the opportunity to meet exciting people, enhance your language abilities, and enjoy a beautiful atmosphere all at once.
To learn more about our courses,  get in touch with [email protected] and invest in your English language fluency today.
Discover the Perfect Course for your Needs
Browse our selection of adult English courses in Malta and Gozo - the perfect way to start speaking confidently!
Browse Courses