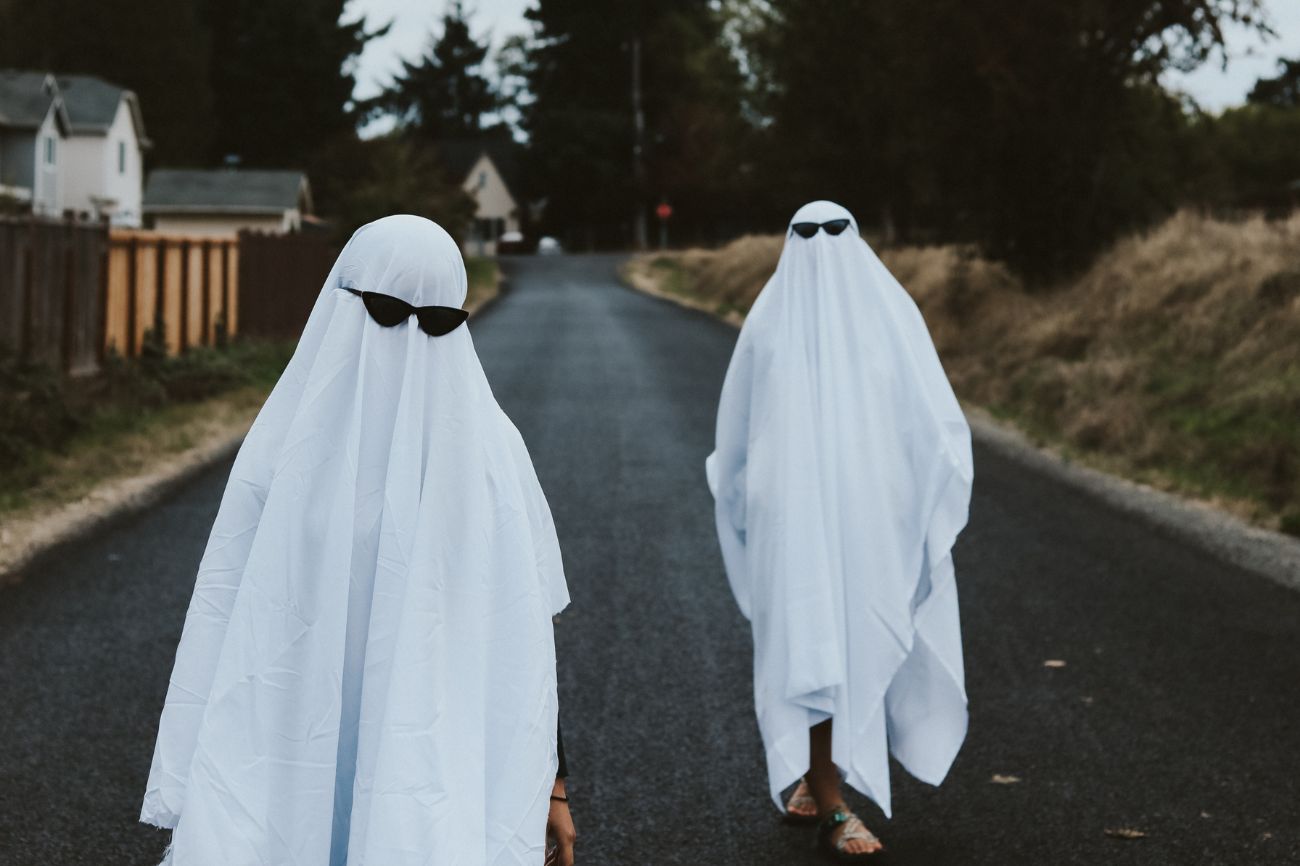 Our Pick of the Best Halloween Movies in English
How to throw the best English Halloween movie night ever.
Autumn brings a lot of changes: coloured leaves, pumpkin spice and holidays like Thanksgiving and Halloween. With the change in weather that Autumn brings along, there is no better way to spend an evening than to curl up in a blanket and watch a Halloween movie.
But what exactly is Halloween? When did we start celebrating it and how are pumpkins and evil spirits connected? Before we go into our list of best Halloween movies, let's look at the story behind the spooky holiday.
The Origins of Halloween
Halloween is celebrated every year on the last day of October, the 31st to be exact. The tradition goes back to an ancient Celtic festival called 'Samhain', where people would dress up in costumes and light big bonfires to ward off ghosts. Celts lived mostly in parts of what today is known as Ireland, the UK and northern France. Their New Year's Eve was Halloween, since for them the new year started with the 1st of November. With this date they marked the end of summer and therefore the beginning of the colder and darker months of the year. According to Celtic mythology, the lines between the worlds of the living and the dead blurred on that day, making it easier for ghosts to return to the world of the living. For this reason, they celebrated 'Samhain' or now: Halloween.
Pumpkins and trick-or-treating
Most of us have carved a pumpkin before. But why do we do that? The obvious reason is that it looks cool, right? But there is also a history behind the carving of pumpkins, which are also often called 'Jack-O'-Lanterns'. According to an old Irish myth Stingy Jack tricked the Devil in order to gain more money. When he died, he was not allowed to enter Heaven or Hell, since neither God nor the Devil allowed him in, so he was sentenced to wander on Earth for the rest of eternity. As a result, people in Ireland started to carve scary faces into pumpkins to keep Jack away from their homes and families.
Trick-or-treating developed when Irish immigrants came to America, bringing the old Samhain tradition to dress up, with them. Americans began to go from house to house calling out: "Trick-or-treat", meaning they want treats (sweets and food) or they will play tricks on the house owners.
The best Halloween movies to choose from
If you don't know what to watch, here is a list of some of the best Halloween movies in English to enjoy
1. Halloween franchise
This movie franchise consists of 13 movies. Yes, you did read that correctly – 13 movies! That makes it perfect for a movie marathon. The movie deals with the story of Michael Myers, who as a child murdered his sister. 15 years later he manages to escape from the asylum he was put in and starts to kill people again. These murders occur on Halloween – hence the title. The first movie was released in 1978 and features stars like Jamie Lee Curtis and Donald Pleasence. Halloween is considered a slasher movie, meaning it involves a killer using sharp or bladed tools like chainsaws, knifes, machetes etc.
2. Hocus Pocus
Hocus Pocus is a family-friendly Halloween movie about three witches who are resurrected at Halloween time. On Halloween a child is kidnapped in the woods by threw witches – the Sanderson sisters Winifred (Bette Midler), Sarah (Sarah Jessica Parker) and Mary (Kathy Najimy). The child's brother tries to save her but fails. As a result, the three witches are hanged. Before their death Winifred manages to cast a curse, allowing the sisters to resurrect every year at Halloween. The movie follows Max and Dani who resurrect the witches by accident 30 years later and the chaos that follows. A Halloween classic for the whole family! In 2022 a second movie was released on Disney+.
3. Harry Potter

What to better watch at Halloween than a movie about witches and wizards? Harry Potter is a must – no matter if on Halloween or at Christmas! The movies, which are based on J.K. Rowling's books, follow the wizard Harry Potter who receives a letter from "Hogwarts", the School of Witchcraft and Wizardry, on his 11th birthday. He travels to Hogwarts on a magic train from a platform called 9 ¾ and meets his best friends Ron Weasley and Hermione Granger on his journey. Throughout the 8 movies he has to fight one of the most powerful wizards called Voldemort. The first movie was released in 2001 with Daniel Radcliffe, Emma Watson and Rupert Grint in the leading roles.
4. Nightmare on Elm Street
With 9 movies to this franchise, Nightmare on Elm Street would also be a great marathon movie! It is considered a slasher movie too but it has a supernatural component to it as well. It deals with a number of Midwestern kids who succumb to Freddy Krueger (Robert Englund), a deformed nocturnal mangler who invades teenagers' dreams before killing them, which kills them in reality as well. After some research the teenagers begin to suspect that their parents are keeping a secret from them which could be the key to solving the mystery around Freddy Krueger. Will they be able to save themselves in time?
5. Scream

Almost a decade after "Nightmare on Elm Street" came out, Wes Craven directed his next superhit movie – Scream. There are 5 movies in total in this franchise and they follows high school students, who must escape a serial killer in a black robe and a white mask. Sidney Prescott (Neve Campbell) and her friends start to get unusual phone calls a year after her mother passed away. As the story develops, they discover that the calls are being made by a maniacal serial killer seeking vengeance. He calls the teenagers on the phone and asks them: "What is your favorite horror movie?", before entering their house and trying to kill them. A movie that will keep you on the edge of your seat the whole time!
6. Get Out

The 2017 movie written and directed by Jordan Peele deals with Chris, a Black photographer and his girlfriend, Rose on a trip to Rose's parents. Since they have reached a relationship milestone with meeting the parents, Rose invites Chris to spend a weekend with her and her parents Dean and Missy. When reaching the estate, Chris is welcomed by them in an overly cheerful manner. He reads this as a nervous attempt to handling their daughter's first interracial relationship, since that's what Rosie had told him. As the weekend progresses, Chris is confronted with racism and uncovers dark secrets that Rosie and her family have kept hidden from him. A psychological horror film that you won't get out of your head for some time!
7. Hotel Transylvania

For the little ones, Hotel Transylvania is the perfect movie! The animated movie was released in 2012 with Adam Sandler, Selena Gomez and Andy Samberg voicing the leading roles of Count Dracula, Mavis and Jonathan. Where do monsters spend their holiday? Exactly, at Count Dracula's "Hotel Transylvania". Here they can get away from the human world and enjoy a well needed time off. When a human stumbles into the hotel by accident everything seems to end in chaos. What makes it even more complicated is that he falls in love with Count Dracula's daughter Mavis. Chaos is guaranteed! A fun movie to enjoy with a younger audience but also for those who stay a child at heart!
8. Rocky Horror Picture Show
Even though the title includes the word "horror", this movie is rather a musical comedy with some horror elements. Released in 1975 it centres on a newly engaged young couple who are on their way to an old friend's house, when their car breaks down in the pouring rain near a castle. While looking for a telephone in order to call for help, Brad and Janet walk into a castle party nearby, where everyone is dressed in elaborate costumes. They meet the owner of the house Dr. Frank N. Furter, a transvestite mad scientist. The story follows Janet and Brad on their unbelievable party night – worth a watch! Today it is considered one of the greatest musicals of all times with live adaptations all over the world.
Bake some Halloween treats and yummies
Good food is a must for any movie night.. There can be a variety of Halloween inspired foods like "witch fingers" (sausages with almonds as nails), banana ghosts, stuffed miniature jack-o'-lanterns (carved orange peppers), Halloween cupcakes (orange frosting and/or Halloween motives) or a bloody eye punch (red punch with lychees as eyes).
Here are some recipes to check out:
Want to learn some seasonal language? Have a look at our blog about autumn vocabulary and phrases in English.