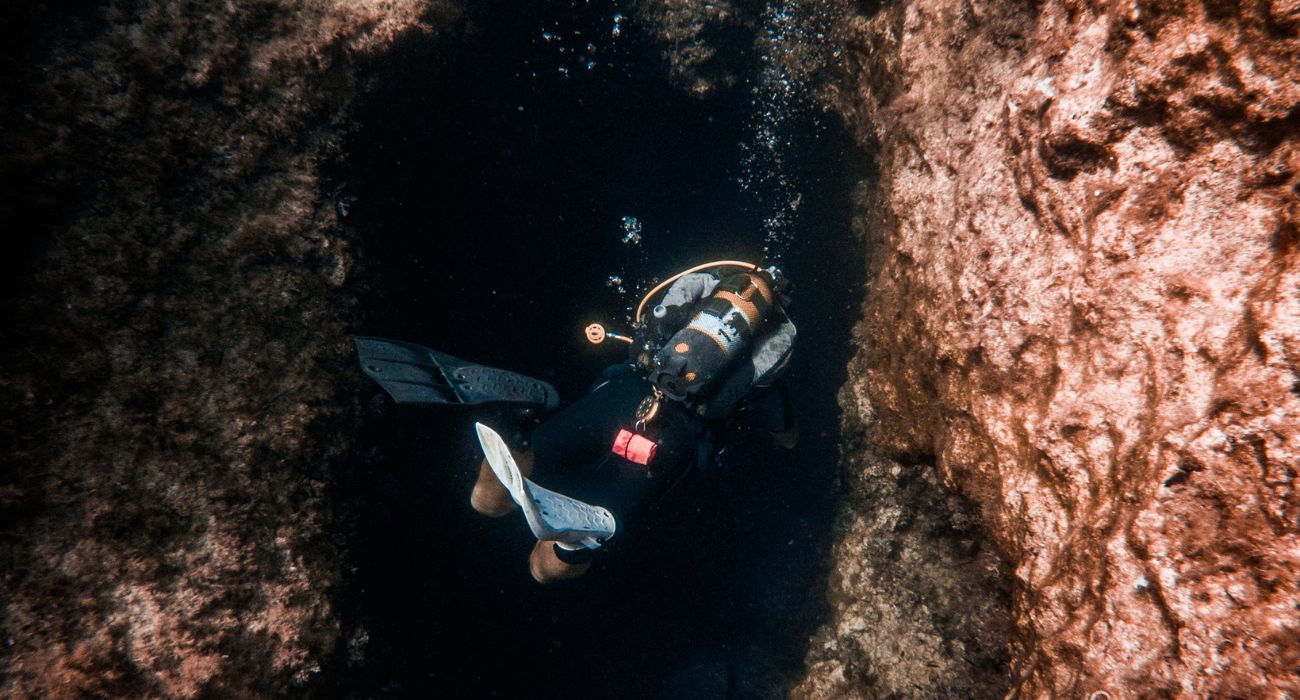 A Guide to Scuba Diving in Gozo
Everything you need to know for a diving holiday in Gozo.
Gozo and Malta are known as one of the best diving destinations in the Mediterranean. Gozo, as the smaller of the two islands, is usually more popular than Malta. The mild climate, even in winter, virtually ensures diving fun all year round. The good visibility (even at depths of 50 metres) and the exploration of underwater caves and grottos make the Maltese Islands a popular diving destination.
Different Types of Diving Courses in Gozo
Taster Course
Gozo offers a lot for divers, but what if you've never been diving before but would like to give it a try. On Gozo, that's no problem. Almost every diving school on the island offers introductory courses for beginners. So, you don't need any experience. You are given the equipment and a short crash course on how to handle and operate the equipment. The instructors help you both on land and underwater with any problems or questions that come up. So, you dive in a small group for about an hour. Due to the great water visibility on Gozo, you can see a breathtaking underwater world from the first few metres.
PADI Diving License
If you are on Gozo for a longer period of time, you can get your PADI certification here. Depending on how much time you have and how long you can dive per day, the lessons will vary. You can also take an intensive course and get your licence in no time at all.
The best diving spots in Gozo
Diving Sits in Gozo for all levels
Gozo offers dive sites for all levels, we have divided the sites by location and included comments on the difficulty level.
The Blue Hole – The Blue Hole is best known to divers below. It offers a spectacular underwater world with amazing light effects. In addition, you can dive for the remains of the Azure Window.
Crocodile Rock – Crocodile Rock is particularly suitable for both experienced divers and beginners. A steep wall dive awaits you that goes down to 30+ metres. After only 7 metres you reach a shallow plateau with a beautiful reef.
Cathedral Cave – For a magical blue water dive, explore Cathedral Cave. One dives down to large boulders, domes and passages. There is much to discover between depths 15 and 25. Cathedral Cave is suitable for divers of all levels. Gozo's underwater world offers many grottos and underwater caves.
Xlendi Bay – If you are inexperienced with caves, you should dive into the fantastic tunnel in Xlendi Bay. The tunnel is located in the middle of the picturesque bay and starts at a depth of 3 metres and goes down to 8 metres. It is safe and suitable for all levels, ideal as a first experience of caves and caverns!
Mgarr ix-Xini – Even though this site doesn't really seem to be particularly attractive at first glance, divers will encounter multiple types of fish that are rarely seen elsewhere, including gurnard, seahorses, pipefish, weaver-fish, sea-hare, and star-gazer. Lizardfish, goatfish, seabream, scorpionfish, octopus, cuttlefish, flounder, and baby rays are among the other species.
Wreck Diving in Gozo (for experienced divers)
For the more experienced diver, the three wrecks on Gozo provide real adventure.
The MV Karwela is very popular among Gozo divers. It is easy and safe to enter and penetrate the wreck. It also has a fantastic staircase, 2 decks to explore and a dark engine room underneath. You can reach the ship from a depth of 32 metres and go down to 40 metres.
The MV Cominoland was sunk in August 2006 and is located near the Karwela wreck. The ship is 35 metres long and lies at a depth of 40 metres. The ship's two decks offer plenty to explore.
The third wreck on the island is an old ferry ship that was also sunk near the other two wrecks.
Diving schools
There are many diving schools on Gozo, so it's easy to lose track. However, depending on what you are looking for, you will quickly find the right diving school for you. The schools offer a comprehensive programme for all levels of divers (beginners (first approaches), advanced (deeper dives) and professionals (complex cave systems)).
Some dive schools are open all year round. Due to the mild water temperatures, even in winter, winter diving is not unknown in Gozo. Should you take a diving course, you can expect them to be designed to international standards (PADI and CMAS).
Combining English courses with Diving in Gozo
Since Gozo is a popular location for both English courses and diving, many of our students visit our English school in Gozo to combine the two activities. We have a partnership with various diving centres and can help you book your entire holiday directly. Your weekdays will start with English courses in the morning, followed by diving sessions in the afternoon. This can be arranged for complete beginners or experienced divers.
Read an experience by Marie, a young adult from Germany who tried diving for the first time in Gozo.
Trying Diving for the first time, after English courses – Marie
I had the opportunity to take a diving course organised by the school. I took the introductory course dive because I can snorkel but have never been diving before.
In the morning I attended courses and I took everything I needed for diving with me to school. After lessons, I got prepared directly at school. Then we were picked up for the dive course by one of the dive instructors from the language school. This was great because we didn't have to worry about any transfers. We then went by car to the diving centre.
There, each participant had to fill out a health form and we were provided with the equipment. We could choose between a short or a long wetsuit. We also got neoprene shoes, a mask and fins. And the most important thing is the diving waistcoat with the oxygen tank. After each student had received their equipment, we were given a short crash course in diving.
The instructor is super nice and explains everything very precisely and understandably. So that when we drove to the dive site by car, we knew exactly how to behave underwater.
After putting on our equipment on site, we climbed into the water via a small ladder. The equipment is very heavy on land, but fortunately, you don't notice it in the water. The first time underwater was quite exciting, but with the help of the instructor, it was no problem at all. Once everyone was underwater and we felt comfortable, we slowly moved on to deeper water. And the visibility and underwater world on Gozo did not disappoint. We saw a lot of fish, and could even dive to 12 metres. The dive was a lot of fun and now I want to get a diving licence next so I can see even more of the great underwater world.
Plan your own diving holiday and English courses in Gozo
Write to us at [email protected] and we'll guide you through the whole process of booking your trip directly online.