A Traveler's Guide to Gozo's Best Beaches
November 1, 2023
3.5 min read
The island of Gozo boasts numerous beautiful beaches that are worth a visit. With so many options, we have shortlisted the top eight beaches you cannot miss. Whether you are here for leisure, business, or academics, don't forget to pack your swimsuit and head to these beaches to soak up the Mediterranean sun.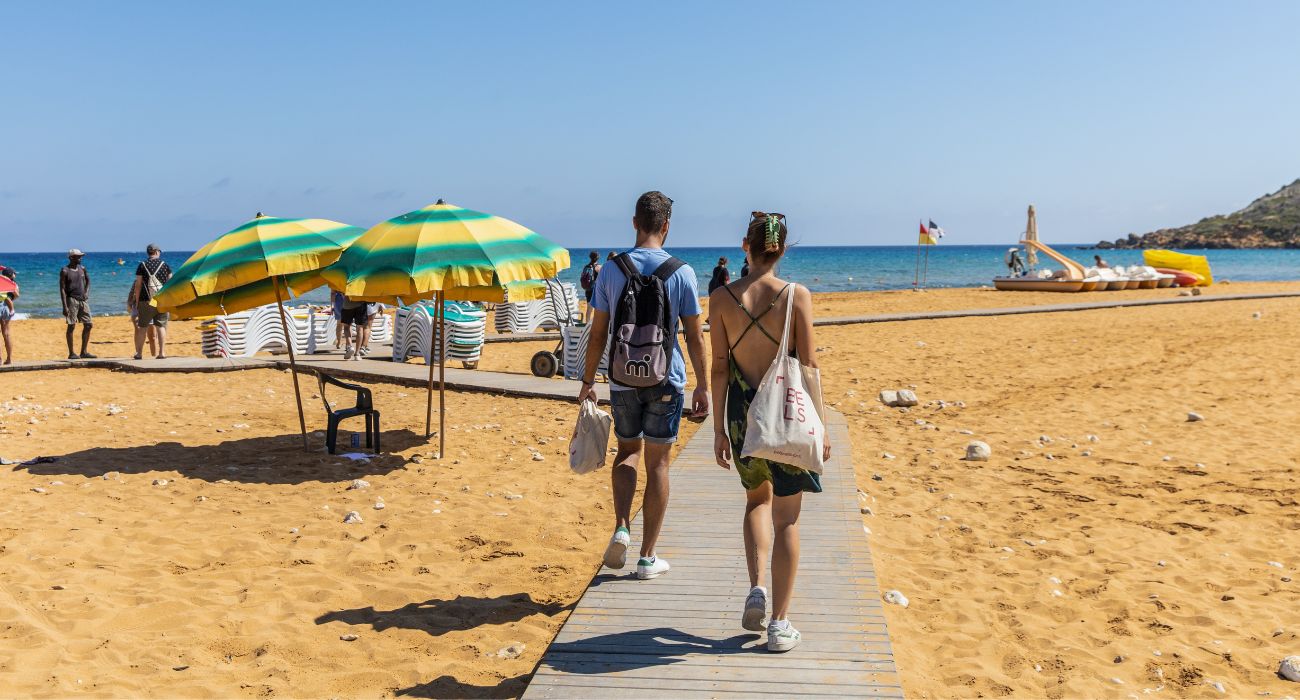 Here are The Best 8 Beaches to Visit in Gozo. 
The Maltese islands are well-known for their picturesque beaches. From rocky coastal bays to quaint inlets and sandy beaches, there is something here for everyone. Malta's sister island, Gozo, is no exception. Gozo is full of popular swimming sites and hidden gems. With so many beaches, we have narrowed down the 8 best beaches for your trip to Gozo. So, whether you're here for a holiday, work, or study, grab your swimsuit and head to these beaches for fun in the Mediterranean sun. 
1. Ir-Ramla il-Hamra / Ramla Bay
Ir-Ramla il-Hamra is Gozo's most popular swimming destination, boasting clear waters and sandy beaches. On the northeastern side of Gozo, Ramla Bay is family-friendly, with shallow waters that make it safe for small children. This bay is the largest in Gozo, so there is plenty of space to spread out. During the summer, the waters are warm, and the waves are relatively calm, so scores of locals and tourists flock to the bay. Beach chairs and umbrellas can be rented during the summer, and there are multiple kiosks to buy snacks, beach attire, and water toys. For a bite to eat, stop by il-Kcina tar-Ramla; they serve everything from pizza to fresh fish and authentic Gozitan meat dishes. 
How to get there
Travelling to Ramla by car is easy; just follow the road down to the bay. You can also hail a Bolt for your trip. For bus-goers, your journey will be just as simple. From the Mgarr Harbour, take 322 buses to Ramla. If you travel from Victoria, you can grab 302 buses from the terminal. 
2. Hondoq ir-Rummien 
Honduq Bay is located in the quaint village of Qala. This rocky bay has views of Comino and Santa Marija Bay. Honduq is an ideal location for families and snorkelling enthusiasts. Remember that the shores of Hondoq slope down, and the water can get deep. The beach is relatively small, but there is still plenty of room to stretch out. The waters at this bay are teeming with life, and it is a perfect destination for divers and snorkelers. Daredevils will also enjoy the high diving platform. There are nearby kiosks and the Bay Café, where you can enjoy snacks and beverages. 
How to get there
Getting to Hondoq by car is easier, as buses will only take you part of the way. You can take 303 buses to the Kuncizzjoni stop and have a 20-minute walk to the bay. The road to Hondoq is quite steep and may seem easier as you walk down, but walking back up can be difficult. If you have children, hiring a taxi for your visit to the bay is recommended. You can hail a Bolt online or grab a white taxi car from Mgarr Harbour or just in front of the Victoria Bus terminal. 
3. San Blas 
Situated in the village of Nadur, San Blas is one of the island's hidden gems. This sandy beach has a relatively untouched natural landscape and a quiet and comfortable location for sunbathers. It is also a great location for divers and snorkelers because the waters are usually clear. There are few kiosks here for refreshments, so bring your own food and drink. San Blas is not ideal for children because the road to this beach is extremely steep and may be difficult to walk down or back up, particularly in the hot summer months. San Blas is also easily affected by windy weather, so check conditions before making the trek to this secluded, sandy beach. 
How to get there:
Getting to San Blas is a little trickier than other beaches in Gozo because it is found at the bottom of a steep hill and is dangerous for most cars to navigate. Additionally, there are limited parking spaces at the top of the hill, so most visitors choose to walk. By bus, you can take 303 buses to the Weraq bus stop, which is a 600m walk down to the bay. Be prepared for a hard walk down, but it is well worth the trek.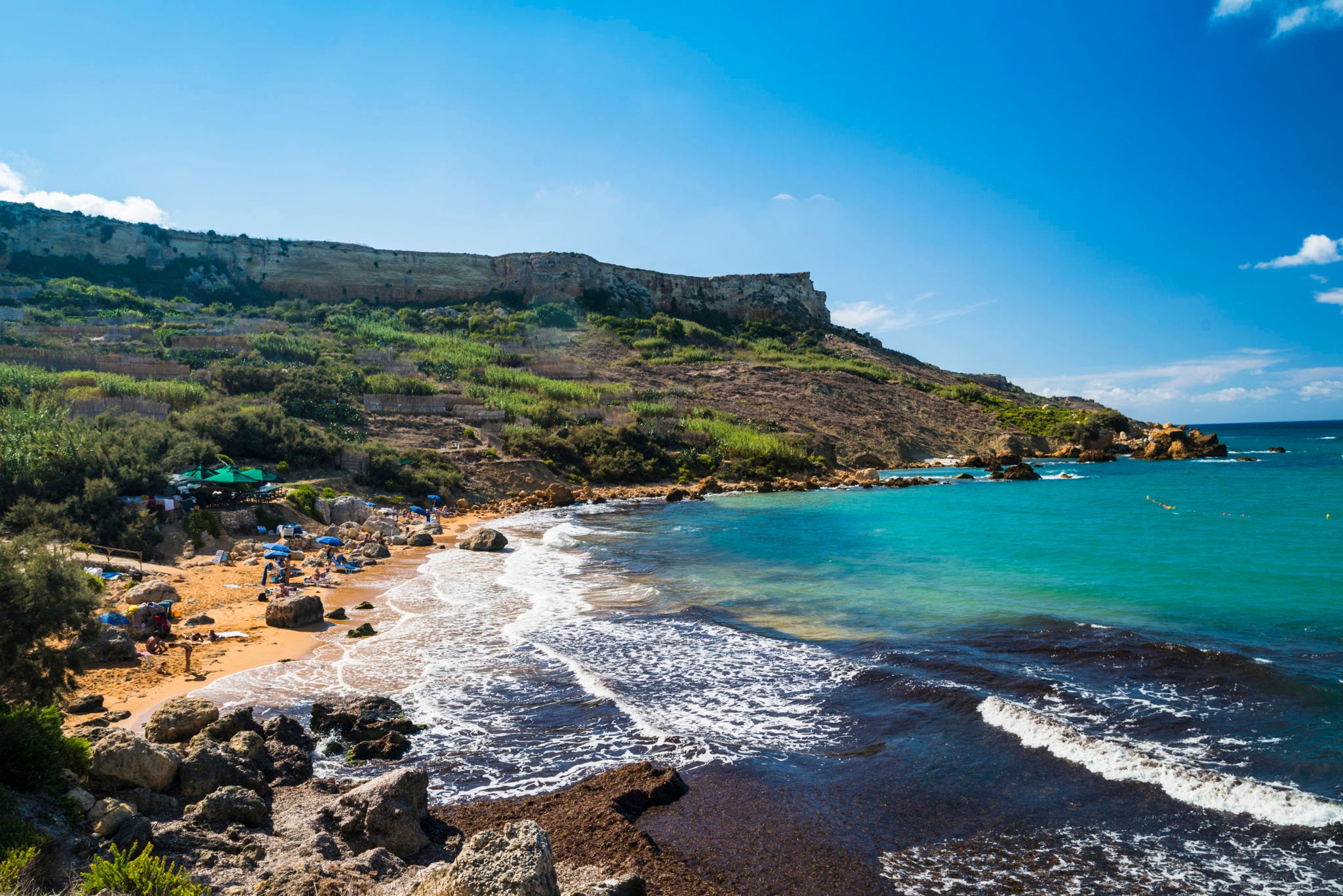 4. Xatt l-Ahmar 
This rocky coastal bay can be found on the south-eastern side of Gozo, near the village of Ghajnsielem. Here, you will find historic salt pans and sights of the iconic Fort Chambray. Xatt l-Ahmar is relatively small, and there is only a small section of sand; however, for scuba divers and snorkellers, Xatt l-Ahmar is an absolute must. Apart from the spectacular underwater reefs, there are three shipwrecks off the coast that you can explore. All three wrecks have a maximum depth of 40m, so whether you are an experienced diver or a beginner, Xatt l-Ahmar is a great place to visit. 
How to get there:
Getting here is easiest by car; pass through the town of Ghajnsielem until you find Triq Sant Liju. You can take this road all the way down to Xatt l-Ahmar, where there are spaces designated for parking. By bus, take the 301, 323 or 303 to Chambray, followed by a 15-minute walk. The hill down to Xatt l-Ahmar is manageable but a bit steep. There are also coastal paths from Mgarr Harbour that lead directly to Xatt l-Ahmar.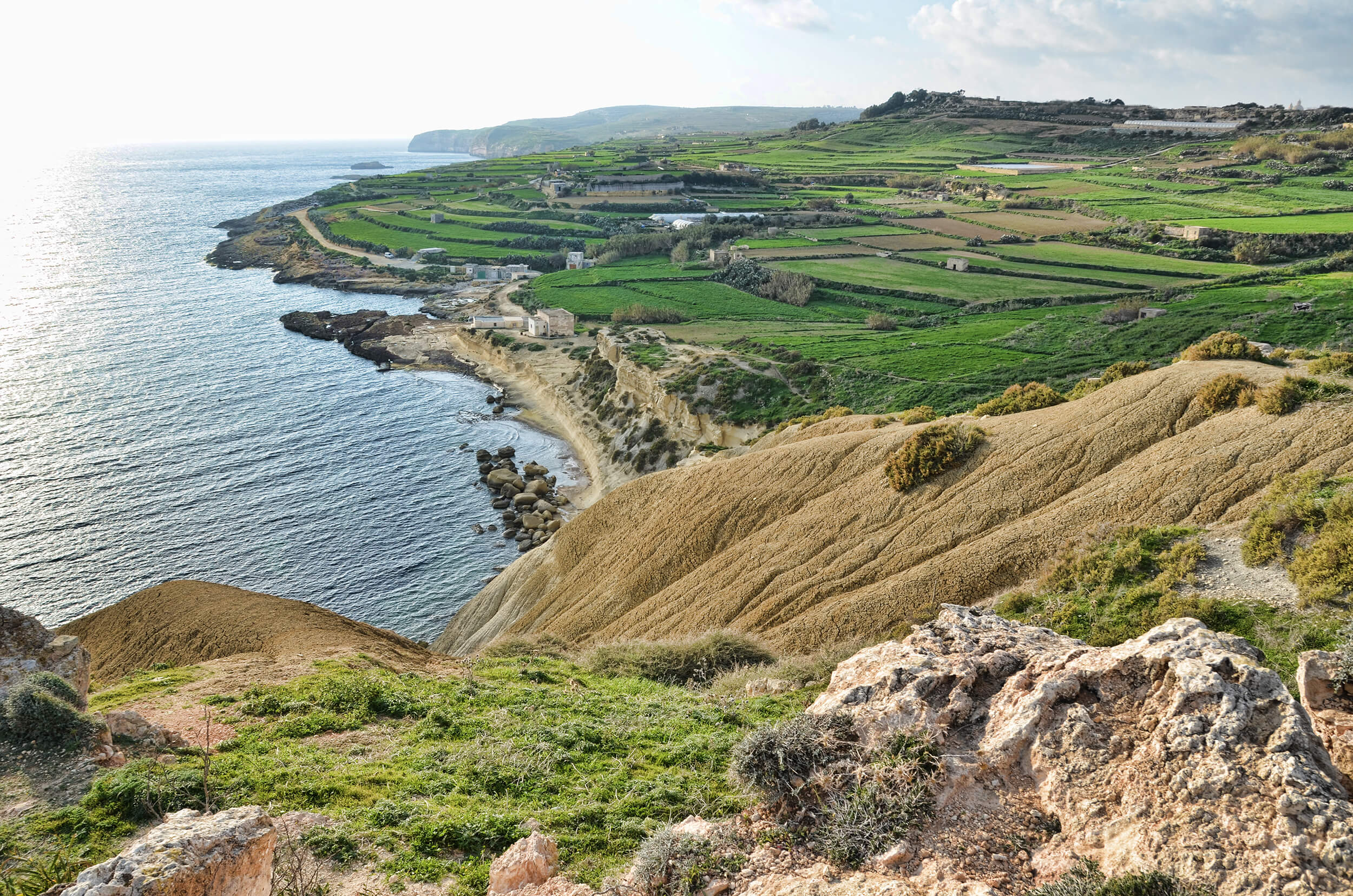 5. Mgarr ix-Xini 
This small strip of sand is situated between two large cliffs. There is also a nearby wreckage off the coast of Mgarr ix-Xini, so this location is ideal for divers. The beach is rocky, but the shallow waters make it the perfect getaway for families. While refreshment options here are limited, there is Restaurant ix-Xini, where you can feast on fresh seafood dishes. For those who want a more refined dining experience, try Ta' Cenc restaurant, which is a 20-minute walk from the bay. This restaurant provides stunning views of the seas and adjacent cliffs.
How to get there:
The best way to get to Mgarr ix-Xini is by car; by bus, you will find a 30-minute walk down from the nearest station. The road down is winding, somewhat steep, and narrow, so be cautious when driving down.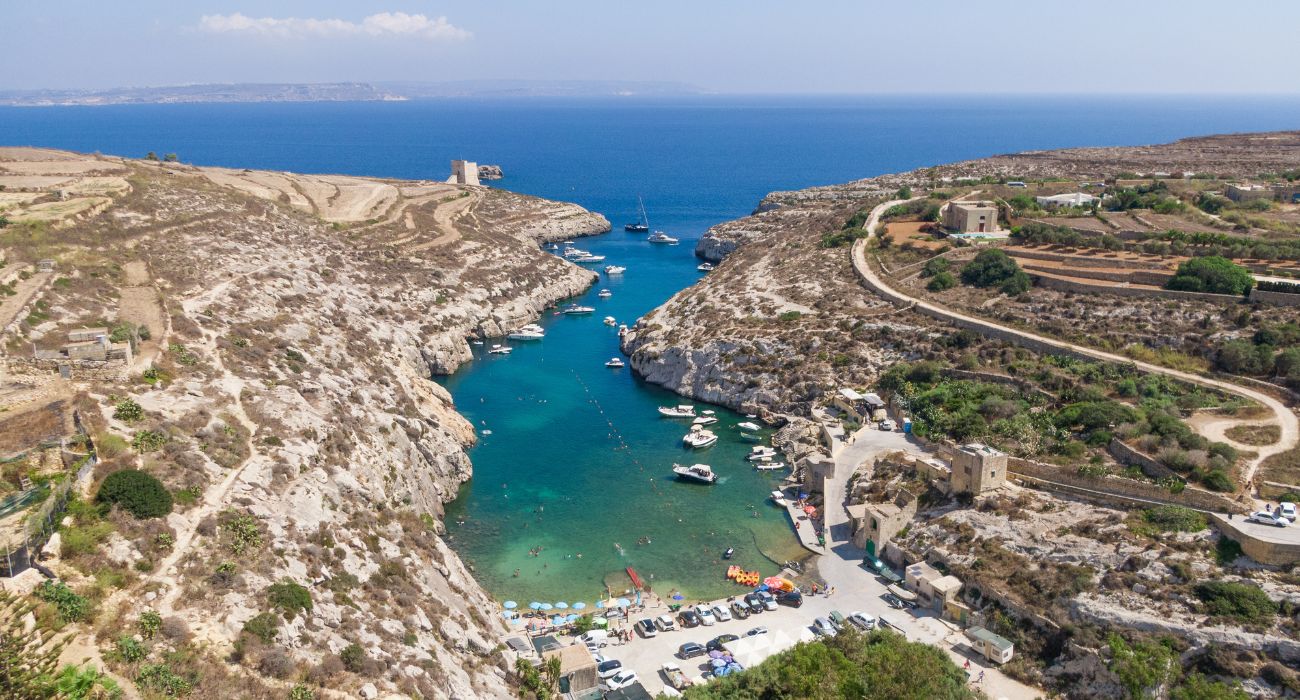 6. Dwejra Inland Sea and the Blue Hole 
The Dwejra Inland Sea, found on the western side of Gozo, is a natural lagoon that boasts calm waters and exquisite sights of the surrounding caves. It is an ideal location for families and divers; the calm, shallow waters make it a safe spot for small children, and the naturally formed tunnel that connects the lagoon to the sea is said to be the best diving spot on Gozo. In this area, you will also find the Blue Hole; this natural wonder is an upright tunnel popular for the underwater archway 10m below the surface connecting the Blue Hole to the sea. You can also visit the surrounding kiosks for snacks, drinks, ice cream, and souvenirs. If you care for a heartier meal, visit the Azure Window restaurant, where you will enjoy large portions of decadent dishes and local wines.
How to get there:
Luckily, Dwejra is easy to get to by both car and bus. From Victoria, your drive will be less than 20 minutes, and there are plenty of areas to park. By bus, you will need to take the 311 buses from the Victoria Bus Terminal all the way down to Dwejra.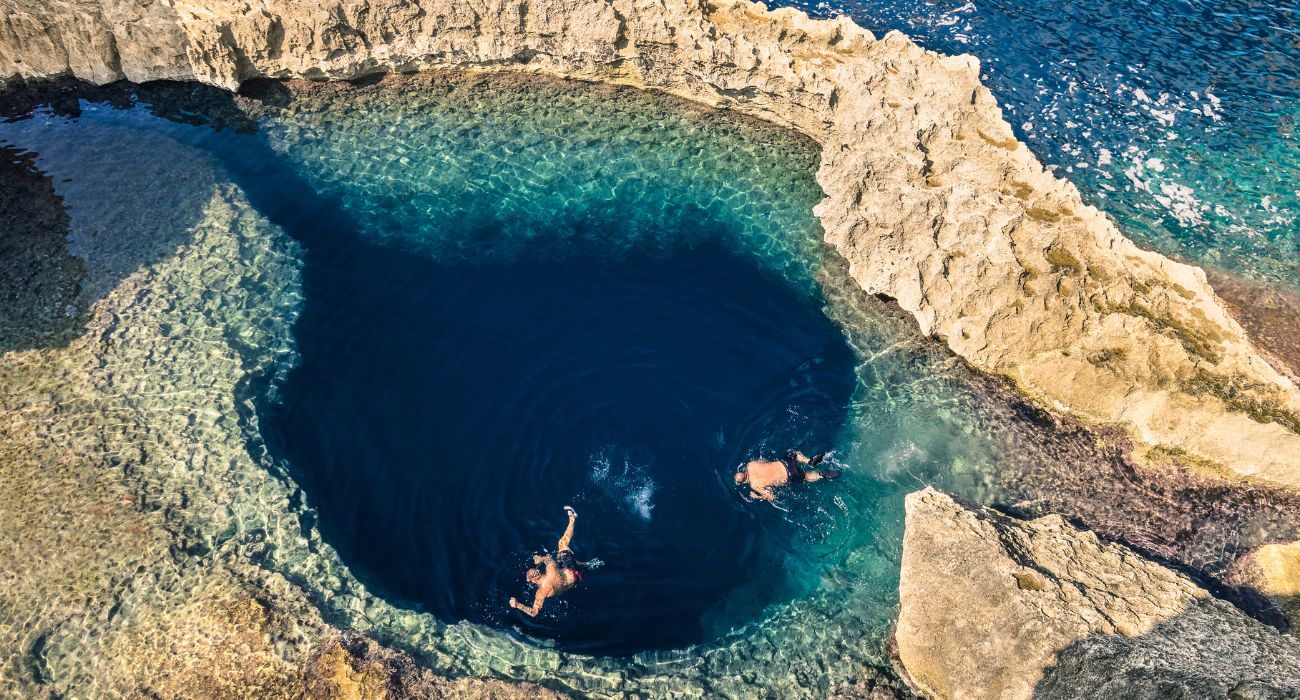 7. Xlendi Bay 
Xlendi is a lively coastal bay in the south-west of Gozo. It is a great spot for families, couples, and water sports enthusiasts. Its shallow waters are ideal for children, and there are deeper waters further out towards the sea, making Xlendi perfect for divers. There are also kayaks and self-driven boats to rent from Xlendi Watersports. There are restaurants and gelaterias along the promenade. Visit the Boathouse for indoor and outdoor seating, fresh ingredients, and a gentle ambience. For a local flavour, try Ta' Karolina, a family-owned restaurant where you can enjoy a variety of dishes paired with local wines. Zafiro is another fantastic restaurant that offers an a la carte menu and an extensive wine list. 
How to get there
By bus, you can take the 306 from the Victoria Bus Terminal all the way down to Xlendi. For drivers, Xlendi is less than 10 minutes from Victoria. Keep in mind that this road is quite winding, so utilise caution, especially at night. Luckily, there is plenty of parking just outside the Bay Area.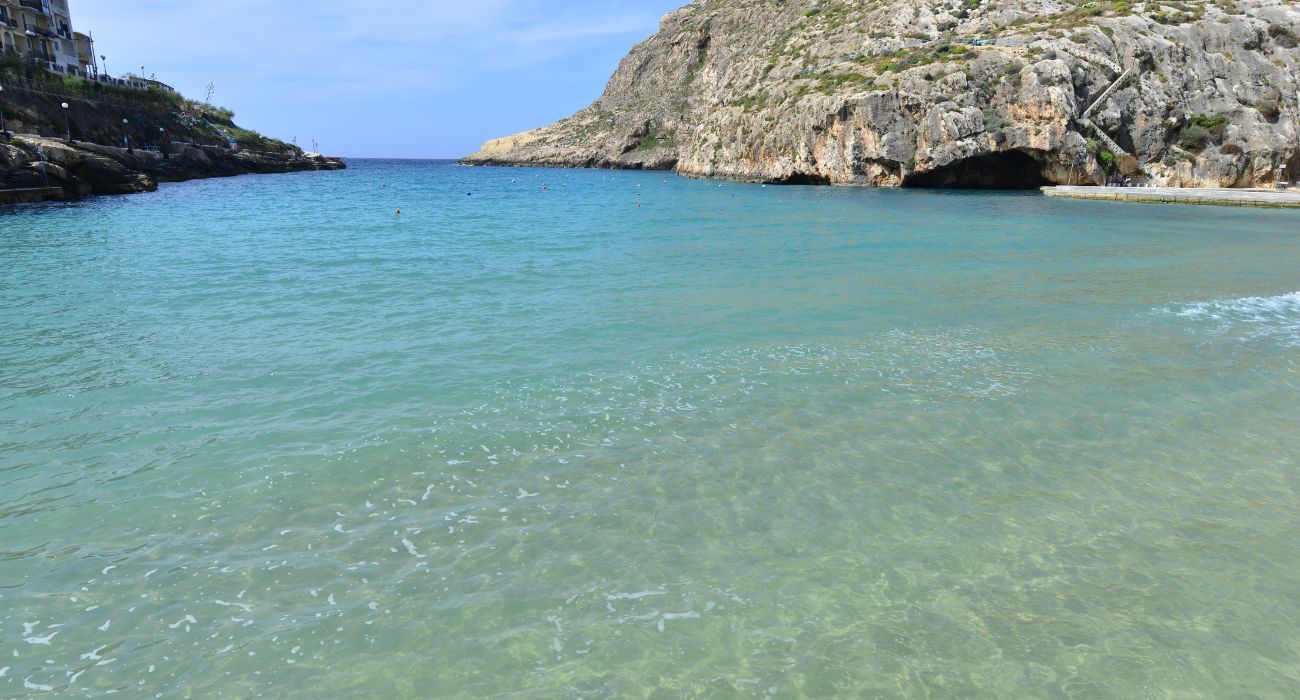 8. Dahlet Qorrot 
This quaint bay is located in the countryside between Nadur and Qala, on the north-western side of Gozo. The bay has a shallow entry, sunbeds and umbrellas are available to rent, and there are sections of sand for sunbathing. The surrounding trees also provide shade during the summer months, and there is also a designated diving area. For food and drinks, you can stop at the Loose Caboose, located right on the beach. Here, you can buy juicy hamburgers and cold beverages to end your day. 
How to get there
By car, just follow the winding road down to the bay, but keep in mind that parking may be limited. By bus, your trip will take a bit longer. Grab 303 buses to the Wieqfa stop. You will then have a nearly 30-minute walk down the road until you get to the beach. The easiest options for non-drivers would be hiring a local white cab from Mgarr Harbour or Victoria or hailing a cab using Bolt.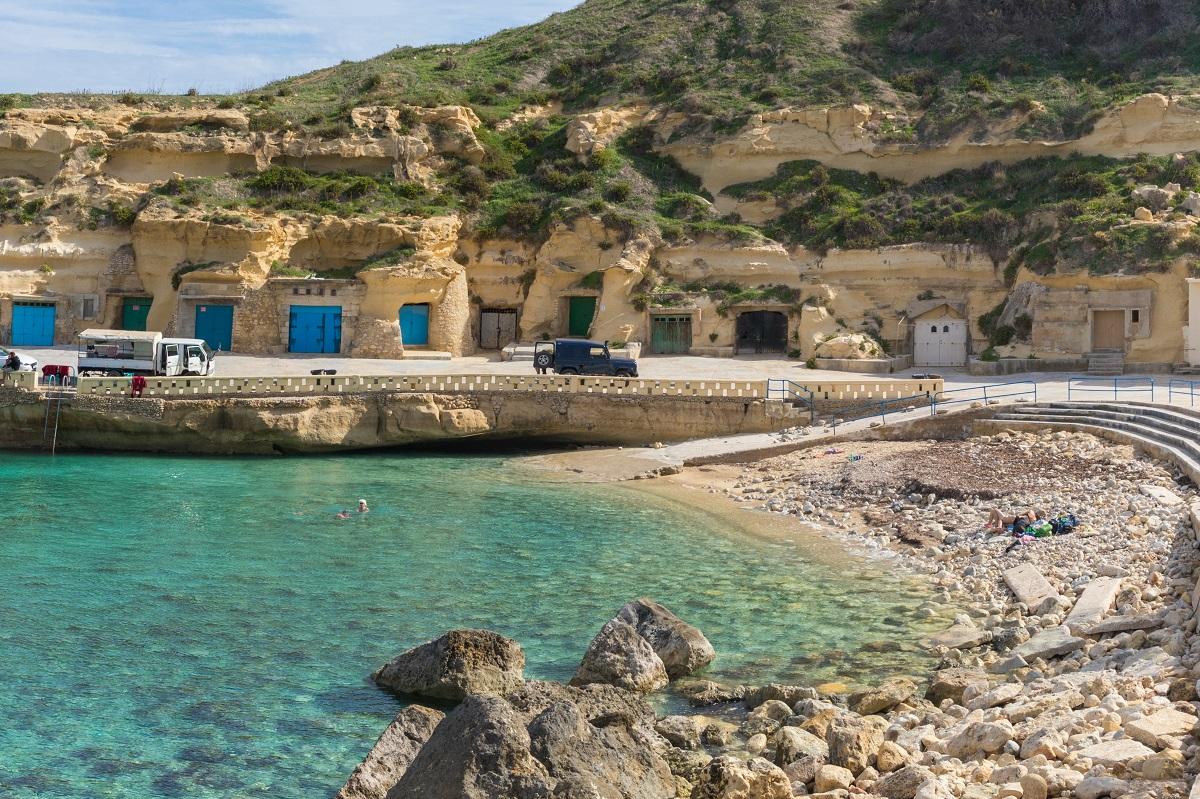 Looking to enhance your trip to Gozo? Enroll in BELS Gozo's English courses.
At our English school in Gozo, we have courses available that can help you improve your language skills while also allowing you to immerse yourself in the beauty and culture of Gozo. With experienced teachers and a variety of course options to choose from, we can assist you in enhancing your communication abilities and making the most out of your rip. 
Our vibrant school community offers a wonderful chance to connect with people from around the globe, learn about their unique cultures, and embark on thrilling adventures around the island.  Would you like to learn more? Email us at [email protected] to start planning your trip.
Join a Community of Travelers and Learners
Add an educational and social element to your trip by joining us at BELS English schools - an opportunity to meet likeminded individuals on an immersive English course, with a top school.
Discover our School