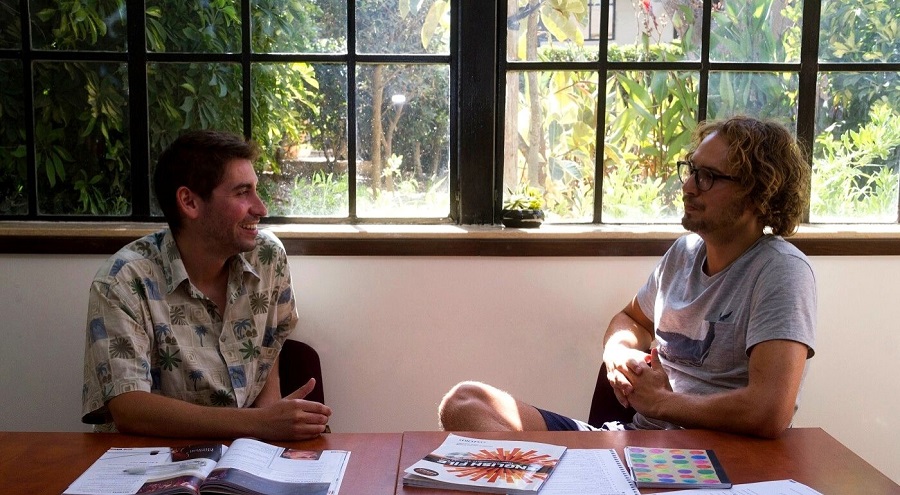 6 Types of Adult English Classes in Malta and Gozo
A Selection of Adult English Classes for all Learner Needs
Available in different levels, with new groups starting every Monday.
Our adult English classes in Malta or Gozo include individual lessons, group lessons, and even online lessons.  All courses are available on a short-term or long-term basis – that means that you could study with us for a week, or a year.
1. General English group classes
Our General English group courses focus on developing your overall level of English, with a specific focus on fluency and accuracy. In these classes you can work on your language skills (reading writing, listening and speaking) across all areas of the language (grammar, vocabulary, phonology, discourse). It's got a little bit of everything, so it's an effective way to improve your level of English.
All lessons are delivered in a communicative approach,  in classrooms that are equipped with an interactive board. In other words you're constantly using English – whether you're doing grammar or phonology.  Apart from this our lessons come to life with the use of real-world videos, songs and websites.
This course is available in all levels starting from beginner, and all the way up to C2. Before you start your course, you'll be given an online English test to help us assess your level and find a suitable class.
These English classes are available in standard class sizes with a maximum of 12 students, or if you prefer, you can choose a mini-group with a maximum of 6 students per class. As with all our adult classes in Malta and Gozo, it's possible to start on any Monday of the year.
2.  Fluency group classes
BELS fluency classes will boost your speaking skills.  They're an hour and a half long, and the focus is entirely on communicative skills.
In these English classes you can learn functional language that's needed in daily life, for example ordering at a restaurant, complaining, asking for advice, giving directions, telling stories, making suggestions, agreeing and disagreeing etc. Apart from that, you'll practise speaking English in debates, role-plays, and project work. It's the perfect opportunity to speak English through fun activities, in a multicultural environment.   So in these lessons you can develop fluency and expand your vocabulary.
Lessons are held every afternoon. This class can be taken on its own or as a General English Intensive course, which also includes the standard group course.  The intensive courses are the most popular adult English classes in Malta and Gozo
3.  Individual English classes
In private lessons, the focus point is entirely up to you. On your first day a teacher will conduct a needs analysis and plan a program just for you.  It's possible to have individual lessons for general English, business English, exam preparation, grammar practice or even just to have a social conversation in English.  It's just you and a teacher, so lessons are based on your learning needs.
Class times are also more flexible and they can be booked in addition to your group courses, on their own, or even online. They are usually alongside adult group classes, however you can also have a fully individual English courses as well.
4. Business English mini-groups classes
Our Business group course is the best choice for those whose aim is to improve language proficiency in Business English or English for Work. The content is planned around various tasks that are essential in a business environment, for example; business negotiations, telephoning, emailing, meetings, managing conflict and other common scenarios typically encountered in everyday work-related interactions.
Lessons are based on authentic learning material and real-world case studies, role-plays and project work. You'll get hands-on experience using the language that replicates a real business atmosphere.
Since it's a mini-group the maximum number of students per class is 6, so there's more opportunity for personalisation and personal attention. If you'd like lessons concentrated on a specific industry or role, you should take private lessons.  It's also possible to take semi-individual lessons with your colleagues, or University classmates.
This class has specific start dates for our Malta and Gozo schools – contact us for updated start dates.
5. IELTS Exam preparation courses
The IELTS qualification is becoming a common requirement for most English speaking jobs and learning institutions.  The exam itself is rather complicated and specific, so taking preparation lessons is a must to get a good grade.
That's where we can help. This course will help you get familiar with the IELTS exam structure and the skills needed.  That means you'll get a lot of practice and exam tips.   Group courses are an hour and half per day.  In addition to that, you could take private lessons.
6. Online classes
Sometimes it's not possible to study English abroad because of work, or other issues.  In addition, it's not easy to practise speaking English in most countries.  Because of that students sometimes forget how to speak English. That's why we also provide online English courses.  It's a great way to study English while working or attending University in your home country, or to remain fluent after your language course finishes.
The online English classes are rather flexible, both with regards to time and lesson frequency. These are available for adults, and even children. During these lessons a qualified teacher will conduct a needs analysis, and will plan a learning program based on your needs.  You can also continue to study with the teacher you had for your classes in Malta or Gozo.
Not sure which adult class is best for you?  Send us an email at [email protected] to get advice about learning English in Malta and Gozo.