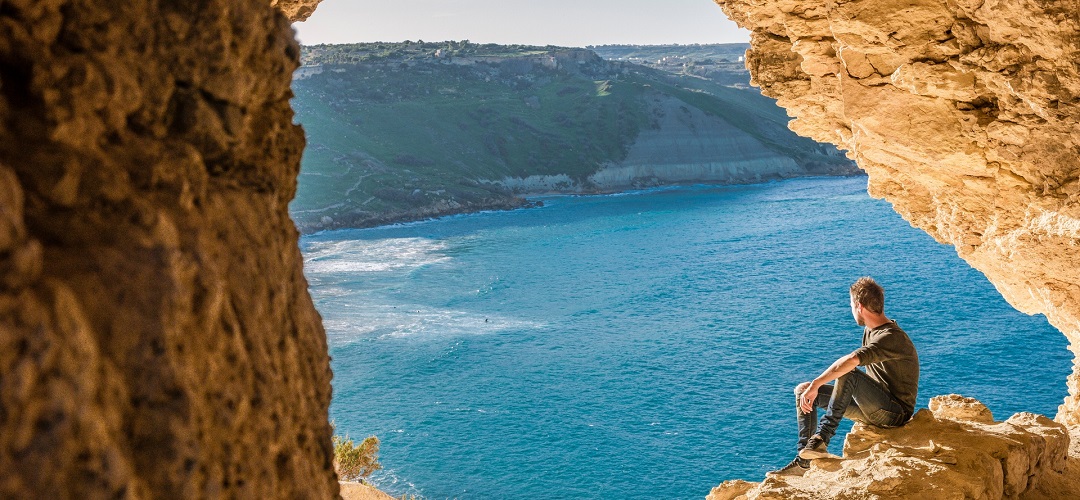 9 Must-see Natural Attractions in Malta and Gozo
Are you a nature lover? Add these 9 nature places in Malta to your bucket list!
Discover nature in Malta and Gozo through these unique attractions.
If your idea of a holiday must include nature and you want to find a suitable place for learning English outside a city, the islands of Malta and Gozo may be what you are looking for.
Malta's nature is nowhere as famous as the sparkling azure sea and the picturesque coast, however, it has a particular and unique charm. Though trees are not abundant, there is much to be enjoyed amidst the dramatic rocky landscape strewn with bushes and wildflowers. Students who want to take English courses while also spending time outdoors in nature are always happy with the combination Malta provides.
Scattered here and there you will find hunters' lodges and stone igloos known by the name "ġirna" as well as prehistoric megaliths standing tall and mysterious parallel cart ruts cut deep into the rock. What's most remarkable is the rock. Five layers of rock include varieties of white limestone, blue clay and greensand, which colour and texture define the landscape and the nature that prevails.
As you explore the caves, ridges and the valleys, you will stumble upon fossils, indigenous lizards, snakes, birds and wild rabbits. Your eyes will feast on curious and colourful varieties of cactii and wildflowers, you can taste wild spinach and wild asparagus, while the salty air smells of fennel and wild thyme, and sometimes of pine.
1. All of Gozo
If it is nature you love, you'll probably prefer the island of Gozo. Gozo is largely unspoilt and still offers plenty of pristine nature to enjoy. Despite its smaller size, there is loads to explore in terms of the coast, cliffs, caves, valleys, and so on, and it is easier to get away from it all in Gozo than it is in Malta. Especially in the cooler months, Gozo's hills are covered in a lush green carpet and lots of wildflowers.
2. Xemxija Heritage Trail
The Xemxija heritage trail takes you up a Roman Road to the rock-cut apiaries, past a 1000-year-old carob tree, along a path that has punic tombs on one side and temple remains on the other. Here you may venture west into Mizip Forest or continue north to a ridge, which is also the location of the Roman baths. Although located near a residential area, few walks in nature provide such a variety of curiosities.
3. Buskett Gardens
Buskett Gardens is one of the largest woodland areas of Malta. It was originally the gardens of Verdala Palace, which was built in 1586 by Grand Master de Verdalle and today serves as the summer residence of the President of Malta. Set around a valley with a stream flowing through it, the gardens include wild woodland as well as orchards, which originally served as a hunting reserve.
4. Ghar il-Kbir, Siggiewi
A short walk from Buskett, one can venture into private property to gain access to one of the most remarkable features on the island. Ghar il-Kbir translates as the great cave and consists of a complex of what were once underground caves inhabited by troglodytes. Nearby is a mysterious web of cart ruts known as Clapham Junction, due to their resemblance to the railway station's crisscrossing lines.
5. Dingli Cliffs
Set 250 m above sea level, the village of Dingli is set on the edge of the highest cliffs of the island. In some areas, the awe-inspiring sheer drop gives way to land below, some wild and some cultivated. If you feel adventurous, find a way to wander down below. But watch your fall, it's a long way down!
6. Fomm ir-Rih
On the outskirts of the rural village of Bahrija, along winding country roads across an apparent wilderness with stunning views, you will eventually come across one of the most remote and beautiful bays of Malta. Fomm ir-Riħ, the mouth of the wind, features a pebble beach, surrounded by grand cliffs, which can be accessed by a 15-minute trek down a steep path.
7. Majjistral Nature Park
The northwest of Malta, from Golden Bay to ix-Xagħra l-Ħamra, was declared a national park in 2007. Majjistral Nature and History Park includes natural habitats, agricultural activities, and historic and archeological sites. The park is freely accessible and several guided tours, activities and events are organised regularly.
8. L-Ahrax tal-Mellieha
Grab your camping gear, apply for a permit online, and head into the woods. Well, almost. Although the area of woodland is actually very small, l-Aħrax tal-Mellieħa is a favourite camping zone with the locals; this condensed area of Malta's nature, complete with cliffs, rubble and hidden coves for swimming, has the added bonus of wonderful views of Mellieħa bay and the village, the Red Tower, and the sunset. It is also an ideal site for a picnic or a long walk through the woods and along the coast – try to locate the underground cave where the roof caved into the water! You can also access this magnificent location with a kayak which can be found in either Armier or Mellieħa Ghadira Bay beach.
9. Wied iz-Zurrieq to Ghar Lapsi
The entire area stretching from Wied Babu, just below the village of Żurrieq, to Għar Lapsi, is an absolute delight to explore. The first stop after Wied Babu, a lush valley with gorgeous sea views, is Wied iż-Żurrieq, a teeny bay where you can take a boat to see the Blue Grotto. Further along the coast (you need not take the road) you will eventually come to the area of the magnificent Mnajdra and Ħaġar Qim megalithic temples, which are complete with a museum and visitor center. Much further along, where the cliffs are ideal for rock climbing, is Għar Lapsi, an ideal place to finish the trek with a swim, some fantastic snorkeling, and simple good food, as children splash in the water while the adults play cards or gossip, with their tea in glasses, at tables outside the boathouses. It does not get more natural than this; this is a true taste of Malta.
Are you a nature lover? Learn English in the Countryside at BELS Gozo
Our BELS Gozo English school is housed in a traditional farmhouse that has been renovated into a modern educational establishment, with everything needed for a comfortable learning experience.  You can mingle with international students in our front garden, study in a silent environment, and enjoy the slower pace of life on the island of Gozo.