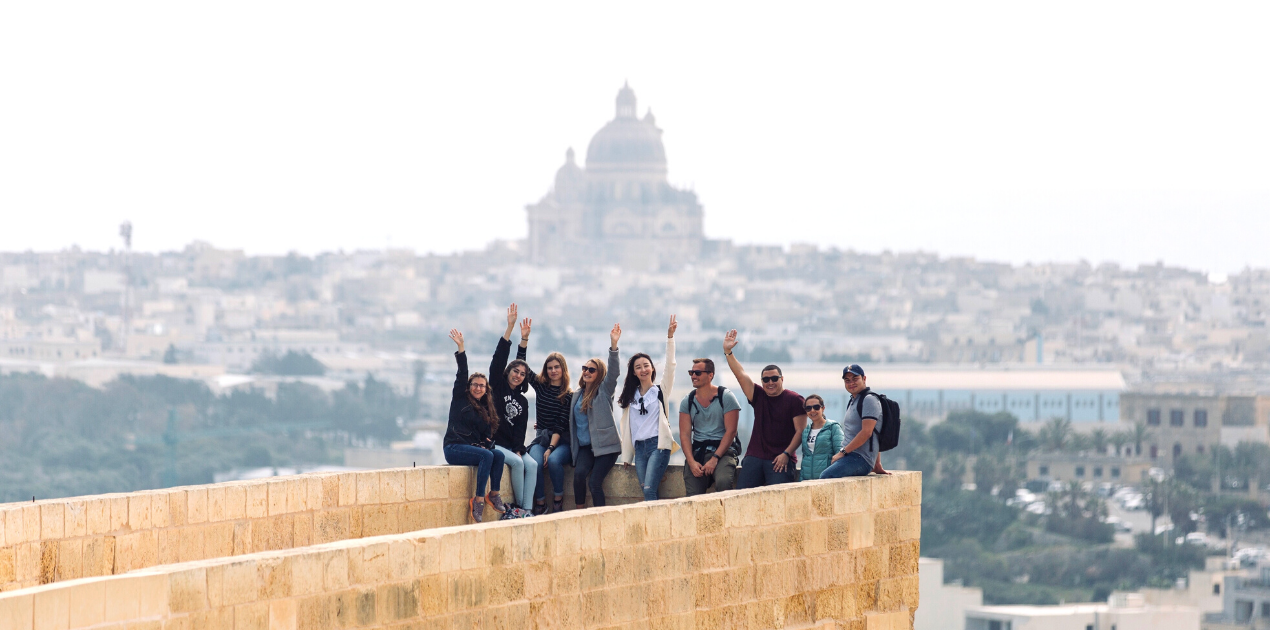 12 Brilliant Reasons to Study English Abroad in Malta
Why do people Study English Abroad?
There are endless reasons to study English abroad. For starters, if you live in a non-English speaking country, it's difficult to maintain or improve your level of English. Languages are alive and that means they need to be used.
And even if you do speak English in your country, you're constantly shifting between your first language and English. Switching between languages hinders the learning process since you keep on thinking in your first language.
When studying English in an English speaking country, you'll get a fully immersive experience that will boost your fluency. And you won't only be practicing with other second language speakers of English.
So you've decided to study English abroad and now you're faced with countless destinations to choose from. Why choose Malta?
Malta known as being a global destination to study English abroad. Here's why:
1. You get two for the price of one
Learning holidays are becoming more popular in this age of easy access to knowledge and skills, because they are clever ways to have fun. Malta is not only interesting and a lot of fun, it is one of the top destinations for learning English worldwide. Learning English in Malta is an all-round solution to make the most of your free time while improving your skills.
2. You open to new experiences and cultures
Being in Malta is a cultural adventure. The little islands are a melting-pot of cultures – in Malta traces of Greeks, Normans, Arabs, the French and the Spanish come together with a British influence and a Mediterranean lifestyle. The locals are welcoming, and love telling their stories to anyone who'll listen. Then there's the food, nature, warm climate and the diversity of sports that comes with it.
3. The people are the nicest
An added bonus for travelers who like to discover the culture and connecting with locals. Maltese are family people, and most of them are willing to welcome anyone as their own. That opens you up to hard-to-reach beautiful locations, plenty of mouth-watering home-made food, and gives you a window into the local history and traditions. You'll get a better rendition of the Maltese story than any museum can offer. One way to meet and mingle with locals is to look for host-family accommodation, dine at local restaurants, and shop locally.
4. Everyone speaks English
Learning English feels is effortless when you're studying abroad in an English-speaking country, making memories with new international friends. Apart from the tourists and students, with the ever-increasing number of expats the population is very diverse too. There is a huge British and European expat community in Malta so naturally, English is spoken almost everywhere. The locals mostly speak flawless English as well, with the exception of some elders in more rural areas. That's where the small island charm comes in.
5. The whole island is your classroom
When you're in Malta, learning English happens naturally. You'll have plenty of opportunities to speak English outside of the classroom environment. In a school you can develop your level of English in a formal setting and focus on your fluency and accuracy skills. After class you can try out the new skills and language learnt as you go about your day. Nothing beats an immersive experience when it comes to language learning.
6. Studying English abroad improves your prospects
English is essential skill in today's world. The skills you learn during study-trips in Malta help you communicate better in English, both in a social and educational context. You can spend time exploring a top destination while also improving life and work relationships and prospects. It's an excellent addition to your CV, both due to adding language skills and having experienced living abroad.
7. The sea is amazing, and never far
Malta and Gozo are surrounded by the clearest blue sea you can imagine. This makes way for enjoying all kinds of activities: swimming, snorkelling, diving, watersports, boating, cruises and fishing are just a few. The all-year-round mild weather means the beach and the sea can be enjoyed no matter the season. With its great visibility, mild temperatures, sea life, underwater caves, and diving wrecks, the sea in Malta is definitely one of its top attractions. The marvellous coast, with its cliffs, coastal caves and beach coves, also offers opportunities for deep water soloing, trekking or relaxation.
8. The weather is sweet
Maltese weather is always fine. It may get a little windy and wild from time to time, but bursts of thunder and rain are brief and you can be sure to soon welcome the sunshine. The generally good weather means you are unlikely to miss out on the fun during your learning holiday due to bad weather. So you can enjoy more of what Malta and Gozo have to offer. Who said that you must choose a place to study English based only on the ins and outs of learning the language? There are many extra benefits to enjoy if you choose to study English in Malta.
9. There's a lot to enjoy, day and night
If Al Fresco dining and open-air theatre is your thing, you will find it here. If it is bars, clubs, gigs and music festivals you like, you will find them here. If you believe that night-time is for sleeping, and prefer daytime activities, you will find plenty to see and do: archaeological sites, historic cities, museums, theme attractions, adventure sports, beach activities, cultural events, and more. Whatever your holiday mood, you can enjoy a variety of  things to do in Malta – you will never be short of entertainment.
10. Prehistory lives on to the present day
English is just one of the few things you can learn in Malta. Malta and Gozo have 7,000 years of history to discover. From Neolithic Temples to Medieval cities to WWII, Malta's story is rich and varied. Even if history has never fascinated you, the history of Malta is so unique and fantastic that you may just find yourself immersed in a wonderful exploration of the history of mankind in the Mediterranean region.
For example, the Neolithic temple of Mnajdra is one of the world's oldest freestanding structures, older than the Pyramids and Stonehenge, and has phenomenal astronomical alignment which makes it an accurate calendar of the Equinoxes and Solstices since 5,500 years ago to this very day. Isn't that marvellous?
Furthermore, Malta's location has made it attractive to many for various reasons since time immemorial, and you may enjoy the stories related to sea trade, piracy, human trafficking and strategic war plans. We're glad it is only fun-loving tourists who wish to admire and enjoy the islands that make it to our shores these days.
11. The distances are short
Whatever you choose to do, whichever activities you fancy and wherever you choose to go, you will never have far to travel. That is rather handy when you go to class in the mornings and have limited hours of day-time left to enjoy what you will. When you study English abroad in Malta, you will spend less time travelling and more time having fun. In addition, you can tally back and forth to your accommodation several times a day quite easily. It's practical and you get the most comfort and enjoyment out of your available time.
12. There are endless certified English schools to study with
Since Malta is an ex-British colony, it's a prestigious destination for study English abroad programmes. People of all ages, from all over the world come to study English in Malta, all year round. The standards of English language schools in Malta are high because there several organisations that regularly monitor language schools.
Would you like to learn more? Get personalised advice and quotations from our team.