10 Children's Books to Improve English
November 14, 2023
5 min read
Introducing your child to the world of literature is a beautiful way to spark their imagination and creativity while reducing screen time. Our carefully curated list of 10 must-read books for kids will ignite a passion for reading and transport them to magical new worlds. And at the same time, they will also advance their English skills.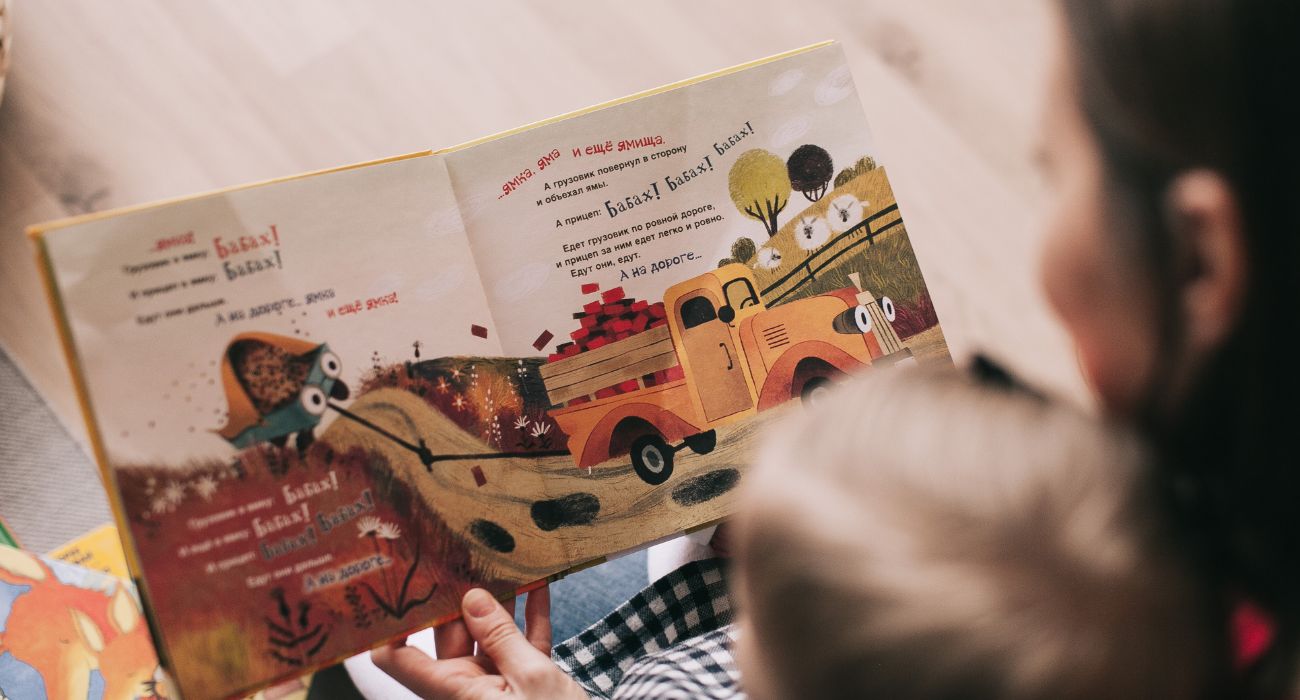 Reading from a young age can transform your child's English skills. Reading boosts imagination by introducing your child to new vocabulary and simple sentences. It opens up exciting and colourful new worlds.
Here's our Top List of English Books every Child must Read.
The first story on our list will introduce your child to colours, animals, and rhymes. This picture book has short, simple sentences your child will quickly pick up on. It is a great story to start their English journey; your child will love the illustrations.
After this story, why not try the sequel, Polar Bear, Polar Bear, What Do You Hear? Other famous books by this author are The Very Hungry Caterpillar and The Grouchy Ladybug.
This story is perfect if your child has a rich imagination. Follow Harold and his magic crayon as he draws his way through the day. The sentences in this story are longer. However, it is an excellent opportunity to introduce your child to new vocabulary. If your child falls in love with this story, there are many more books in this series to explore.
3. Dr Seuss's Collection
Booklists for children are not complete without Dr Seuss. This beloved author has many books for early readers, who will enjoy the silly rhymes and creative illustrations.
Why not try Dr Seuss's ABCs: An Amazing Alphabet Book for children still learning the English alphabet? This funny book is a great way to introduce your child to the fundamentals of the English language.
Some children's books by Dr Seuss are The Cat in the Hat, Horton Hears a Who, How the Grinch Stole Christmas and many more.
This series will captivate your child with colourful pictures while teaching them valuable life lessons. You will meet Rainbow Fish, who has the most beautiful scales in the sea but does not want to share. The sentences in this story are a bit long, but young children love this tale because the book will take them into a new underwater world.
Could you imagine a world where food fell from the sky instead of rain or snow? Well, this fun story will take you and your child to that very world. The pictures in the book will make your kids roar with laughter and imagine their favourite foods falling from the sky. Sentences in this book may be long, but they will introduce your child to vital vocabulary about food.
If your child likes this book, check out the sequel, Pickles to Pittsburgh.
This is a great book to introduce your child to grammar skills while following along to a fun story. The sentences are short and simple and model the conditional, so your child will learn how to make sentences about things that may happen in the future. They will quickly be following along with you through the story. Other books in this series are If You Give a Mouse a Muffin and If You Give Pig a Pancake.
Another great book to learn the alphabet, this story will help your child learn the foundations of English while having fun at the same time. Follow each letter in this creative, rhyming story and watch your child master the ABCs. They will have fun watching the letters interact with each other.
One of the most beloved series for early readers follows the story of Arthur and his friends through each adventure. Sentences are longer, but the vocabulary is simple, and your child will enjoy following Arthur as he navigates life with his family and friends. This series has numerous stories, so the adventure can continue with a new story each day.
Another series your child will love is about Clifford, a dog who grows up to be as big as a house. Follow him through different adventures, holidays, and seasons as he explores the world. Sentences are simple to read, making this book series the perfect way to end your child's day.
The last book on our list is well-known worldwide and is a must for your child's library. Follow Max as he travels to the land of wild things and becomes their king. The story is easy to read, with simple sentences and creative illustrations to follow along with.
Improve Your Child's English with Immersive Courses in Malta
Would you like to enhance your child's English language skills? Consider enrolling them in immersive courses for children at BELS Malta. At BELS, our courses offer a unique opportunity for children to absorb the language in an engaging and interactive environment. Our teaching methodology focuses on a communicative approach, allowing students to participate in the learning process actively. After completing our courses, you will notice a visible improvement in your child's fluency and confidence in speaking English.
Explore our Summer English Courses for children and teens. Reach out to us at [email protected] for personalized consultations and quotes.
Travel and Learn English with your Family
Unlock your full potential this summer with our English communication courses for both children and adults
Find a suitable Course