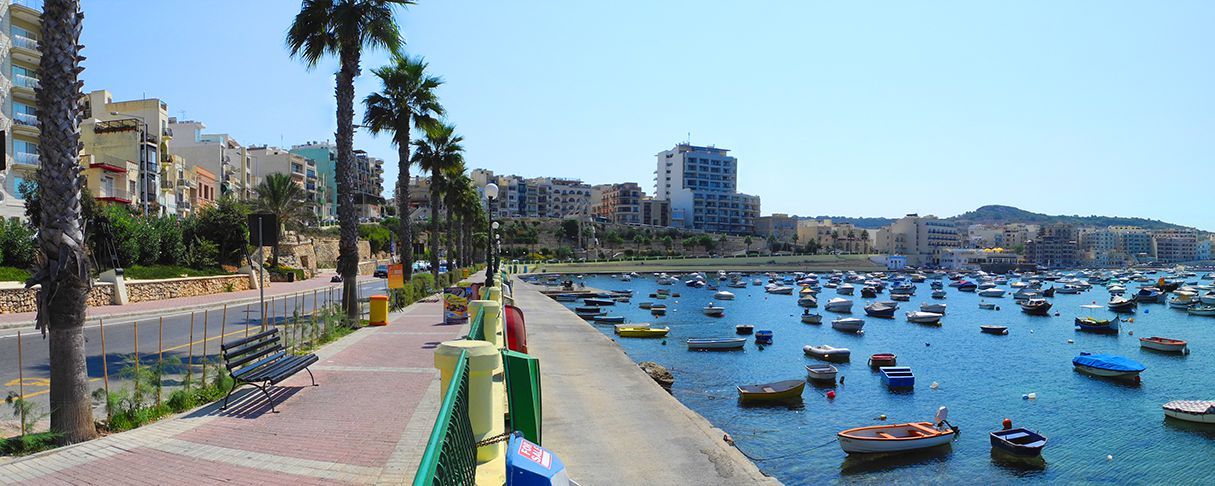 15 Things to do in the town of St. Paul's Bay
Discover the Lively Town of St.Paul's Bay with this Guide
Everything from Sports and Courses to Exquisite Food and Lazy Days!
St. Paul's Bay is a traditional seaside town that has gradually developed into a popular holiday location. It's just a 10 minute walk along the coast from Bugibba, an area that's now filled with restaurants, cafes, wine-bars, pubs and beach clubs, as well as a cinema, a casino, the National Aquarium and more.
Read about our favourite list of 15 things to do in St. Paul's Bay and around:
1.  Enjoy the blue
Enjoy the breath-taking views of blue sea and sky as you take a pleasant walk or jog along the Islets Promenade, which runs all along the coast of St. Paul's Bay. The bay is dotted with colourful boats as St. Paul's Islands keep watch in the distance. Stop for a drink and a bite in one of the many kiosks and seaside venues scattered along the way, relish the sunshine and simply relax.
2. Be a beach bum
Chill out on the comfortable sands of the Perched Beach, located just minutes from Buġibba Centre, enjoy the kiss of the sun and have a refreshing swim in the clear blue waters. There are also several other bathing spots along the rest of the rocky coast, all of which are ideal for snorkelling.
3.  Live the high life
Enjoy the lido, cocktail bar, overflowing pool, cool tunes and sunset sky over the horizon at Cafe del Mar. Located just near the aquarium at the Qawra peninsula known as Ta' Fra Ben, Cafe del Mar offers a wonderful opportunity to experience the high life by the sea, day or night.
4.  Get curious at the aquarium
When you walk further along the promenade from Bugibba, you'll reach the town of Qawra which is home to the island's national aquarium. The aquarium has 5 zones which each explore a unique part of the Malteses islands and it's underwater world.
5.  Take a splash
The Buġibba Water Park is becoming increasingly popular, as it provides a safe and fun place for children to mingle while playing with water. A much bigger and varied waterpark with slides, the Splash and Fun Park, is located a short bus ride from St. Paul's Bay.
6.  Dive deep
Immerse yourself completely in the clear waters of the Mediterranean Sea and explore some of the top diving locations in the world. Scuba diving in Malta is fantastic, with a lot of fascinating underwater caves and marine life to discover. Try wreck diving, underwater caving and free diving too!
7.  Ride the waves
Not sure about heading down below? Then scoot above the waves of Malta's amazing waters with a variety of water sports, from kayaking to jet-skiing. We can help you organise yourself to try anything you fancy.
8.  Take a boat trip
Several boat trips depart daily from the nearby pier on various tours around the islands. Take a trip to the Blue Lagoon, one of the most remarkable gems, or you can charter a boat for the day.
9.  Explore the bird park
Wait – this is not just about birds! You will also meet antelopes, meerkats, deer, marmosets, snakes and other reptiles, and you can even volunteer to help out! This beautiful natural haven and conservation area is located just near the Kennedy Grove.
10.  Wine and dine al fresco
There are several restaurants in the area, offering various cuisines with budgets to suit everyone. Many restaurants also offer tables for al fresco dining. We are more than happy to recommend our favourite restaurants to you.
11.  Have a movie night
With so much activity and so much to see, sometimes it is time to just unwind with a good movie. The local Empire Cinema and its selection of latest movies is just a few minutes' walk from BELS.
12.  Listen to live music
Several pubs and bars around Qawra offer live music, from Elvis impersonators to cool local bands. Or you could have your moment at a Karaoke! Thursday nights at Ta' Fra Ben mark spontaneous jamming sessions, while Wednesdays mark Summer Chillout DJ Sessions at Cafe' del Mar.
13.  Check out the classical car museum
One of the most unique things to do in St. Paul's Bay is a visit to the Classic Car Museum. A delight for all, even those who are not particularly passionate about cars, here you will find a remarkable display of epic automobiles, complete with documentary cinema, a gift shop, and a cafe'.
14.  Take risks at the casino
If nothing excites you like the anticipation of the ball spinning on the roulette or the sound of the slot machine, then visit the Oracle Casino, where poker tournaments are also held. Or just have a different night out at the Casino in your best outfit while you pretend to be rich.
15.  Walk the Xemxija Heritage Trail
At the other extreme of amusement and interest is nature and history. The Xemxija heritage trail takes you up a Roman Road to the rock cut apiaries, past a 1000-year-old carob tree, and along a path that has punic tombs on one side and temple remains on the other. Here you may venture west into Mizip Forest or continue north to a ridge, which is also the location of the Roman baths.
Bonus tip:  Learn English at BELS Language School
With so many things to do in St Paul's Bay, there is something for everyone's taste just on your doorstep if you choose to learn English at BELS Malta. Meanwhile, a major bus terminus offers you access to all the main attractions in the rest of the island, as well as to the Gozo and Comino ferries. It is merely a matter of choice, and the choice is yours.
Get personalised course advice and a quotation by emailing us at  [email protected].