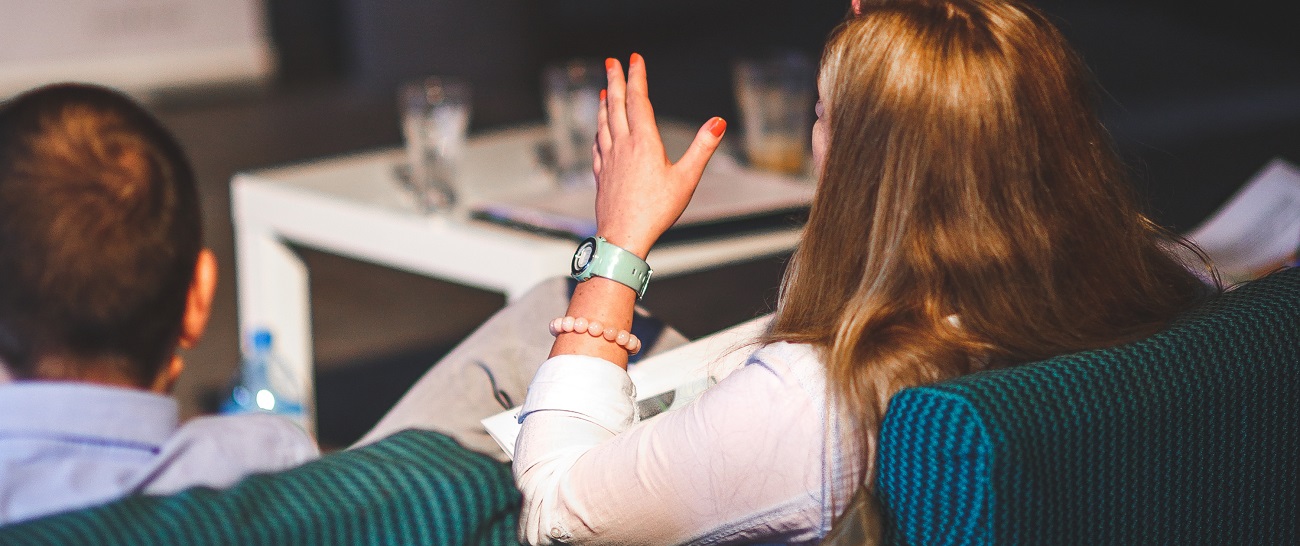 A Complete Guide to Presentations in English
Top Tips for Successful Presentations in English
Have an upcoming presentation in English? This guide will help you prepare with soft skill tips, and language tips about English for presentations. We asked our teachers for key tips…here's what they had to say!
1. Show your enthusiasm and relate to the audience
First of all, if you're in a position where you have to deliver a presentation in English, your level of English must be quite high! So take a deep breath, it's hard to perform well when you're nervous. Connecting with an audience in your first language can be already be a challenge for some. Make sure you give this small-talk a priority in your planning – don't just try to improvise. Use light jokes, puns and metaphors as you would in your mother tongue. Without these little practices you could come across as dull and robotic.
2. Watch TED talks in your area of expertise
TED talks are short and powerful talks that cover nearly all topics – from science to business to global and social issues. They are available in more than 100 languages, meaning you watch it your native language first, and in English after to learn how to express key concepts in English. As an added bonus you're also observing some of the world's top speakers and are sure to pick up some soft skills along the way.
3. Familiarise yourself with technical words
Every area of business has jargon that usually does not translate directly. In order to be taken seriously in the field, and to communicate properly, you have to know how technical words in your field are said in English. You can find business English online dictionaries for a variety of fields.
4. Acquire the functional language (English for presentations)
Apart from the buzzwords, you should learn functional business language. This will prepare you for giving a presentation and anything unexpected that can come up. Here are some common functional language topics needed for presentations:
Handling the first few minutes
First impressions last a lifetime. Learning useful phrases for greetings, welcoming people, introducing yourself or your colleagues and explaining the purpose of the presentation can make a big difference.
Organising what you want to say
If you cannot organise your presentation well, none of the content matters. Make sure you learn how to clearly say what you will talk about, saying when you will answer questions, and how to refer to these parts of your talk. Confusing your audience is the last thing you want – these parts of speech must be part of your business English studies.
Maintaining interest
Interactive presentations are the most successful kind. The last thing you want is to have your audience snoozing off. Learn ways how to engage your audience, asking them questions, checking that they are following and clarifying what you mean.
Dealing with problems and questions
Not everything always goes to plan – learning how to handle problems and questions is a must. Learn phrases required for apologising for causing some inconvenience, saying what you're going to do to solve the problem (getting help, finding another laptop etc). Also learn how to ask someone to repeat a question and checking understanding.
Summarising and Concluding
You can find several sites that provide this functional business English online. The BELS e-learning platform has whole section dedicated entirely to business skills.
5. Write a script, find an audience
Use everything you learnt to write a script for your presentation. the language and buzzwords to create as script for your presentation. Once you feel, look for some people (or pets) to practice in front of. If needed, consult an English teacher or public speaking coach.
Have an upcoming presentation? Benefit from personalised training sessions with an experienced teacher.