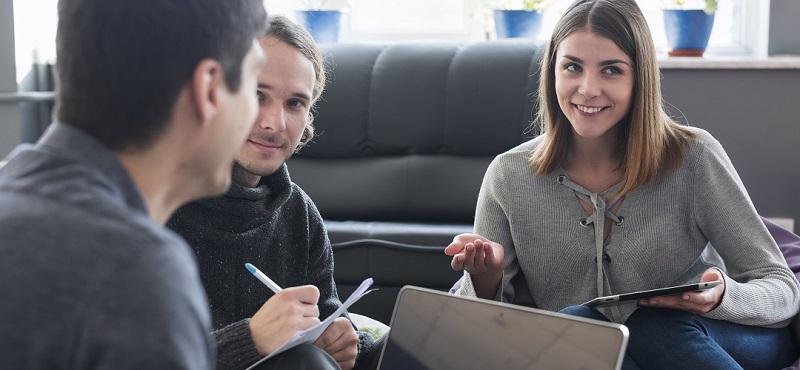 5 Ways to Further your Career with Business English Lessons
How Business English Lessons can Improve your Performance
For anyone working in an international environment being fluent in English is a necessary and sought after skill. If your role requires travel, managing an online presence, dealing with suppliers, partners or clients from around the globe, you are likely to use English for a multitude of purposes throughout your day-to-day.
In many cases, this is considered in the hiring stages, and people aiming for such roles start focusing on developing their English at the early stages of their education and career. Thus, having an advantage over other applicants and being able to perform their tasks and communicate easily.
While becoming fluent in English is necessary, it's important to also develop your language skills in relation to business and your specific area of work.  This is where the importance of business English lessons comes in.
Why are Business English lessons important?
Essentially, the same way that other skills critical for your role keep on evolving, so must your English skills. While general English courses and obtaining a high level of English will help you get ahead – it's not enough. Your business English communication skills need to be on par with your native language, whether it's for functional language such as debating, sharing opinions, delivering presentations, and even when it comes to industry terms.
Business English lessons target these areas, that will fill the gap between being fluent in English and being fluent in English for work.
Here are 5 ways you can achieve this with business English courses:
1. Sharing ideas with international business people
Business English group courses bring together professionals from various backgrounds and industries to share ideas, contribute to discussions, and develop their skills together. Apart from being academically rewarding, business English lessons provide a great atmosphere for networking and opening up to new perspectives.
At BELS, our business English group courses are delivered in a communicative approach to encourage student participation. The course content is planned using relevant case-studies and practical business scenarios aimed to replicate a real-world business environment. Courses are delivered using a combination of coursebooks and digital media.
2. Having personalised course content in individual business lessons
In addition to group courses, which deal with general business topics and situations, individual lessons can address your specific challenges at work. During your first lesson, your teacher will conduct a needs analysis to get to know more about you, your business English needs, and your area of business. After that, a learning plan that meets your aims will be designed. This will include material that is relevant to you, and together with your teacher, you can work on practical content that can easily be implemented for your daily tasks at work.
3. Combing Business English group courses & individual lessons
A combination of our Business English group courses and individual lessons can help you develop your skills all-round. During group courses you will cover general business topics, language and grammar while practicing in group or pair-work. The classroom atmosphere allows students to develop their language skills while collaborating with others, also practicing social skills. Individual lessons complement the group-courses and allow students to take it to the next level by fine-tuning their skills to their individual role in the workplace. They can also help you prepare for any upcoming meeting, presentation, or job interview.
4. Obtaining an Internationally recognised certificate
At the end of your courses, you'll receive a BELS certificate of attendance as well as personal progress form detailing your achievements on the course. Our certificates have a number of local and international accreditation – this will be a great addition to your resume and application.
5. Having an opportunity to continue lessons from home
With online lessons, it's also possible to continue lessons with your BELS teacher after your study-holiday has come to an end. The time won't be an issue, as the lessons will be scheduled according to your needs. Apart from learning the business English essentials, the nature of the online lessons could also teach business students the etiquette of online conferences and meetings.
Why choose BELS?
With many years of experience in teaching Business English, at BELS we can offer you a programme which is designed to develop business English language proficiency and business English communication skills, depending on your field of work. Our Business English programme will be tailored to your needs, using a blended learning approach which means that in addition to using highly recognised business English books, our programme combines digital media with traditional classroom methods.
Contact our team members on [email protected] to find out more.