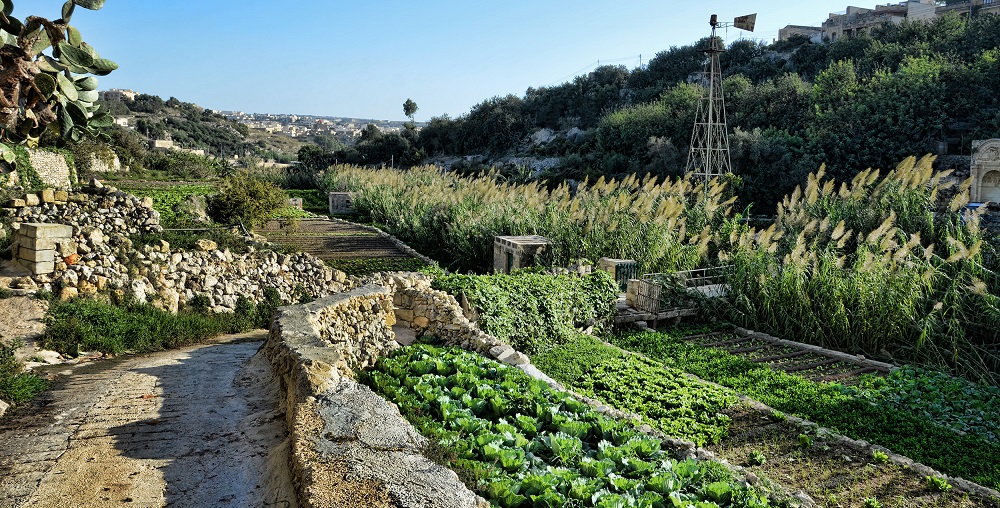 Exploring the Town of Kercem in Gozo
Looking for Things to do in Gozo? Add these to your Bucket List!
If you're looking for a place to unwind in nature while staying in Gozo, Kerċem is the place for you.  Gozo in general is the more laid-back, more traditional and natural part of Malta.
Located just south-west of Victoria, Gozo's capital, Kerċem is a small village of less than 2,000 people set in one of the most picturesque parts of Gozo, between Lunzjata Valley and three green hills, and stretching as far as Xlendi cliffs.
Kerċem offers easy access to some of Gozo's best country walks and cycling, and plenty of things to do within walking distance or a short bus ride. Local cultural activities include the village festa, held in July, and a popular, traditional fair, held in April-May near the pond at L-Għadira ta' Sarraflu.
These are just some of our favourite things to do in Kerċem and around:
1. Relish in nature at Lunzjata Valley, Kerċem
This lush valley in Kerċem is one of the most picturesque in Gozo. It is one of the few places on the island that has a continuous supply of water for the surrounding agriculture, while aqueducts line the valley where you can enjoy a walk to the sound of trickling water.
2. Explore Għar Ilma and Il-Mixta caves, Kerċem
Two significant caves lie on the outskirts of Santa Lucija, a nearby hamlet where the inhabitants resist urbanisation. Għar Ilma was a valuable source of water for the entire area. Il-Mixta cave is known to have been inhabited by troglodytes, and is not to be confused with Tal-Mixta, a cave which overlooks the reddish sands of Ramla Bay.
3. Embrace history at the Citadel and Victoria
The capital Victoria, locally known as ir-Rabat, lies outside the old city fortress known as the Citadel. Explore the Citadel's rich history and enjoy stunning views of the whole island. Head out to explore Victoria's meandering streets. Visit the market. Browse the shops selling traditional Maltese handicrafts. Enjoy the cafés. Walk around Villa Rundle Gardens. Just relish the unique slower-paced atmosphere of Gozo's capital.
4. Get in the picture at Xlendi Bay, Munxar
Restaurants and small hotels line the shore, where sand gives way to clear water and colourful fishing boats harboured in the safety of the rocky cove. A short walk, either way of the beach, leads you to further curiosities to explore in one Gozo's most picturesque spots.
5. Marvel at the coast at Ras il-Wardija, San Lawrenz
The western cliffs overlooking Xlendi and along Ras il-Wardija offer some of the most stunning coastal views imaginable. At Ras il-Wardija, one will stumble upon a Punic Sanctuary (3000 BC). This perfect sunset spot has a view of sheer cliffs dropping thirty metres into the sea and Dwejra in the distance.
6. Get curious about rocks at Dwejra, San Lawrenz
Dwejra stands out for its geological features. It was home to the Azure Window, a majestic natural rock formation; the Blue Hole and Coral Cave, top dive sites in the world; the Fungus Rock, where a unique medicinal fungus grew and nowhere else; while the perfect roundness of the Inland Sea, and of Dwejra Bay on the other side, is a result of whirlpools of torrential waters during the Ice Age.
7. Indulge in creativity at Ta' Dbiegi Crafts Village, Għarb
Visit the crafts village in the nearby village of Għarb, where you can learn about how traditional handicrafts are made. Take home some original, hand-made, local souvenirs: pottery, Gozo lace, blown glass and leather items are available.
8. Immerse yourself in tradition at The Folklore Museum, Għarb
The folklore museum in the village square of Għarb displays the trades and crafts formerly prevalent in the Maltese islands, with tools and equipment exhibited together as workshops.
9. Witness miracles at Ta' Pinu Church, Għarb
The Basilica of Ta' Pinu stands on the spot where, in 1883, a local woman reputedly heard the voice of the Virgin. This church is a special pilgrimage place for locals who come to ask for a boon, and inside are many objects to remind of the miracles that happened after such prayer.
10. Go back in time at L-Għajn tal-Ħasselin, Fontana
L-Għajn tal-Ħasselin is literally "the washers' spring." The 16th century arched communal wash-house is made of stone, and offered people shelter from the elements during this mundane chore. Wash houses like this were commonly built near springs.
11. Connect with the elements at Wied l-Għasri, Żebbuġ
Enjoy a walk through this beautiful valley that winds its way between Żebbuġ and Ġordan Hill, which is famous for its lighthouse. At the little inlet wedged between impressive cliffs, you can also swim, snorkel and dive in underwater caves.
12. Learn English at BELS Gozo
Kercem is also the home to our lovely BELS Gozo school. You can develop your English and meet new people in a traditional farmhouse that has been converted into a modern school for adults.
Are you looking for things to do in Gozo? Write to us at [email protected] to learn about our courses and start planning your trip.