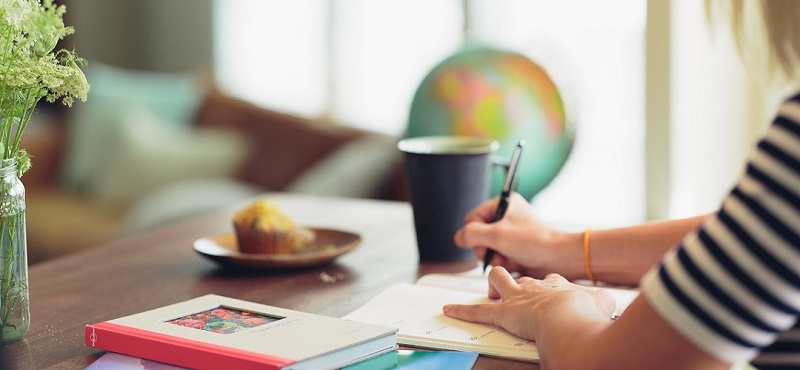 How to Learn English Online: 8 Tips for Success
Follow our Guide for Tips on how to Learn English Online
Prepared by Industry Experts!
Although you might want to learn English, sometimes you can't commit to physically being present in a classroom, and that's understandable. That doesn't mean that you have to put off your dream of learning English – you could always try to learn English online! The following ideas are useful alongside a language course in a school, and even if you only want to learn English.
1. Set a goal, creating a study-plan
The task of learning a new language might seem momentous and overwhelming, especially when you're doing this on your own. Having a strategy and plan is essential to have a clear sense of direction and break down the larger aim into smaller, more achievable tasks. Apart from ensuring success, this is give you ways to track your progress and keep up a good pace.
One of the best ways to do this is using SMART goals to create a structured strategy for your online English learning goals.  Smart goals refer to having specific, measurable, ambitions, realistic and time-bound goals.
For example, if your aim is to 'improve your English online', it's vague and difficult to achieve. Using SMART goals would mean having a goal like 'moving up one level of English in 12 weeks'.
Want to use this method? Find out your current level of English here.
2. Follow online guides from reputable English sources
The internet is full of content you can leverage to learn English online. Many established schools and English-learning platforms regularly post contents related to how to learn English online, that have useful tips directly from the teachers.  Look for these articles and use the tips provided together with your aims, to help create SMART goals for each specific aim (for example, like improving your vocabulary, learning grammar online, or developing your listening skills).
3. Language apps
Another way to learn English online with online application. Make use of all the practical apps to help you learn English online. The first step to learn English online is to download a good dictionary app – find one that lets you save new words, and has a "word of the day". You could also find an interactive phonemic chart to help you with pronunciation. Apps like Memrise help you find the right way to remember words, Doulingo lets you practice grammar and vocabulary through addictive games, which is great.
4. Reading lifestyle articles or news
Nowadays people are doing most of their reading online. One way to increase your exposure to English is to follow news and lifestyle websites in English. Reading lifestyle articles on popular blogs or magazine websites is a good way to learn casual, natural language.You'll read and learn about a variety of topics, elevate your reading skills and acquire new vocabulary in an effortless way.
5.  Watch movies and audio-books
One of the easiest ways to learn English online is by watching movies in English or TV shows. Another less common way to learn English is by using audiobooks from YouTube to accompany an English book you might be reading. That way you can listen to how the words are said, and the natural flow of the sentence. When learning English way, it's important to have language tasks and activities related to the content – you won't just learn by watching and listening online.
6. Keep in touch with international friends
Back in the pre-internet days people used pen-friends to practice new languages. It's a custom that's alien to people in today's age, but the concept behind it still holds ground. If you have any international connections, write to them in English to practice your writing skills.
7. Follow relevant You-tube channels
Learning English alone can be a solitary experience. Using Youtube allows you to get something similar to a classroom experience. There's an endless collection of videos explaining grammar, teaching new vocabulary, exemplifying conversations and anything else you can dream of needing to do in English.
8. Register for Online English Lessons
Finally, you can learn English online with a certified teacher, for the extra push. Having live sessions with a teacher offer benefits such as having correction, focusing on accuracy issues you cannot notice on your own, and being exposed to weakness and how to overcome them. Also, when taking lessons with an official school, you can obtain a certification to prove your level of English – this is useful for job applications, getting promoted, entering universities etc.
It's essential to make sure the language teacher or school you choose is experienced and well-established. When trying to learn English online, a quick google search for English lessons online will result in tens of pages. Unfortunately there are a lot of scam website that claim to offer lessons by professional teachers. Choosing the right English lessons online can make all the difference in your progress and value of the certification.
Looking for online English lessons? Here's how, and why to learn English online with BELS
1.  BELS is a legit English school in Malta and Gozo
…with plenty of accreditation and over 20 years of experience. While impostor websites can buy stock photos for bogus testimonials, they can't fake accreditation and licences. With BELS you can rest assured that you'll be assigned a qualified teacher for your individual online English lessons. During your first English lesson online your teacher will conduct a needs analysis and plan a course accordingly. Whether you need help preparing for a job interview, collage assignment or just want to talk to someone, our teachers will plan lessons just for you.
2. Access to a variety of quality resources
As part of your online courses with BELS, your teacher will plan lessons using a variety of books and resources from esteemed publications in our library. This allows teachers to personalise lessons to maximise the learning outcome. Rather than just buying one book and being limited to the content of that one book, you will benefit from having the best parts of each book for your needs. For online lessons, teachers scan book pages and send students a soft-copy. The same system is used to provide more content for home work and self-study.
3. Internationally certified courses
At the end of your online courses with us, we will provide a certificate of attendance which includes all of our accreditation and licenses. This is an internationally recognised and esteemed certificate.
4. Opportunity to travel to Malta and Gozo to for an immersive learning experience
If you ever wish to take an English-learning study-trip, you can join our school in Malta to continue your course with your online teacher.
To learn more, write to us at [email protected].