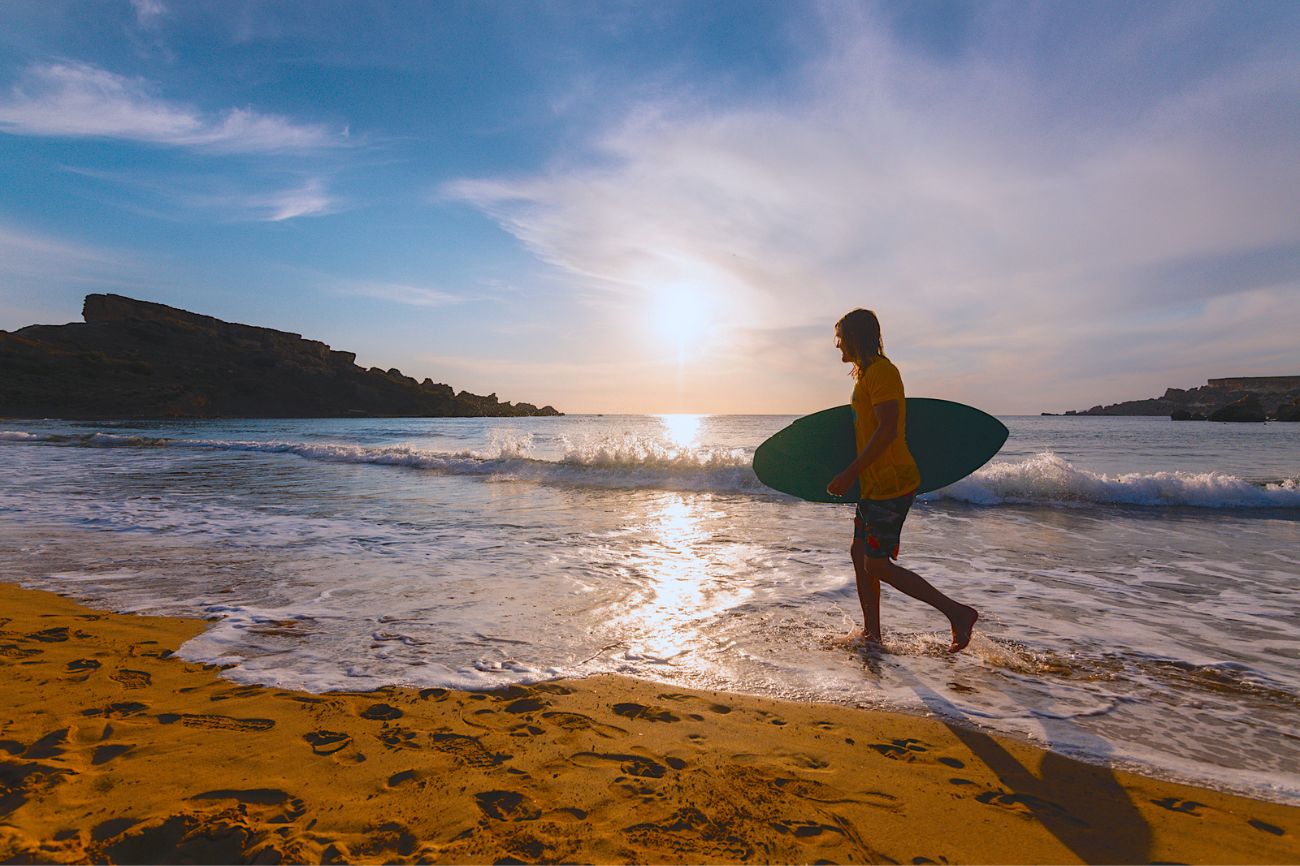 Riding the Waves: A Guide to Surfing in Malta
Surf's Up: Discovering the surfing scene in Malta
One common question we always hear is, 'Can I surf in Malta?'
While Malta may not be the first place that comes to mind when you think of surfing destinations, it has a vibrant surfing scene that is growing in popularity among locals and tourists alike. With its crystal-clear waters, consistent swells, and stunning coastline, Malta is a hidden gem for surfers looking for a unique and unforgettable experience. Whether you are passionate about surfing or have always wished to give it a try, you may be considering the Maltese archipelago as your next travel destination. The islands of Gozo and Malta offer both steady bays and Mediterranean wind currents that you would love to enjoy.
In this blog, we'll take you on a journey to discover the best surf spots in Malta, share tips for surfing in the island's unique conditions and introduce you to the local surf culture. Whether you are a beginner looking to catch your first wave or an experienced surfer searching for a new challenge, there is something for everyone in Malta's surf scene. So grab your board and let's dive in!
What are the best surf spots in Malta?
For seasoned surfers, we've listed the best spots in Malta to take your board and have a nice day of wave riding. Some of the beaches in Malta that you absolutely have to visit are:
Ghadira Bay: This is one of the largest sandy beaches on the island. The bay is located in Mellieha, a quick ride from the Gozo Ferry in Cirkewwa. The waters of Ghadira Bay are generally calm, but some days you can find offshore winds and currents that make for perfect surfing conditions. Besides, it's hard to find jellyfish here.
Golden Bay: Golden Bay is likely to be the magnet for surfing activities on the Maltese islands, as this beach sucks up the westerly winds which swells almost head on. The best season to surface at this location would be at the beginning and end of spring and autumn. However, be sure to take care of the midwinter swells, as they can create heavy and close waves. The National Day of Surfing is celebrated here in Malta on the 19th of June, so if you are one the island during this time, Golden Bay is the place to go.
Ghajn Tuffieha/Riviera beach: This beach is one of the largest in size on the archipelago and is a great place to practice surfing. During the winter, you can observe large lines of waves that will allow you to strengthen your surfacing skills or hop on a board for the first time. This beach is also home to Malta Surf School, the only surf school on the island, so it is a great location for beginners.
While these are truly the most popular spots for surfers, there are numerous spots and hidden places you can explore and make your own personal surfing haven. Malta has 196.8 kilometres of coastline and Gozo adds another 56.1 kilometres, so there is a sea of possibilities for surfing on the Maltese islands.
What's the best season to practice surfing in Malta?
While summer is a great time to enjoy the Mediterranean, it is only at the end of autumn when the first real waves reach the Maltese coast. The best time of year to go surfing in Malta is from November through February. The island experiences stronger winds and bigger waves during these months, making it perfect for surfing. Wetsuits are advised because the water during this time of year is often between 15 and 18 degrees Celsius.
These high waves arrive with low-pressure systems that get dragged inside the currents of the Mediterranean Sea. Winds and waves get progressively bigger throughout the cold season (December thru February) and hit their peaks in the months of March and April, when the transitional winds kick in, blowing south and west. In addition to the stronger waves and cooler temperatures, you will also benefit from more space on the beach if you arrive in Malta during the high surfing season. Th surf season coincides with the tourism low season, so you can find quiet, empty beaches and cheaper accommodation.
It's worth noting that surfing conditions in Malta can be highly dependent on weather patterns and local wind conditions, so it's always a good idea to check the forecast before heading out to the beach.
Where can I try surfing in Malta?
There are several companies that offer surfing lessons and experiences in Malta. Here are a few examples:
Malta Surf School – Offers beginner, intermediate, and advanced surf lessons, as well as surf camps and private lessons. Equipment such as surfboards and wetsuits are provided.
Jahshaka Surf – Provides surf lessons for all levels, including group, private, and family lessons. They also offer stand-up paddleboard (SUP) tours and rental equipment.
H2O Water Sports – Offers surf lessons, SUP lessons and rental, and other water sports activities. Equipment is provided, and transportation to and from the surf spot is included.
Kite Surf Malta – Specializes in kitesurfing lessons, but also offers surf lessons and rental equipment. Transportation to and from the beach and equipment are included.
In general, most companies that provide surfing lessons in Malta include equipment such as surfboards and wetsuits and transportation to and from the beach. Some companies may also offer additional services such as pick-up and drop-off from your accommodation, photography, and video analysis of your surfing technique. It's always a good idea to check with the individual company to see what's included in their packages.
Learn English in the mornings, and ride the waves in the afternoons!
If you're planning on coming to Malta for a surfing holiday, you may also want to consider attending English courses during your stay. Not only will this help you improve your language skills, but it can also enhance your overall experience of the island. English is widely spoken in Malta, and being able to communicate with locals and other travelers can make it easier to navigate the island and make new friends. Additionally, many English language schools in Malta offer flexible schedules, allowing you to balance your surfing lessons with language classes. So why not take advantage of your time in Malta and improve your English skills while riding the waves?
Our English school is located in St. Paul's Bay, which is a coastal city in the north of Malta, very close to many of the top surfing spots mentioned above. Write to us at [email protected] to start planning your trip.