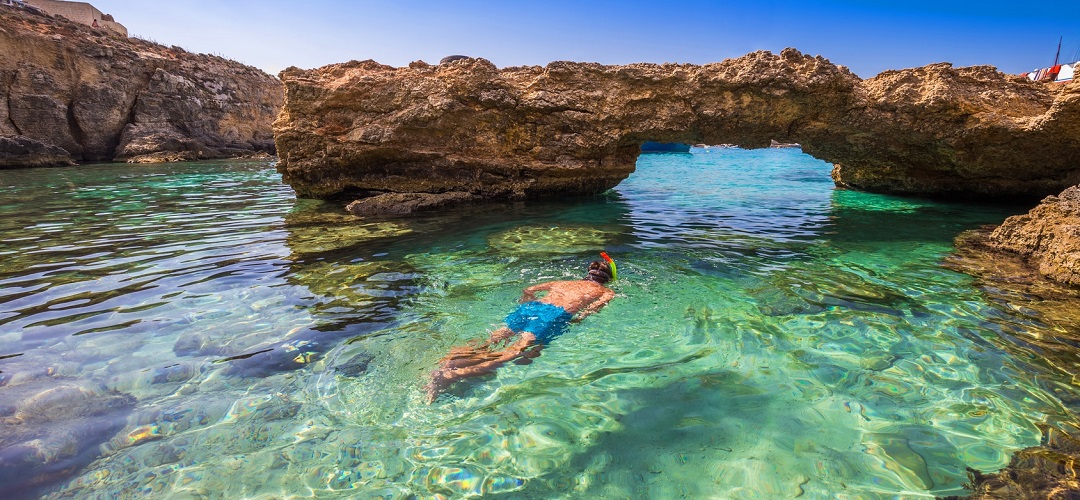 Top 10 Beaches in Malta and Gozo
Looking for swimming spots? Here are the best beaches in Malta
By now you must have come across that images of beaches in Malta with crystal clear waters. Maltese beaches are known for their clean and fresh waters that accompany all kind of beaches – rocky, sandy or pebbly.
Three varieties of limestone rock, blue clay, and green sand together form the marvellous coastal landscape of the Maltese islands: textured cliffs, mysterious caves, jagged rocks, crumbly or sticky clay hills, smooth curved stretches of limestone and fine beaches adorned with different qualities of sand. Maltese beaches may be dressed in soft golden sand, as found at Golden Bay, or burnt orange sand, as found at Ramla in Gozo, or thick white sand, as found at the Blue Lagoon in Comino, as well as other textures and colours, each lending a beach a particular character.
Most of the sandy beaches are found in the north of the island, but rocky beaches, like Għar Lapsi and St Peter's Pool in the south, are blessed with excellent snorkeling opportunities, with great visibility even in the height of summer. Depending on the colour of rock and sand, Malta beaches give way to a sea of varying hues of blue and green. The sea is crystal clear around the entire coast, and bathing in it is akin to being in a swimming pool, only much more beautiful.
A number of Malta beaches now have acquired a Blue Flag status, which guarantees a level of safety and service. Secluded beaches are hard to get to but really worth the effort. We would like to share with you the top beaches in Malta, including some of its best kept secrets.
1. Riviera Bay (Għajn Tuffieħa)
Riviera is located at the north-west of the island, just near Golden Bay. Roughly 180 steps take you down to a beach of golden sand and clear green sea surrounded by hills. Or head down the path which leads all the way over the other side to a jutting rock known as Ras il-Qarraba to see a secluded beach with the same name below and Ġnejna Bay across the sea. This beautiful area is also ideal for trekking and for enjoying the sunset.
2. Ġnejna bay
Ġnejna is both a sandy beach and a rocky beach, while clay hills line its far right side. Though located very near to Riviera, the access to Ġnejna Bay is via the typical Maltese Village of Mġarr. A series of boat houses line the left side of the golden beach, a walk beyond which reveals wonderful landscapes. To the right, a trek takes you to secluded swimming areas. Ġnejna is popular with Maltese families and many of the boat houses become beach houses during summer with several BBQs scattered along the beach.
3. Fomm ir-Riħ
Fomm ir-Riħ – the mouth of the wind – is one of the wildest of all Malta beaches and includes a pebble beach surrounded by grand cliffs. The very secluded beach, located at the west of Malta, can be accessed via a series of winding country roads in the area of Baħrija and a 15-minute trek down a steep path. When most beaches become thronged, you can still find tranquility here, but there are no facilities so take food, drink, and something to create shade. The beauty and tranquility of the place and the excellent snorkeling are worth the effort.
4. Il-Kalanka, Delimara
Another hard-to-get-to rocky beach, but this time at the south of Malta. With less options available in this part of the island, more locals from the area make the effort and it may still get busy. However there is ample room and even some shady areas along the smooth curves of limestone, while the azure sea makes for excellent snorkeling.
5. Mellieħa Bay (Għadira), Mellieħa
The largest of all Malta beaches is at the far northern end of the island. It is well-served by a road, equipped with sunbeds, umbrellas, food and drink, and ice-cream, and the sea is shallow for many tens of metres. This makes Mellieħa Bay ideal for families with children and it may get very busy. There are also water games and canoe and paddle boat rentals.
6. Mġiebaħ, Selmun
With a pinch of luck, you'll have the entire beach to yourself – this one is as secluded as it gets. What's more, the environment is just stunning: nature here is pristine and beautiful, the beach dark golden and the sea a brilliant blue. Driving there can be tricky and parking is limited, which puts many people off, but it is definitely worth the effort getting there, via a narrow country road and a trek down to the beach. There are no facilities here, so think ahead.
7. Slugs Bay, L-Aħrax tal-Mellieħa
Probably the tiniest of all Malta beaches, Slugs Bay has just enough sand to lay down four towels. But not to worry: the little beach is set by a pool within the jagged rubble that fell from the cliffs at Aħrax eons ago and there are several areas to settle down quite comfortably. Spaces are limited but this beach is hard to get to via a 10 minute trek from the top of the cliff almost at the far end of Aħrax point and it rarely gets more than three or four groups of people at its busiest. Take everything you need as it is a long way from any facilities.
8. Paradise Bay, Cirkewwa
The azure waters and white sands of Paradise Bay are reminiscent the Blue Lagoon in Comino. This small cove is surrounded by lush vegetation and therefore a natural delight. It is, however, well-served by a restaurant and lido. It is reached via the same road that leads to the Gozo ferry and a long flight of steps.
9. Blue Lagoon, Comino
By far the most stunning of views in the entire Maltese islands is the brilliant sparkle of the sheet of turquoise water lying between Comino and Kemmunet islands. The water changes hue from aqua to almost a clear white in different areas, becoming brilliant blue in deeper areas. The clarity offers amazing snorkeling to fully enjoy the many caves and thriving sea life. Prepare to spend hours in the water, which is probably better than sitting in the throng of tourists on land. Be on the first ferry of the day to enjoy the Blue Lagoon when it is still tranquil. Of all Malta beaches, make sure you do not miss a swim in this one.
10. San Blas Bay
On Gozo, San Blas is relatively undiscovered compared to its more famous big sister, Ramla. San Blas offers the same beautiful environment but on a much smaller scale and is far more secluded. Burnt orange sands against a green backdrop and a bright blue sea are a delight to the senses, and tranquility is guaranteed. The trek down to the beach is steep and long, but Jeeps take visitors back up during the summer months, for a token fee. A rudimental kiosk built from bamboo and palm leaves serves a few basics like beer, coffee and toast. You can't get much closer to raw Paradise.
More tips?
There are several other Malta beaches to explore, such as Armier Bay in the north, Baħar ic-Cagħaq to the east, and St. Thomas Bay in the South. Or Ħondoq ir-Rummien and Xlendi Bay in Gozo. Rest assured that you will find a beautiful beach and beautiful water wherever you go!
Planning a trip here? Check our essential tourist information tips for anyone travelling to Malta.