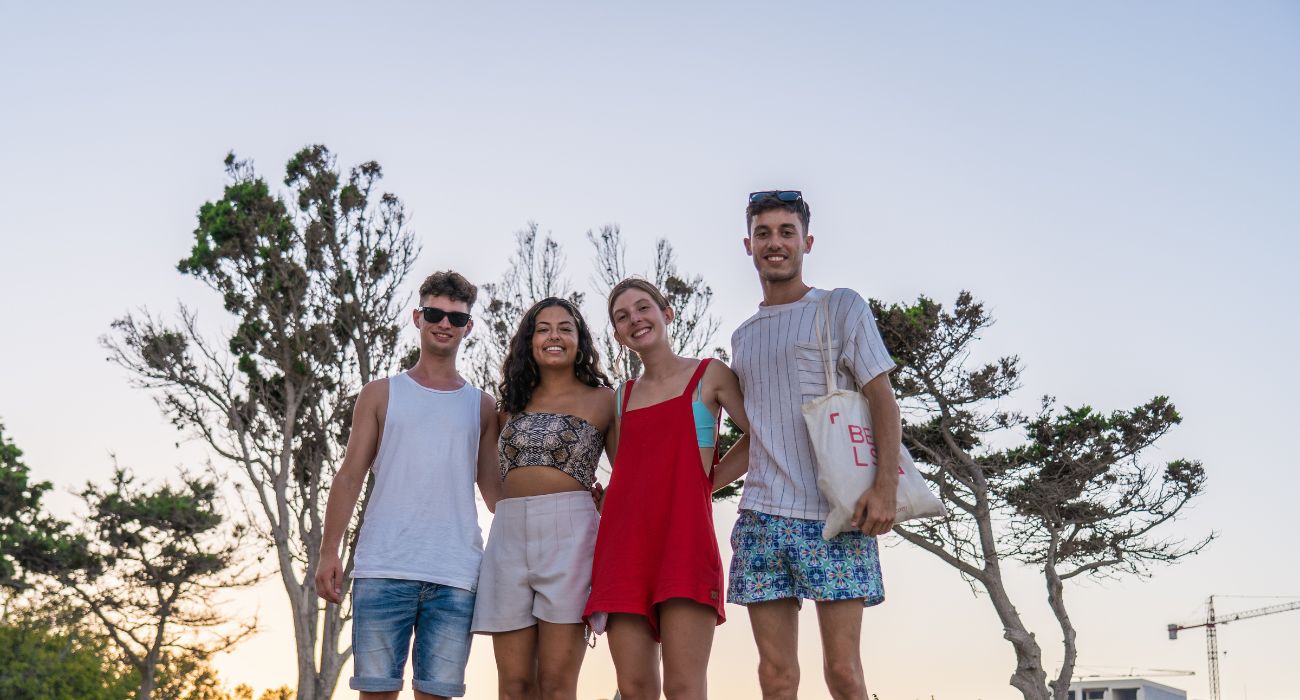 'You're in a safe space to learn' – Francisca
'I wanted something different, so I chose BELS'
Meet Francisca, a young journalist in the making who spent 6 months with us at BELS Malta.
My name is Francisca, I am 25 years old and I am a journalist. I love traveling and getting to know the world through different cultures. I love to get to know the architecture of the cities and the green landscapes, and also the people, making new friends is one of my main hobbies, just like theatre. That's why in 2019 I went to live in Buenos Aires for a month and a half to be able to do theatre plays and to be able to enjoy what is this city so cultural and full of art, which is Buenos Aires. Now I'm in Malta, learning English at BELS.
So, what brought me here today??
Another thing about me is that I love to study. That's why I'm here studying English, and I'm also looking forward to doing a master's degree in England or the United States in the future related to my career.
As I said before, I am a journalist, I want to work in an international context and that is why English is very important: to be able to understand the statements of politicians around the world, to be able to do interviews in English, and to be able to write articles also in English. And another thing is that I want to study in England or the U.S. for a master's degree related to international journalism.
And why did I choose Malta?
Mainly because I love the summer, I like sunny days and here in Malta, at least in the summer, it is very sunny, you have very bright days, you have beaches around every corner. I love being able to go to the beach, to be with my friends outdoors, to go out at night partying and not get cold… I think that is fantastic here in Malta. Most importantly, I think it is a different country from the rest of Europe, it has a mix of cultures and you can meet people from all over the world in this country. That was what caught my attention the most.
How did I choose my school?
I chose BELS because looking at the market of English schools here in Malta, for me it is one of the ones that has the best references in terms of the quality of the teachers, and also overall with the administration team. When it comes to prices, they were more or less the same as the rest of the schools in Malta. So, the quality is very high, and the price is fine – it was an easy choice for me.
And, I chose it because of the location: it is in St Paul's Bay, and St Paul's is a very quiet place, very calm, very different from my city which is Santiago in Chile (the capital). So I wanted something different, I wanted more calm, I wanted the beach… that's why I chose BELS.
Looking back at my first day
Well, my first day at BELS I felt very relaxed because I came with my best friend to study here. I remember that the staff was very friendly, I felt very comfortable with them because they wanted to show me how the school works and what is around the school. I think it is a staff that makes you feel very comfortable on your first day. Also, on the first day of classes, the teacher immediately asked me to introduce myself to everyone but in a very creative way. And the best of all was that I already knew people because BELS had organised a Karaoke the week before and I had been there and made new friends, so I had classmates that I already knew in that class, so I felt very comfortable and very calm on my first day at BELS.
When the moment finally came
As the trip got closer I was a bit scared – I was going to experience living alone and far from my family for the first time. When I got to Malta, I immediately managed to adapt to the lifestyle and atmosphere I found myself in. This was made easier by the friends I made along the way.
Looking back at my first week, my first impression of the island was that it is different from the rest of the cities in Europe. The architecture has Arabic elements – it's difficult to describe without seeing it since it's unique and it's not easy to compare with other countries.
Adapting and feeling at home in Malta is easy – and I found it especially so in St. Paul's Bay. In part it's because it's a small town – big enough to have a great energy, but without the chaos and pace of a big city.
The vibe at school
The same can be said about the school. I feel very comfortable at BELS because I think the teachers here really have a vocation for what they do. It's clear that they really believe that the English language is an important tool, and that they want to transmit their knowledge to you in the best possible way. Lessons are pedagogically sound as well – you can tell a lot of thought goes into the preparation of lessons. When you come to class, you're in a safe space to learn- the teachers encourage you to learn without pressuring you, and without judging you. This is something that stood out to me because it was different in my schooling back home.
And the best part? English classes at BELS are very engaging. We don't just do grammar in a traditional way, but also converse, debate, play with the language and of course make some mistakes along the way. But that's fine because through making mistakes, you learn more. And you feel very comfortable making mistakes because the teachers support you.
Becoming a part of the student community
Meeting new people was very easy because BELS organizes activities for this purpose. In my time here I've attended dance activities, karaoke nights and regular get-togethers. The school creates opportunities to make first connections with other students. From then on, genuine friendships are built, and you always have a group to hang out with.
Another aspect is that all the students come with the same desire: to take in the world around them, and to get to know new cultures, to make new friends… so naturally everyone you meet at BELS wants to make new friends. And that's why it's very easy to meet people here. I have met people from Italy, Turkey, Colombia, Albania… and I envision them being a part of my life for a long time after our courses finish and we go our separate ways.
Learning, beyond the English language
The thing about the having international classes that you end up learning much more than just the English language. If I had to list three things I learn in my time here, it would be to tolerate people from different cultures, to regulate my own frustrations, and to allow myself to make mistakes and to never be afraid of asking questions.
BELS in three word
If I had to describe BELS and my student experience here in three words, it would be: challenges, vocation, and friends.
Watch her testimonial in English:
Watch her testimonial in Spanish: