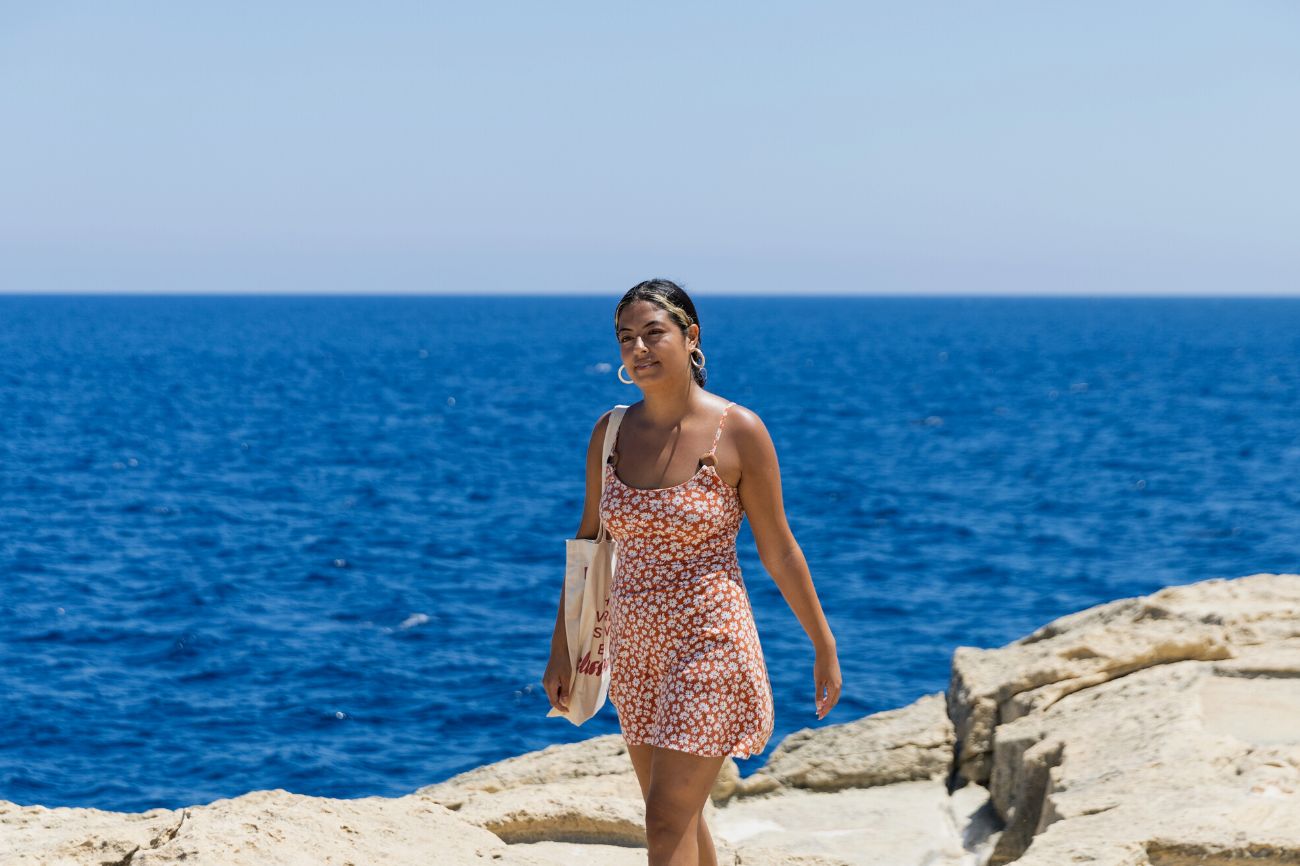 'English is a tool to get to know the world' – Catalina
'Expanding my knowledge of English and different cultures.'
Meet Catalina, a young journalist from Chile who moved to Malta for 6 months to radically change her life.
Hello, my name is Catalina, I'm 23 years old and I'm from Chile. I love animals and nature and I've been a vegetarian for 6 years. In my country, I studied journalism and I would like to travel around the world investigating different cultures and places.
English as a part of my life
English has always been important to me, especially as a tool to get to know the world. Since I was a child I had found it difficult to incorporate it into my life and learn it in depth, so I decided to make a radical change. Now I see English as an opportunity. I am a journalist, and it will undoubtedly be fundamental in the development of my career.
So at this point in my life, it felt essential to focus on English studies. I have been at BELS for almost 3 months and I will stay 6 months in total.
Why Malta and BELS was my choice
I chose Malta because it is in Europe, which could allow me to travel to many countries. Also, I found the climate in Malta very attractive, especially for enjoying the beaches.
I chose BELS because of the value for money it offered. When you look at the reviews, you know right away that it's the best school on the island. Then we needed to choose between their branch in Malta or Gozo so we contacted the school, talked about our preferences and lifestyle, and they told us that the school in Malta was the best option for us. It is also located in St Pawls Bay, a quiet area which makes it easy to walk everywhere.
The first day in Malta and at school
When I first arrived, I was a bit nervous and scared. I come from Latin America, and it was almost 15 hours traveling by plane to get here, so I had a long way to go. Once on the island I was excited to explore every corner. At first, I was shocked by the lack of green spaces, but that was compensated by the blue sea.
My first day at school was simply amazing. I got to meet my classmates and I loved my teacher. I was able to make friends that I still have to this day. On the first day they explained to us how the course works and the activities that Bels offers. In addition, they give you a small tour around the school so that you are always oriented.
The people behind BELS
BELS is a good place to learn. The people who work here are friendly and professional. I think the teachers are a strength that the school offers. They are dedicated people who really care about your learning, but they are also kind and caring people who are willing to help you with any problems. They are excellent people with good teaching methods.
The student community
Making friends was easy because I was very interested in meeting new people, especially from different countries. Today I know people from France, Belgium, Spain, Italy, Turkey, Georgia, Colombia, Brazil, Ukraine, Albania, Switzerland, Germany, Latvia, Czech Republic, Peru, Venezuela, Japan, Korea, Russia, etc. The important thing is to dare and remember that we are all here to learn and have new experiences.
Learning Experience (apart from English!)
One of the things I have learned during this experience is to appreciate the differences between different cultures. I love learning about the different traditions of different countries. On the other hand, different languages are something that really catches my attention. I have taken this opportunity to learn some words from different parts of the world. Also, this experience has helped me to test myself and grow as a person.
BELS in three words
If I had to sum up my experience here in three words, it would be 'welcoming, exciting and diverse. That's about the school, and the overall study abroad experience.
Watch her testimonial video in English here:
Watch her testimonial video in Spanish here: