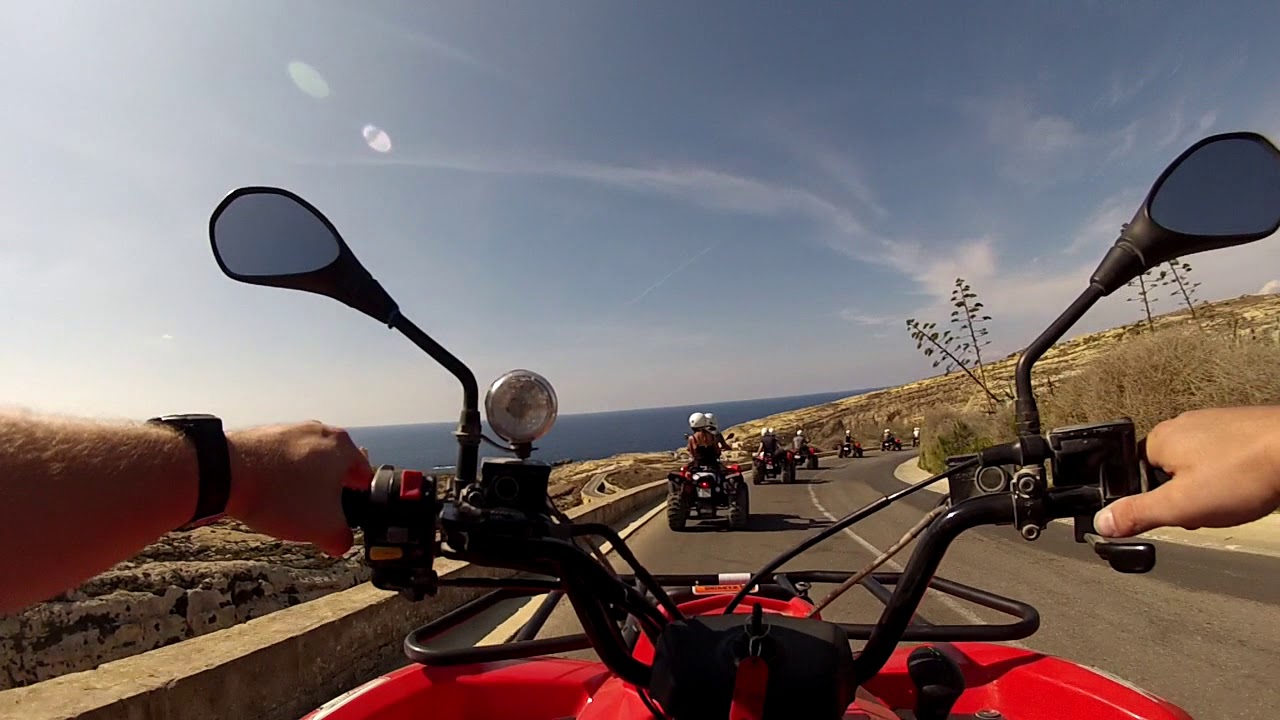 10 Exciting Adventure Sports to try in Malta
Try these adventure sports in Malta
Add some Excitement to your trip!
There's a lot to choose from! Here are the top 10 extreme sport activities in Malta:
1. Rock Climbing
Climbing in Malta is a memorable experience, with thousands of bolted routes located in some of the most picturesque valleys and sea view cliff sides you can imagine. When most climbers in northern countries are forced indoors due to weather conditions, Malta's fine weather allows for outdoor climbing all the year round. South facing crags are ideal to bask in the sunshine during the winter, while north facing crags allow for shade during the hot summer.
2. Abseiling
Most of the crags used for climbing also have top access for top rope climbing, which are also ideal for abseiling. There are several beautiful locations for abseiling in Malta, which are suited for beginners and children as well as the most experienced.
3. Deep Water Soloing
Deep water soloing is a form of rock climbing on sea cliffs, which make up 60% of Malta's coast. It relies on the presence of water at the base of a climb to cushion against falls, and a certain confidence about how to fall in water and climb without a harness is essential. DWS is the preferred climbing option for many climbers during the hot season – there is nothing more refreshing than dropping straight into the sea after a hard climb!
4. Bouldering & Coasteering
Too scared of heights to climb or DWS? Then do it sideways! Bouldering requires no equipment but your climbing shoes and bare hands. Coasteering involves climbing and bouldering along the coast until one can go no further, jumping into the sea, and swimming to the next suitable climbing point – a truly exhilarating way to explore the dramatic Maltese coastline.
5. Kayaking
A wonderful way to explore cliffs, caves, arches and bays is with a kayak. Toned down compared to coasteering, but adventurous nonetheless … and you can go much further than you could on your own steam. A little practice and you've already mastered the hand paddles, and that's all you need to focus on. Kayaks come in singles and doubles for a solo or shared experience, and allows space to store goodies so you could make a day of it.
6. Diving
Diving is a huge sport in Malta. Boat dives and underwater caving are popular ways to experience the best of the sea. The fantastic limestone cliffs continue down to a depth of up to 100 metres into the water, with several caves and tunnels to tickle the curiosity of divers. Boat dives to inaccessible stretches of coast, reefs and wrecks reveal a wonderful abundance of marine life, such as seahorses, eagle rays and even blue sharks. Gozo, in particular, is a world-renowned diving destination, and free diving is becoming increasingly popular locally.
7. Mountain Biking
Mountain biking is one of the most accessible adventure activities to enjoy and an excellent way of discovering what the islands themselves have to offer. Winding country roads will take you through picturesque valleys and along cliffs with stunning views, past prehistoric temples and other places of interest. Mountain biking as a sport in Malta is best done from October to May, when the weather is cooler and the islands are lush. In the hot months of summer, you could always stop for a refreshing swim along the way!
8. Hiking
Hiking gives you access to all those wonderful places where no roads even venture. While a number of recommended walking trails are laid out to help the visitor make the most of a hiking experience, there is no limit to where and how far you can venture.
9. Quad-bikes and Segeways
Quad-bikes or four-wheelers go hand in hand with the island life. This can be done for sport in Malta, as a way to discover paths off the beaten track, or just a means of transport. There are many rental places set up with quads. You can rent one of your own or join an organised tour.
Segways are for those who want some adventure, but not too much! Segways are the nifty  way to cover a lot of ground with the least effort. Explore the same as you would while cycling but with the comfort and speed of this stand-up two-wheeler. Take one of several fun sightseeing segway tours; you can even pimp it up with other adventure activities, such as horse-riding, archery, go-carting, jet-skiing, anything really!
10. 4×4 Jeep Safari
Sounds exciting, doesn't it? Grab your team and your gear and get ready to explore rural Malta and Gozo in a 4×4 Jeep. You have a driver, but you ultimately drive your journey. Explore several kilometres of coast and countryside in comfort and with little effort – save it to enjoy a swim or take a walk at the areas you opt to stop.
Looking for more activities and sport in Malta? Have a look at our article about diving in Malta and top suggestions for waters sports in Malta.