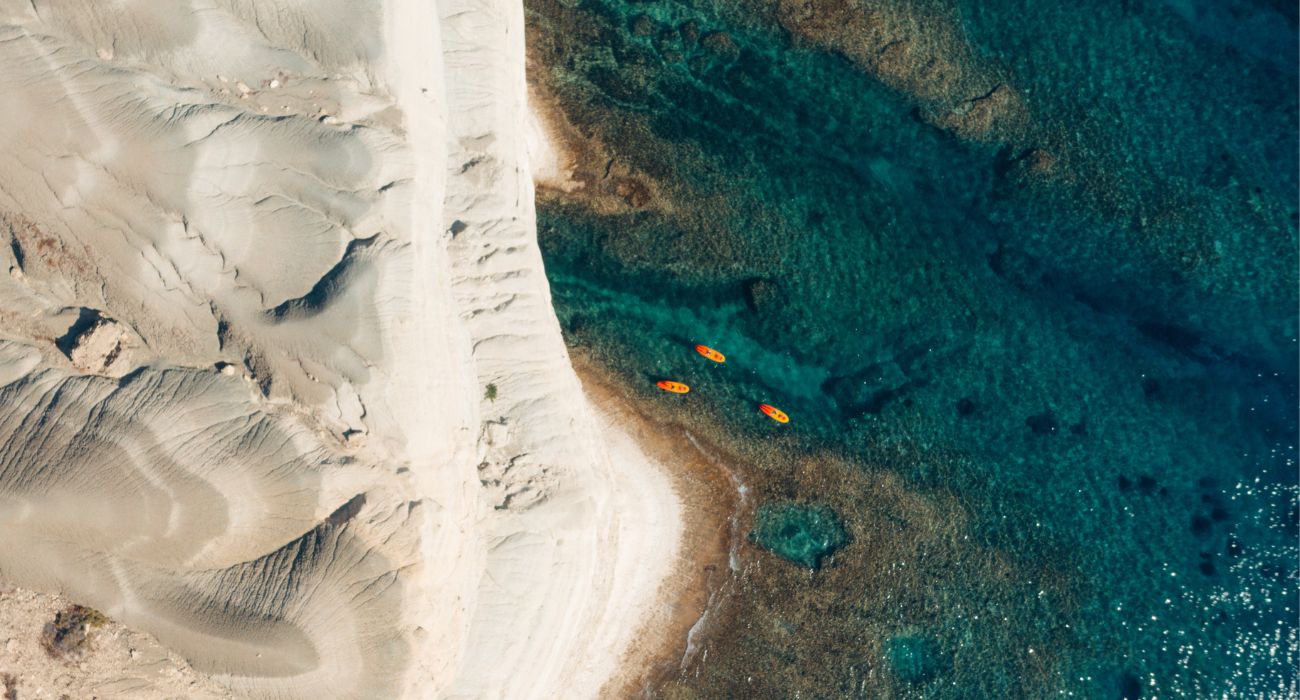 Planning a Kayak Tour of Gozo and Comino
Everything you need to know about Kayaks in Gozo and Comino.
Kayaking is a popular activity in Gozo all year-round, why? Malta's small neighbouring island, Gozo, has a lot to offer. Besides a beautiful landscape, the island also has a unique steep coast with hidden caves and coves that can only be accessed by sea. The best way to explore these unique spots is by renting a kayak. A kayak tour is the perfect way to escape the heat and leave the crowds behind on a warm, sunny day. Not only can you relax and enjoy the view while paddling and marveling at the open sea, but you can also swim in beautiful bays and beaches.
Tips for Kayaking in Gozo
1. Kayak from Gozo to Comino
If you have plenty of time and fancy a day trip by kayak, it is recommended to paddle to Comino by kayak, not only do you avoid the crowded ferries, but you can travel to the wonderful island at your own pace. You see great rock formations and discover a great underwater world while paddling. If you want to take it a bit easier and see a different side of Gozo, you should definitely paddle along the cliffs.
2. Paddle through the great caves of the cliffs
Paddling through the various caves of the cliffs is an adventure in itself. However, you should not do this without a guide, as not all caves are suitable for exploring by kayak. They will also give you tips on how best to paddle through a very narrow hole or, if it is very narrow, how to push your way through.
3. Explore the great views and rock formations
Because the water is so clear and blue, you can see almost all the way to the bottom. Here and there you also spot a few bigger fish. You always paddle close to the cliff, so if you put your head back and look up the high cliff, you feel really tiny. The cliffs in Gozo are over 145 meters high in some places. You can see the layers of rock and history on the cliff. It is always interesting to see how nature itself has deformed over the years.
Until a few years ago, you could still paddle through Gozo's famous Azur Window. Unfortunately, the famous Window collapsed in a storm a few years ago. Now you can kayak over it and marvel at the large boulders underwater. Today, the Azur Window can only be seen in photos and videos. Games of Throne fans watch out: The famous bloody wedding of Daenerys and Kahl Drogo in the first season of the series was filmed there and you can see the Azur Window in the background.
4. Go on a guided tour
If you choose a guided kayak tour along Gozo, you can get more out of your experience.
The guides know the country and its history – This means you will usually get a small, exciting story about the individual caves, rock formations, and their part in the local history and myths. and events.
The guides know the best spots – They give tips during the tour on how to paddle best or where to look so that you can see a great underwater world or a special notch in a rock, for example. They will also help you in the unlikely event that you fall into the water unplanned. Depending on the booked length of the kayak tour, you will usually take a break in a secluded bay to swim and relax.
When's the best time to go kayaking in Gozo?
The warm climate in Malta and Gozo makes it possible to practice kayaking almost all year round. Here are our tips depending on the time of the year:
January – February: These months are typically rainy with some storms here and there. But even throughout the winter period, you're bound to have a sunny spell here and there.
March – June: The spring period is the ideal time for any type of watersport. The weather is still and warm, but not too hot so you'll avoid getting sunburnt.
July – August: In the peak of summer you can try kayaking in the early morning or evening, although be sure to avoid the hours between 11-16:00, due to the high temperatures and UV.
September-December: Just like Spring, this late summer and Autumn period is particularly suited for kayaking in Malta and Gozo. You have the sunshine and still waters, and comfortably enjoy any watersport without overexerting yourself.
Booking your kayaking experience
Booking an activity when you are a student at BELS English Language school in Gozo is quite easy. We work with the top kayaking providers on the island and can book the entire activity for you at the front desk. When booking through BELS, you can trust that the activity will be of high quality and fun
Your trip to Gozo 
If you're planning to travel to the island of Gozo and enjoy watersports, have a look at our guide to diving in Gozo. You can also add an English course in Gozo to your trip for a versatile, educational and sociable experience in Gozo. Contact our team at [email protected] to learn more.