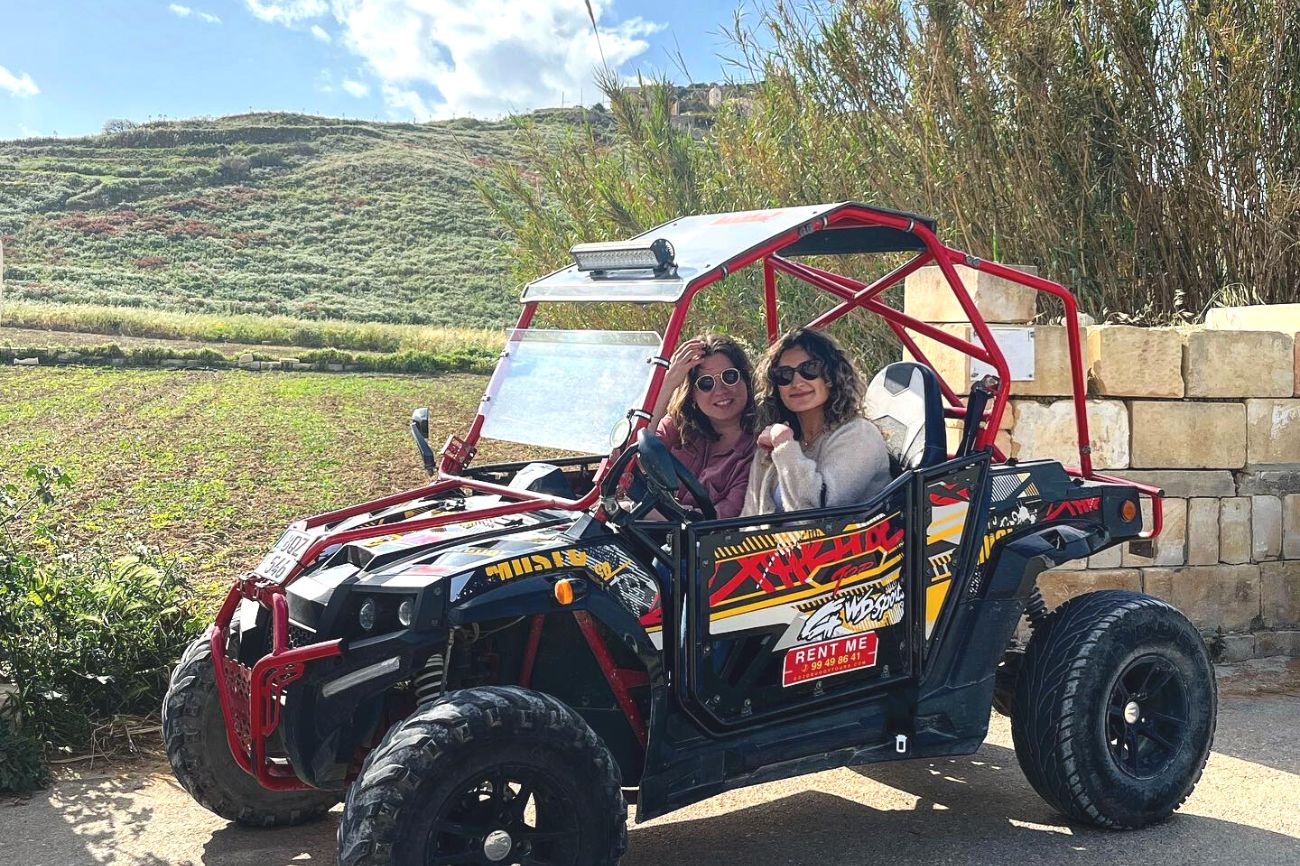 Rev Up Your Adventure: Renting Buggies and Quad Bikes in Gozo
Renting buggies or quad bikes in Gozo
With a buggy or quad bike in Gozo, you're free to go anywhere.
If you're an adventurous traveler looking to explore the island of Gozo in a unique and thrilling way, renting a quad bike or buggy is the perfect choice for you. With its rugged terrain, scenic coastline, and charming villages, Gozo is an ideal destination for those who love to explore off the beaten path.
With a buggy, you can explore the island's rugged countryside, stunning coastline, and charming towns and villages at your own pace, stopping wherever you like to take in the views, snap some photos, or enjoy a refreshing drink. Whether you're traveling solo, with a partner, or with a group of friends or family, renting a buggy offers a unique and memorable way to experience the beauty and charm of Gozo.
In this blog, we'll take a closer look at what renting a buggy in Gozo entails, from where to find rental companies and what types of buggies are available, to tips for driving safely and responsibly, and some of the best places to explore on four wheels. So, whether you're a first-time visitor or a seasoned traveler, sit back, relax, and get ready to discover the delights of Gozo from behind the wheel of a buggy!
Choosing your ride: Buggy or Quad Bike?
The first step of your driving adventure will be deciding between a quad bike or a buggy. But how will you know which is best for you?
Quad bikes are like motorcycles; they are directed by handlebars and use a switch to control speed. The quad bike has four wheels which give extra stability. Many users find that quad bikes are quicker and perform better when driving over rough terrain.
Now, buggies may be different in appearance and usage but are still a great option for those who prefer to be behind a wheel. A buggy has an accelerator, brake pedals, steering wheel, and metal frame around the vehicle.
Both are great options for taking in the natural sites Gozo has to offer while avoiding the hustle and bustle of tour buses. You can take complete control of your off-roading experience and travel around the island at your leisure – quads and buggies can lead you to unexplored roads and natural sceneries that you won't find in a travel guide.
How to book your tour and what to expect
You can choose between a guided tour or a solo journey for this excursion. During the guided tour, a leader will direct you and your party to the best paths in Gozo. Or you can decide to drive solo for a set amount of time.
Remember that driving these vehicles can be challenging. Quads and buggies are standardized and may be more difficult for shorter people to operate. You may want to have more than one driver to take over during the tour. Quads and buggies have loud engines, so it takes a confident driver to navigate these vehicles. Remember that in Malta we drive on the left side of the road. Navigating the narrow streets of Gozo can be a challenge, so if you have decided on a non-guided tour, check your planned route beforehand. Once you get comfortable operating your quad or buggy, riding through the roads of Gozo will be a cinch.
So, you've chosen your mode of transport and taken into consideration what kind of off-road experience you'd like to have. What's next? You can book easily online or by phone with Gozo Quad Hire. An online form can be found on their website to register directly for your trip. Keep in mind the conditions necessary to rent and operate a quad or buggy: drivers must have a valid license, be older than 21 and sign an insurance waiver.
Suggested route for your solo-tour
With a quad or a buggy, you can take lesser known paths around the island. Say goodbye to public transport or stuffy hop-on hop-off buses. With quad or buggy riding, you'll be able to create your own unique tour of Gozo.
We tried the buggy riding experience for you and here's what we recommend:
1 – Starting from the Gozo Quad Hire base
The renting location is situated only one kilometer away from the Gozo Ferry. Once you arrive to Gozo you can get to the location by cab, bus or on foot. This location is a prime starting point for your riding trip; you can either go east to Honduq Bay or continue west towards Victoria, the island's hub.
2 – Discover the North of the island
A great start to your adventure is heading directly toward the breathtaking views at Tal Mixta Cave. This picturesque cave is situated in the hills of Nadur, not far from the sandy beaches of Ramla. The path to the cave is subtle, but once you've found it, prepare for some of the most stunning views you'll get to see on your trip to Malta. After visiting Tal Mixta Cave, enjoy a dip in the clear seas of Ramla. Here you can enjoy the sun and sand before continuing your trip
Another must-see on this side of the island are the marvelous Salt Pans of Marsalforn. The timeless art of collecting sea salt is a staple of Maltese culture and a special piece of history that Gozo can offer.
3 – A Stop in the Capital
When it's time for a taste of the city, head over to Victoria, the heart of Gozo, where you'll find a plethora of pastizzerias, traditional food shops found throughout Malta and Gozo. Here is where you can try the famous Maltese pastizzi loved by locals and tourists alike. Victoria is also rich in cafés, restaurants and souvenir shops. You can also walk up to the Citadella and see a magnificent view of Gozo from its very center. This ancient, fortified city is visible from multiple points all over the island of Gozo and overflowing with historical value. The entrance to the Citadella can be found right off of Independence Square.
4 – Finding your way back to the sea
Once you've gotten your fill of the city, continue your trek across the island. Take in sights of traditional windmills, sun-swept fields, splendid churches and reverent cathedrals such as the Ta' Pinu Sanctuary. However, if you plan to visit Ta' Pinu, be sure to dress appropriately to enter this place of worship.
If you head to the west, you will discover unique places like the Blue Hole, which was once adjacent to the iconic Azure Window, featured in some of your favorite movies and TV shows. Before it's time to head back to base, take a turn to the South and enjoy the village of Xlendi. You will pass the winding roads of Xlendi Valley, finishing your tour with sights of the cliffs of Gozo and a final look at the splendor of the island.
Where can I rent a buggy or quad bike in Gozo?
If you're looking for a reliable and trustworthy company to rent quad bikes or buggies in Gozo, Gozo Quad Hire is a great option. This family-run business has been operating for over 10 years, providing visitors with high-quality vehicles and excellent customer service. They offer a range of quad bikes and buggies to suit different needs and preferences, from powerful machines for experienced riders to more easy-to-handle options for beginners.  The team at Gozo Quad Hire is friendly and knowledgeable, and they are always ready to offer advice and suggestions for the best routes to explore. Overall, renting from Gozo Quad Hire is a fantastic way to add some adventure to your Gozo trip, and to explore the island in a unique and unforgettable way.