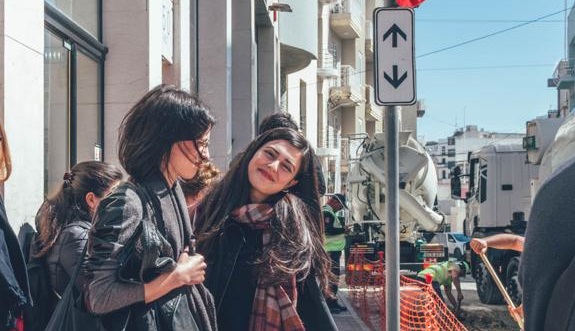 'All about trip studying English in Malta' – Aygul
Studying English at University, with a trip to Malta
Here are my thoughts about my time studying English with BELS
My name is Aygül Nen and I'm 21 years old. I was born in Germany and I have Turkish origin. I'm currently studying English and Economics at my 6th semester of Bachelor to become a teacher.  I stayed in Malta for three weeks from 23rd February until 16th March 2020 in the General English Group course at Advanced level.
Why I choose Malta
Within my English studies in Germany it is obligatory that I go abroad in an English-speaking country. Last year I already went to England and Ireland. So, I wanted to see another country which is close to Germany, too. Of course, because Malta is a beautiful Isle with nice weather. I'm very happy to have taken this chance to get to know the culture enjoy a lot of beautiful sight in such a short time.
The reason why I chose BELS was that I wanted to study English at a qualified school in a calm area, which has all been fulfilled.
How I planned everything
I found BELS English school on the internet and I decided to get in contact with someone who works at BELS and I just wrote into the chat on the website. At this time, it was not sure that I go abroad because it was a really spontaneous decision after I finished my exams at university. In this chatroom Andrea was so nice and she advised me and replied about all my questions I had. She gave me her mobile number so that I can always text her if I have problems. Within only a few days she organized everything and the dream to go to Malta came true that one week later I found myself in Malta studying English. Until my arrival everything was planned and never felt lost.
First impressions!
My opinion of the school when I arrived was very positive because the school seemed very welcoming to me. It is a small but contemporary and fresh school. It looks modern from the outside and inside. All the team and teachers were very nice, and they were always ready to help us students in every situation.
And about the courses
I was in the Advanced Group course for three weeks. My group consisted of only 4 people at the beginning. So, we had a nice and calm atmosphere which gave us all the opportunity to study effectively. My teacher's name was Laurel Rathbone who is a very good teacher. Every day I was happy to go to school to see her and my nice classmates. We talked a lot in class which helped us to improve our speaking skills. We also talked about our mistakes, made listening exercises and practiced a lot of grammar. Almost every day I learned a lot of new vocabulary in school and in my free time by talking with all the students. There's an immersive learning environment and it's not just about studying English with books.
Location and the island
Behind the school there is the sea, which is also a beautiful view which you can join whenever you want to.
Malta is a beautiful island with a lot of sightseeing attractions. Through its small size it is very easy to travel around by bus and to see whole Malta. The weather was almost every day sunny. I only have good memories about Malta, and I wish to go there again one time.
Continuing to study English, online
Due to the reason, that my flight was cancelled because of the current pandemic I had to leave Malta one week earlier than planned. The school was also closed for this time and BELS gave all the student the opportunity to take online lessons. So, I took this chance to continue my course with two weeks more Group class and then I decided to finish my experience with BELS by participating at an Individual class for one week.
I took online course to finish the course I already booked before my arrival. BELS had to close the school due to the situation and I had to leave Malta earlier than planned. My online course on the platform used worked well and we only had small problems with connection at the beginning. Apart from this it was near to the lesson we had in virtual class. After finishing my group class, I asked the school to lengthen my course as an individual course for one week more. I was able to choose the teacher I wanted to have lesson with. This was a good decision to only focus on my own mistakes together with my lovely teacher Laurel Rathbone.
Are you curious about studying English in Malta? We can help!