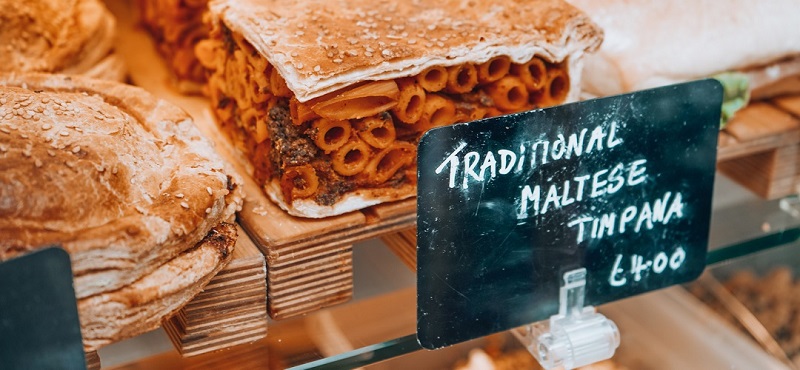 Top 12 Traditional Maltese Foods – Your Ultimate Guide
Traditional Maltese Foods to add to your Foodie Bucket-list
Discover Malta and the local culture through your taste buds!
Every country has its traditional cuisine which is one of the most distinctive qualities of its culture. With its complex history and Mediterranean roots, traditional Maltese food will definitely leave a lasting impression. Naturally, there is a lot to discover on a Maltese menu, and a visit to a Maltese restaurant is certainly due. However, if your time is short and you'd like to try some local dishes, these are the traditional Maltese foods we recommend.
1. Pastizzi
Pastizzi, baked pastries that are traditionally stuffed with ricotta or peas, are probably the most famous traditional Maltese food. Variations have developed over the years, with spinach or chicken fillings becoming popular. Qassatat is a different version of pastizzi, usually bigger and using shortcrust pastry instead of filo. Many pastizzi shops – typically hole-in-the-wall establishments – have developed a rather large menu variety, including baked rice, baked pasta, an assortment of sausage rolls and pies, and sweets! All for under 2 euros a piece, and sinfully delicious.
In recent years, Pastizzi has become quite the cultural symbol here. The craft of Pastizzi making has an interesting history and is deeply rooted in Maltese tradition. Curious? Watch here:
2. Ftira biż-żejt
Another very typical snack is the ftira biż-żejt. This traditional Maltese food consists of a single portion of Maltese bread spread with tomato paste and olive oil and stuffed with a variety of ingredients that may include tuna, Gozo cheeselets, capers, olives, pickled vegetables, salad, and more. This is commonly eaten as a lunch-on-the-go or a seaside snack and is available from most food kiosks and bars.
Want to know where to find the best ftira? Watch here:
3. Gozitan Ftira
On the sister island of Gozo, ftira has an altogether different meaning, with a traditional food tied entirely to this island. Gozitan ftira resembles a pizza, or focaccia and the typical ingredients include potatoes, capers, tomatoes, onions, anchovies and/or tuna. A key characteristic is that it's made of bread dough (instead of pizza dough) and baked in a firewood oven. When in Gozo, search for traditional bakeries that make fresh ftira.
4. Bigilla
Bigilla is a bean paste or dip made from fava beans, locally known as "ful tal-ġirba", and includes garlic, chilli peppers, parsley, and olive oil. The paste was traditionally sold hot from bigilla vendors on the street, however, now it is available at all supermarkets. It is typically served as a dip with galletti (water biscuits) but also as a spread for sandwiches or as an additional ingredient in other dishes. Healthy and delicious!
5. Maltese platter
In typical Mediterranean style, a shared lunch snack will consist of a finger-food platter that will include broken Maltese bread and galletti along with bigilla, capers, pickled onions, sundried tomatoes, stuffed olives, and Gozo cheeselets. Olives are often depicted as a delicacy, but in Malta they are a daily food; they are typically stuffed with anchovy or tuna. Gozo cheeselets – ġbejniet – come in many variations; they are made from sheep or goat's cheese and may be soft or hard, plain or peppered. Drizzled with olive oil, of course.
6. Rabbit (Fenek)
Undoubtedly one of the most famous traditional Maltese dishes. There are even places that specialize in hosting a "fenkata", which is the term used when locals go out to eat, specifically, rabbit. Mġarr and Baħrija are well-known for such establishments; do not expect anything fancy! The starter will usually consist of "bebbux bl-aljoli" (snails in a garlic sauce) to snack on, followed by a starter of spaghetti with rabbit sauce. The rabbit itself is typically served fried in garlic or as a stew and washed down with good local wine.
7. Octopus (Qarnita)
Another favourite among traditional Maltese dishes is octopus stew, which is typically served fried in garlic or as a stew, while spaghetti with octopus sauce is also popular. The best place to eat octopus is at a fish restaurant that serves the fresh catch; Marsaxlokk – Malta's best-known fishing village and fish market – is probably your best choice.
8. Lampuki (Dorado fish)
Only available in September, when the Mediterranean sea around Malta is warm and calm, the lampuka is Malta's national fish and locals keenly await the season when they can taste its delicious, white, flakey flesh. The fish is typically fried and served whole or in pieces – watch out for the fish bones! The traditional lampuki sauce is made from fresh tomatoes, olives, capers, olive oil, salt, and pepper. This is a traditional Maltese food you absolutely must try if you're here in season.
9. Baked Potatoes (Patata l-forn)
This is the Maltese equivalent of the English Sunday roast. The preparation is simple: a layer of onions, a layer of thickly sliced potatoes, a layer of pork steaks, another layer of potatoes, add water, season, and chuck in the oven. The resulting dish is delicious, with a variety of soft and crunchy potatoes. The potatoes can also be prepared alone, without the meat, to serve as a side dish to another preparation.
10. Timpana (Baked pasta/rice)
Originally, Timpana refers to pasta in a bolognese sauce, that is baked with an additional layer of pastry added as a crust. It's a common household recipe and you can even find it sold at most local pastry shops on the streets. You can learn more here:
11. Imqaret
Imqaret is the traditional Maltese "street sweet" if ever there was one. Typically sold from small mobile imqaret friers, imqaret consist of dates wrapped in pastry which is then deep-fried. In a restaurant, you may have them served with a dollop of vanilla ice cream. Yumm!
12. Pastini tal-lewz (almond sweet)
Almonds are a big thing in Maltese sweets. These small almond sweets are typically enjoyed with afternoon tea, but there is a huge variety of traditional sweets made from almonds: figolli, kwarezimal, prinjolata, and the traditional wedding cake are all made from almonds.
Want to learn about more popular Maltese foods? Watch this video: